Commentary
Murray gives Oklahoma a trio of talented backs
Originally Published:
August 24, 2007
By
Ivan Maisel
| ESPN.com
NORMAN, Okla. -- Bob Stoops has done his best to keep the lid on DeMarco Murray, the redshirt freshman tailback from Las Vegas. But then Stoops goes and gives the 6-foot, 205-pound Murray the ball and all those lowered expectations get raised again.
In a scrimmage Saturday, Murray rushed nine times for 105 yards -- in a steady rain. Murray looked like the same tailback who rushed 25 times for 327 yards (11.3 yards per carry) in three scrimmages in the spring. The Sooners' defense has seven returning starters from the unit that allowed only 98.7 rushing yards per game last season.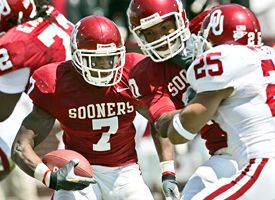 Sue Ogrocki/AP PhotoDeMarco Murray was one of the top prep running backs in the country in 2005.
Let Oklahoma running backs coach Cale Gundy, who came to the university with Stoops nearly nine years ago, explain how difficult that is. "We haven't had a lot of successful offensive highlights day in and day out against our defense," Gundy said. "There might be a scrimmage here or there. If you got the best of them, the next scrimmage you were fixing to get your head taken off. DeMarco showed he's as dangerous as anybody, potentially." Senior corner D.J. Wolfe, a third-year starter, disputed the part about potential. Murray, he believes, has arrived. "Once he gets outside," Wolfe said of Murray, "the odds are 95-5 against you in the open field." All that talk is fun, but Stoops still plans to ease Murray into college football. It looks as if Murray will take his turns at tailback with senior
Allen Patrick
and sophomore
Chris Brown
as the Sooners try to replace Adrian Peterson, the seventh player taken in the 2007 NFL draft. Gundy just smiles when the subject of having three backs share the ball is brought up. Problem? What problem? "DeMarco is probably the most [physically] gifted," Gundy said, "in the sense that he could probably play corner. He could play receiver for us right now. He could play tailback. Chris Brown is our most solid back. Every coach loves him because he always goes north-south, always falls forward. He won't be a flashy guy. He gets the 4-5-6 yards on a consistent basis. Allen Patrick is kind of a combination of the two. He's a lot like AD [Adrian Peterson]. He loves to play. He has a passion for it."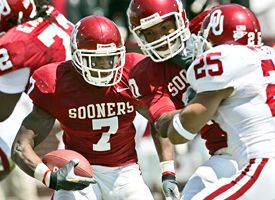 Sue Ogrocki/AP PhotoDeMarco Murray was one of the top prep running backs in the country in 2005.
Murray is happy to play his role. He may have been highly touted as a recruit and he may have become the darling of Sooners chat rooms, but he doesn't expect the coaches to fling rose petals before him as he walks. "I don't think I've proved anything," Murray said this summer. "I had a couple of good [spring] practices. There's nothing like a game atmosphere." Stoops views self-promotion the same way he views a tailback with 5.3 speed. It may be fine for others, but not on his team. "I don't want to get too far ahead," Stoops said. "Like he said, you got to do it on the field. He hasn't done it yet. He's worked for it. He's preparing himself for it." But ask Stoops how he came to offer Murray a scholarship, and the measured commentary of a prove-it-to-me head coach gives way. Stoops sounds as if he's at the 19th hole, describing the birdie that won the round. "I was walking through the gym to recruit Ryan Reynolds [Murray's teammate at Bishop Gorman in Las Vegas, and a junior linebacker with the Sooners] in December or so, on the way to the locker room," Stoops said. "They were finishing up basketball practice. The coach says, 'Hey, DeMarco, show him you can dunk.' "He was bashful," Stoops said. "He didn't want to. He was only a junior at the time. Eventually coach [David] White convinces him into it. He dribbles a little bit. They've got a concrete block wall gym. He throws the ball off the wall from 25-30 feet away, the ball comes back, bounces down in the lane. He runs from 10-15 yards away, jumps and springs off one leg, gets the ball out of midair and crashes it through the basket. The kid is a junior, maybe 5-11, 6-feet. I couldn't believe it. "I didn't need to see anything else. I said, 'Coach White, look, I'm not allowed to talk to him. Just make sure he knows he has a scholarship offer.' I didn't need to see anything else."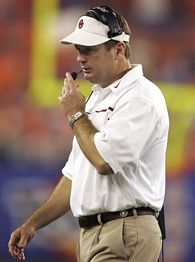 Jonathan Ferrey/Getty ImagesBob Stoops has three talented running backs to choose from to help fill the void left behind by Adrian Peterson.
Since arriving in Norman as a 183-pound tailback, Murray has added 22 pounds of muscle without sacrificing speed. He has also matured more than just physically. On the first day of two-a-days in August 2006, Murray suffered a case of turf toe so severe that he missed the entire season. Murray learned there's nothing worse than being an injured freshman. Not only do you have to deal with being away from home, you don't have football to keep you busy. A year ago, Murray filled his days by playing the NCAA Football 2007 video game -- by himself. "I didn't hang out with anyone," Murray said. "I was always by myself. I'm kind of shy. Now, I made a lot of friends. All these players are like my brothers. We're all just great teammates and good friends outside of football. … I'm still quiet, but at the same time I try to motivate others and try to help out."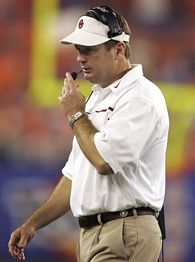 Jonathan Ferrey/Getty ImagesBob Stoops has three talented running backs to choose from to help fill the void left behind by Adrian Peterson.
It's fair to say that Murray will help out the Sooners. The only question now is how tightly Stoops will keep the lid on him.
Ivan Maisel is a senior writer at ESPN.com. He can be reached at ivan.maisel@espn3.com.
Senior Writer, ESPN.com
ESPN.com senior college football writer
Four-time FWAA award winner
27 seasons covering college football
SPONSORED HEADLINES
MORE COLLEGE FOOTBALL HEADLINES
MOST SENT STORIES ON ESPN.COM
2007 College Football Preview
The long wait for the start of the 2007 college football season is finally over. Get ready for the season with an in-depth look at the teams, trends, players and coaches. Index

Features
• Forde: Arkansas' favorite son also rising
• Forde: Welcome to Trickeration Nation
• Albright: Glanville has Portland State all shook up
• Maisel: Boise State part of quiet revolution
• Edwards: BCS system needs update


• Forde: QBs face burden of proof in '07
• Schlabach: Biggest shoes to fill this season
• Maisel: (Southern) State of the Game
• Schlabach: Hot or Not for 2007
Awards Watch
•
Ivan Maisel's preseason All-America team
•
Heisman Watch: Voters go Hog wild
•
SportsNation: Rank the Heisman contenders
Fearless Forecasts
•
Experts: Conference title projections
•
Maisel/Schlabach: Bowl predictions
•
McShay: Don't sleep on these teams

•
Games to watch:
National
|
Conference
Campus Confidential
•
Forde: Woodson stepping out of the shadow
•
Schlabach: Shhhh! Uncovering 2007's secrets
•
McShay: Seven secrets from the film room

•
Feldman: Saturday's secret agents revealed
•
EA Sports: Trick play simulations
•
Arkansas: Wildhog formation
•
Boise State: Statue of Liberty
•
LSU: Flea flicker
•
Texas: Wide receiver pass
•
USC: Halfback pass
ACC Features
•
Schlabach: ACC needs quality Miami, FSU
•
Schlabach: Wright, Freeman still battling at Miami
•
Schlabach: Wake sets bar high for encore
•
Schlabach: Five ACC predictions
Big East Features
•
Maisel: What's next for the Big East?
•
Maisel: USF's QB exudes old school cool
•
Maisel: Five Big East predictions
Big Ten Features
•
Schlabach: Michigan seniors return on a mission
•
Schlabach: Downsized Hill means supersized play
•
Schlabach: Big Ten at the crossroads
•
Schlabach: Five Big Ten predictions
Pac-10 Features
•
Forde: Now is the time for UCLA
•
Forde: Five Pac-10 predictions
•
Maisel: After long wait, Turner ready for stardom
•
Maisel: Ten Little Trojans running backs
•
Feldman: DeSean Jackson's born identity

SEC Features
•
Maisel: Saban snapshot reveals double feature
•
Higgins: Spurrier, Gamecocks thinking big
•
Schlabach: SEC balance of power shifts East
•
Schlabach: Five SEC predictions
Coaching Corner
•
Schlabach: Coaches on the hot seat
•
Schlabach: Rise of the assistants
•
McShay: Assistant coaches on the rise

•
McShay: Position coaches who deliver

Rule Changes
•
Kickoffs, timing rules highlight changes
•
McShay: Changes put premium on specialists

•
College Football Live: Impact of kickoff rule

•
Joe Tiller: Kickoff changes raise safety issues

•
College Football Live: Matter of time

Campus Call
ESPN.com will hit eight practice sessions to get an early pulse on the season. Check out what's happening on campus.
•
Aug. 7:
Gators looking for bite on D
•
Aug. 6:
ND's Weis plays respect card
|
McKnight makes USC debut
•
Aug. 5: Brown resolute in face of Texas' troubles
•
Aug. 4: WVU has speed to burn
•
Aug. 3: Taylor made Jacket
•
Aug. 2: Hokies begin road back to normalcy
•
Aug. 1: Report day is still a thrill for Tuberville