Commentary
High profile, big paychecks not just for head coaches anymore
TALLAHASSEE, Fla. -- In his first college coaching job as the offensive coordinator at Division I-AA Samford University in Alabama, Jimbo Fisher was paid a handsome sum of $20,000 annually.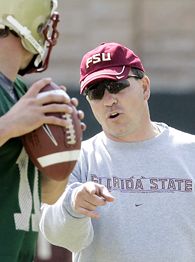 AP Photo/Phil CoaleIf Jimbo Fisher can work his magic at Florida State, the Seminoles should see a return to the top.
"And I made $40,000 in my first year at Auburn," Fisher recalled, of being hired as the Tigers' quarterbacks coach in 1993. Nearly 15 years later, Fisher is making close to $35,000 per
month
as Florida State's offensive coordinator, his fourth coaching stop in 10 seasons. Fisher, who earned a reputation as an offensive guru while directing LSU's high-octane attack the past seven seasons, has benefited as much as anyone from the rising profile of college football's top assistant coaches. "Schools are beginning to realize it's just like a team," Fisher said. "You can have a head coach, but you've got to have assistants who can coach and teach and recruit. College programs had to start putting up money to keep guys from going to the pros." Several assistant coaches, including Fisher, have higher profiles nationally than some head coaches. Fisher is perhaps the biggest reason for renewed optimism at Florida State, where coach Bobby Bowden hired five new assistants in the largest staff shakeup during his 32 seasons at the school. "I thought to myself, 'If it's going to get this drastic, this is my last shot, so I'm going to make it the best I can make it. I'm going to get the best coaching staff I can get in here. I don't care what it costs,'" Bowden said. With Fisher calling the plays, and former West Virginia assistant Rick Trickett coaching the offensive line, Seminole fans are expecting a complete turnaround on offense this season. Likewise, Georgia fans are excited because former quarterbacks coach Mike Bobo (and not head coach Mark Richt) will be calling plays this season. UCLA fans are hopeful new offensive coordinator Jay Norvell can turn
Ben Olson
into a consistent quarterback, and Notre Dame fans figure they'll have to be better on defense with former NFL assistant Corwin Brown (and not former defensive coordinator Rick Minter) running the show.
But Fisher said Florida State's chances this season will still come down to players making plays. Quarterbacks
Xavier Lee
and
Drew Weatherford
have to throw more consistently, the much-maligned offensive line has to block better, and tailback
Antone Smith
has to run well.
"It doesn't matter what we know as coaches," Fisher said. "It's what we teach our players to know and they have to do what we teach them. We've got to learn what they can do and learn what their limitations are. They're still the ones who have to perform." More and more, though, assistant coaches are paid quite well to make sure their players perform. After leaving LSU, and turning down head coaching opportunities at UAB and Louisiana Tech (as well as the offensive coordinator position at Alabama), Fisher signed a three-year contract with a base salary of $215,000 annually. His compensation at FSU could be more than $400,000, if the Seminoles reach several performance-based incentives.

Schools are beginning to realize it's just like a team. You can have a head coach, but you've got to have assistants who can coach and teach and recruit.
Jimbo Fisher
Fisher isn't the only one cashing in. Georgia Tech defensive coordinator Jon Tenuta will make $400,000 this year. Texas will pay offensive coordinator Greg Davis more than $350,000 per year, according to the Dallas Morning News, and co-defensive coordinators Larry Mac Duff and Duane Akina will earn $300,000 each. After winning the BCS national championship last season, Florida gave each of its nine assistants significant raises. Co-defensive coordinators Charlie Strong and Greg Mattison were given $65,000 raises, increasing their salaries to $290,000 each, and offensive coordinator Dan Mullen will get $200,000. Oklahoma State gave offensive coordinator Larry Fedora a $135,000 raise after the 2006 season -- boosting his annual salary from $258,000 to $393,000 -- and extended his contract from three to five years. Each of the Cowboys' nine assistant coaches has at least a three-year contract, including four who have five-year deals. "We probably have more money tied up in assistant coaches' salaries than anybody in the country," Oklahoma State coach Mike Gundy said. "What that means is we believe in them. We're going to give them an opportunity to earn a good living, to work hard and we want to keep them in Stillwater until they can move on and be coordinators and head coaches." Just seven years ago, the average salary for a Division I-A assistant was $60,500, according to a survey conducted by the NCAA. Norm Chow, now the offensive coordinator of the NFL's Tennessee Titans, was the highest-paid assistant in the country, earning $165,000 as NC State's offensive coordinator. Tennessee offensive coordinator David Cutcliffe, who was credited with resurrecting quarterback
Erik Ainge
's career last season, will be paid $340,000 this season. Volunteers defensive coordinator John Chavis will make $325,000 in 2007. But Cutcliffe, a former head coach at Ole Miss, and Chavis aren't the highest-paid assistants in the SEC. LSU's top two assistants -- new offensive coordinator Gary Crowton and defensive coordinator Bo Pelini -- will be paid $400,000 each. Alabama hasn't yet finalized contracts for new coach Nick Saban's staff, but the collective salaries of the nine assistant coaches could top $2 million, making them the highest-paid staff in the league.
Mark Schlabach covers college football and men's college basketball for ESPN.com. You can contact him at schlabachma@yahoo.com.
College Football and Basketball
College football writer for ESPN.com
Author of seven books on college football
Formerly at the Washington Post and the Atlanta Journal-Constitution
SPONSORED HEADLINES
MORE COLLEGE FOOTBALL HEADLINES
MOST SENT STORIES ON ESPN.COM
2007 College Football Preview
The long wait for the start of the 2007 college football season is finally over. Get ready for the season with an in-depth look at the teams, trends, players and coaches. Index

Features
• Forde: Arkansas' favorite son also rising
• Forde: Welcome to Trickeration Nation
• Albright: Glanville has Portland State all shook up
• Maisel: Boise State part of quiet revolution
• Edwards: BCS system needs update


• Forde: QBs face burden of proof in '07
• Schlabach: Biggest shoes to fill this season
• Maisel: (Southern) State of the Game
• Schlabach: Hot or Not for 2007
Awards Watch
•
Ivan Maisel's preseason All-America team
•
Heisman Watch: Voters go Hog wild
•
SportsNation: Rank the Heisman contenders
Fearless Forecasts
•
Experts: Conference title projections
•
Maisel/Schlabach: Bowl predictions
•
McShay: Don't sleep on these teams

•
Games to watch:
National
|
Conference
Campus Confidential
•
Forde: Woodson stepping out of the shadow
•
Schlabach: Shhhh! Uncovering 2007's secrets
•
McShay: Seven secrets from the film room

•
Feldman: Saturday's secret agents revealed
•
EA Sports: Trick play simulations
•
Arkansas: Wildhog formation
•
Boise State: Statue of Liberty
•
LSU: Flea flicker
•
Texas: Wide receiver pass
•
USC: Halfback pass
ACC Features
•
Schlabach: ACC needs quality Miami, FSU
•
Schlabach: Wright, Freeman still battling at Miami
•
Schlabach: Wake sets bar high for encore
•
Schlabach: Five ACC predictions
Big East Features
•
Maisel: What's next for the Big East?
•
Maisel: USF's QB exudes old school cool
•
Maisel: Five Big East predictions
Big Ten Features
•
Schlabach: Michigan seniors return on a mission
•
Schlabach: Downsized Hill means supersized play
•
Schlabach: Big Ten at the crossroads
•
Schlabach: Five Big Ten predictions
Pac-10 Features
•
Forde: Now is the time for UCLA
•
Forde: Five Pac-10 predictions
•
Maisel: After long wait, Turner ready for stardom
•
Maisel: Ten Little Trojans running backs
•
Feldman: DeSean Jackson's born identity

SEC Features
•
Maisel: Saban snapshot reveals double feature
•
Higgins: Spurrier, Gamecocks thinking big
•
Schlabach: SEC balance of power shifts East
•
Schlabach: Five SEC predictions
Coaching Corner
•
Schlabach: Coaches on the hot seat
•
Schlabach: Rise of the assistants
•
McShay: Assistant coaches on the rise

•
McShay: Position coaches who deliver

Rule Changes
•
Kickoffs, timing rules highlight changes
•
McShay: Changes put premium on specialists

•
College Football Live: Impact of kickoff rule

•
Joe Tiller: Kickoff changes raise safety issues

•
College Football Live: Matter of time

Campus Call
ESPN.com will hit eight practice sessions to get an early pulse on the season. Check out what's happening on campus.
•
Aug. 7:
Gators looking for bite on D
•
Aug. 6:
ND's Weis plays respect card
|
McKnight makes USC debut
•
Aug. 5: Brown resolute in face of Texas' troubles
•
Aug. 4: WVU has speed to burn
•
Aug. 3: Taylor made Jacket
•
Aug. 2: Hokies begin road back to normalcy
•
Aug. 1: Report day is still a thrill for Tuberville