Commentary
Seven college football secrets for 2007
College football coaches tend to be a paranoid bunch. With the proliferation of the Internet and, more specifically, fan message boards, there aren't many secrets in college football anymore.
Even Frank Beamer, this journalist's last hope for open access, has gone to the dark side. He closed Virginia Tech's practices during preseason camp after suggesting that someone might have tipped off Georgia as to what plays the Hokies were going to run in last season's Chick-fil-A Bowl. In a clandestine effort, we've enlisted our sources from coast to coast to uncover a few of college football's secrets heading into the 2007 season: 1. Darren McFadden is the best QB at Arkansas
It's no secret that
Darren McFadden
is one of the most explosive players in college football. He ran for 117.6 yards per game while sharing carries with
Felix Jones
last season. The SEC hasn't seen a tailback as complete as McFadden since Bo Jackson was carrying the load at Auburn.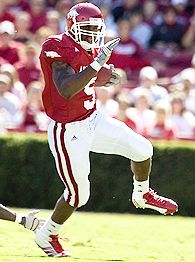 Clay Carson/WireImage.comDarren McFadden will keep SEC defenses on their toes by running a few plays as QB this year.
But McFadden also might be the best quarterback at Arkansas, which is why opponents will see more of him behind center this season. Even after offensive coordinator Gus Malzahn bolted for Tulsa after only one season on Houston Nutt's staff, the Razorbacks are expanding their "Wildcat" package (now called "Wildhog") to take advantage of McFadden's versatility. Opposing defenses also figure to see Jones working at quarterback, or even sophomore
Michael Smith
, who might be as explosive as Jones and McFadden. Just think Navy's triple option with better athletes. "We are just trying to improve on that package and make it better," Nutt said. "Darren has tremendous feel for it. We started working the very first day on things with him. We have a lot of confidence in Felix Jones being back there in the triggerman position to be able to hand the ball off or fake it or run with it, so that helps when you have him and the ability to hand off to [fullback]
Peyton Hillis
. Those three guys, plus when you add a fourth guy like
Michael Smith
, make up a quality backfield with a formation that presents a problem." Nutt knows he has to find creative ways to get McFadden the football this season, because defenses will be keying on him. "Defenses are going to make us play left-handed, and what I mean by that is that everyone knows who No. 5 [McFadden] is," Nutt said. "When he gets off the bus somebody is going to be watching him, so how are we going to be able to put points on the board when you know they are going to overpopulate the line of scrimmage? They will keep an eye on No. 5 wherever he goes." 2. The biggest addition to USC's offense will be Stanley Havili
The Trojans added highly regarded freshman Joe McKnight to an incredibly deep crop of running backs -- which includes 10 scholarship players, most of whom were high school All-Americans.
But
Stanley Havili
, a hard-nosed redshirt freshman who missed most of last season with a broken leg, might make the biggest impact this season. Havili is a bruising blocker who runs the ball well and has above-average hands for a fullback. He'll become one of quarterback
John David Booty
's favorite targets as the Trojans try to replace receivers Dwayne Jarrett and Steve Smith. 3. Georgia Tech's passing game will be better without Calvin Johnson
The Yellow Jackets won't be able to replace Johnson, an All-American receiver and the No. 2 overall pick in the NFL draft by the Detroit Lions. New Yellow Jackets offensive coordinator John Bond described Johnson as "arguably the best receiver to ever play" college football.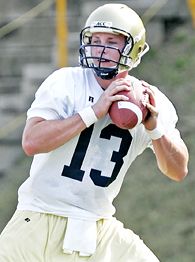 AP Photo/John BazemoreGeorgia Tech QB Taylor Bennett should more consistent than Reggie Ball.
But with junior quarterback
Taylor Bennett
replacing much-maligned Reggie Ball under center, the Yellow Jackets should be more consistent and balanced on offense. Bennett is at least 4 inches (possibly closer to 6 inches) taller than Ball, so the new quarterback can see over the line of scrimmage. Bennett's height will open up the middle of the field, which was seemingly off-limits in the past. The Yellow Jackets were often forced to roll out Ball so he could see downfield.
While Georgia Tech doesn't have a receiver with Johnson's athleticism or explosiveness, there are quite a few options. Junior
James Johnson
caught 39 passes for 608 yards and two touchdowns last season. Sophomore
Greg Smith
had seven catches for 113 yards and two touchdowns in a limited role in 2006.
But the player to watch is redshirt freshman
Demaryius Thomas
, who is capable of replacing a large portion of Johnson's production. Thomas has great size (6-foot-3, 220) and speed and has shown dependable hands and route running. He was so good in the spring that Yellow Jackets coach Chan Gailey tried to temper expectations by talking about his team's other receivers.
With tailback
Tashard Choice
and underrated fullback
Mike Cox
returning, the Yellow Jackets might be even more explosive this season. 4. Indiana's James Hardy is the best receiver in the Big Ten
James Hardy
was overshadowed last season by Ohio State's Ted Ginn Jr. and Anthony Gonzalez; this year, Michigan's
Mario Manningham
and
Adrian Arrington
figure to grab the headlines.
But Hardy, a 6-foot-7, 220-pound junior, has been one of the league's most productive receivers the past two seasons. Last year, Hardy caught 51 passes for 722 yards, and he had 10 touchdowns for the second season in a row despite playing with inexperienced quarterback
Kellen Lewis
. In the past two seasons, Hardy caught 112 passes for 1,615 yards despite missing two games last season because of suspension.
Hardy, a former basketball player, spent two weeks this summer working out with speed coach Tom Shaw and also spent time with Johnson, the former Georgia Tech receiver.
"I'm a completely different player," Hardy said.
Indiana coach Bill Lynch said the key to Hardy's progression was giving up basketball.
"When you first come in and don't know if your sport is going to be football or basketball, that divides your time," Lynch said. "I think the biggest thing with James is he's totally committed to football now." 5. The most productive linebacker in California lives in San Jose, not L.A.
Undoubtedly, USC has the strongest linebacker corps in the country, with senior Keith Rivers and juniors Rey Maualuga and Brian Cushing returning to lead a defense that allowed only 3 yards per rush in 2006.
But the most productive linebacker on the West Coast resides in San Jose, Calif. San Jose State middle linebacker Matt Castelo had 165 tackles in 2006, the highest total in Division I-A, and helped the Spartans become one of the most improved defenses in the country. Castelo also forced four fumbles and intercepted a pass. In the past two seasons, he has 265 tackles.
Castelo is the player every WAC coach would love to have; so would several Pac-10 coaches. 6. LSU will be tougher to defend -- even without QB JaMarcus Russell
The Tigers lost quarterback JaMarcus Russell and receivers Craig Davis and Dwayne Bowe; each was a first-round selection in the NFL draft. Also, highly regarded offensive coordinator Jimbo Fisher left for Florida State.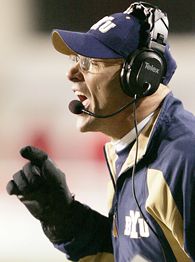 George Frey/Getty ImagesFormer BYU assistant Gary Crowton could shake up LSU's offense.
But going into a season in which the Tigers are an overwhelming choice to win the SEC, opposing defensive coordinators aren't sure what to expect from LSU's offense. New offensive coordinator Gary Crowton, a former coach at Louisiana Tech and BYU and most recently the architect of Oregon's high-powered offense, figures to bring plenty of intrigue to LSU's offense.
"I think you look at Gary Crowton and what he brings, [and] I think you'll see a very similar approach just as we've been in the past in certain issues," Tigers coach Les Miles said. "Yet we'll bring some expertise in the throwing game that will allow us to maybe attack opponents a little differently than we've attacked in the past."
Crowton's spread offense is known for its high-octane passing attack -- in his first season as the Chicago Bears offensive coordinator, the team threw an NFL-high 63 percent of the time -- but it also has produced strong running games. Last season, the Ducks led the Pac-10 and ranked 14th nationally with 181.8 rushing yards per game.
The only constant in Crowton's offense is an unpredictable approach. He'll use five receivers on first down, then two tight ends and a fullback on second down. He favors tight ends who can block and catch so he can split them out wide. Wide receivers are allowed to adjust their pass routes to what defenses are showing. 7. The best cornerback duo in Florida plays for South Florida
The "big three" college football programs in Florida have long been known for churning out NFL cornerbacks.
Florida State was once known as Cornerback U after producing All-American players such as Deion Sanders, Terrell Buckley, LeRoy Butler and Corey Sawyer. Five Miami cornerbacks were selected in the first round of the past 10 NFL drafts, and Florida produced All-American cornerback Lito Sheppard. But going into the 2007 season, upstart South Florida might have the best cornerback duo in the state -- and one of the best in the country. Senior cornerbacks Trae Williams and Mike Jenkins nearly entered the NFL draft after their junior seasons, but each returned to school to help the Bulls continue their rise in the Big East.
Williams was an All-Big East selection last season after intercepting seven passes with nine pass breakups and 49 tackles. Jenkins, one of the fastest players in college football, had one interception and 15 pass breakups -- and could have had more if opponents weren't so hesitant to throw to his side of the field.
With those lockdown cornerbacks leading the way, South Florida limited opposing quarterbacks to a 51.2 percent completion rate last season.
"They're good," South Florida coach Jim Leavitt said. "Trae and Mike both had a very good summer. They are very focused, they are very good and very talented players. They are talented because they understand that they have to work, they can't lay their helmet on the field, and they need to get it done."
Mark Schlabach covers college football and men's college basketball for ESPN.com. You can contact him at schlabachma@yahoo.com.
College Football and Basketball
College football writer for ESPN.com
Author of seven books on college football
Formerly at the Washington Post and the Atlanta Journal-Constitution
2007 College Football Preview
The long wait for the start of the 2007 college football season is finally over. Get ready for the season with an in-depth look at the teams, trends, players and coaches. Index

Features
• Forde: Arkansas' favorite son also rising
• Forde: Welcome to Trickeration Nation
• Albright: Glanville has Portland State all shook up
• Maisel: Boise State part of quiet revolution
• Edwards: BCS system needs update


• Forde: QBs face burden of proof in '07
• Schlabach: Biggest shoes to fill this season
• Maisel: (Southern) State of the Game
• Schlabach: Hot or Not for 2007
Awards Watch
•
Ivan Maisel's preseason All-America team
•
Heisman Watch: Voters go Hog wild
•
SportsNation: Rank the Heisman contenders
Fearless Forecasts
•
Experts: Conference title projections
•
Maisel/Schlabach: Bowl predictions
•
McShay: Don't sleep on these teams

•
Games to watch:
National
|
Conference
Campus Confidential
•
Forde: Woodson stepping out of the shadow
•
Schlabach: Shhhh! Uncovering 2007's secrets
•
McShay: Seven secrets from the film room

•
Feldman: Saturday's secret agents revealed
•
EA Sports: Trick play simulations
•
Arkansas: Wildhog formation
•
Boise State: Statue of Liberty
•
LSU: Flea flicker
•
Texas: Wide receiver pass
•
USC: Halfback pass
ACC Features
•
Schlabach: ACC needs quality Miami, FSU
•
Schlabach: Wright, Freeman still battling at Miami
•
Schlabach: Wake sets bar high for encore
•
Schlabach: Five ACC predictions
Big East Features
•
Maisel: What's next for the Big East?
•
Maisel: USF's QB exudes old school cool
•
Maisel: Five Big East predictions
Big Ten Features
•
Schlabach: Michigan seniors return on a mission
•
Schlabach: Downsized Hill means supersized play
•
Schlabach: Big Ten at the crossroads
•
Schlabach: Five Big Ten predictions
Pac-10 Features
•
Forde: Now is the time for UCLA
•
Forde: Five Pac-10 predictions
•
Maisel: After long wait, Turner ready for stardom
•
Maisel: Ten Little Trojans running backs
•
Feldman: DeSean Jackson's born identity

SEC Features
•
Maisel: Saban snapshot reveals double feature
•
Higgins: Spurrier, Gamecocks thinking big
•
Schlabach: SEC balance of power shifts East
•
Schlabach: Five SEC predictions
Coaching Corner
•
Schlabach: Coaches on the hot seat
•
Schlabach: Rise of the assistants
•
McShay: Assistant coaches on the rise

•
McShay: Position coaches who deliver

Rule Changes
•
Kickoffs, timing rules highlight changes
•
McShay: Changes put premium on specialists

•
College Football Live: Impact of kickoff rule

•
Joe Tiller: Kickoff changes raise safety issues

•
College Football Live: Matter of time

Campus Call
ESPN.com will hit eight practice sessions to get an early pulse on the season. Check out what's happening on campus.
•
Aug. 7:
Gators looking for bite on D
•
Aug. 6:
ND's Weis plays respect card
|
McKnight makes USC debut
•
Aug. 5: Brown resolute in face of Texas' troubles
•
Aug. 4: WVU has speed to burn
•
Aug. 3: Taylor made Jacket
•
Aug. 2: Hokies begin road back to normalcy
•
Aug. 1: Report day is still a thrill for Tuberville