Commentary
Tigers will have the biggest SEC bite in 2007
Peering into the crystal ball revealed the following five predictions for the 2007 SEC season:
1. Florida won't repeat as national champion (or SEC East champion)
The defending national champion just has too many holes to fill on defense. Replacing the heart of the defense -- tackles Ray McDonald and Joe Cohen, middle linebacker Brandon Siler and free safety Reggie Nelson -- will be too difficult for co-coordinators Greg Mattison and Charlie Strong to overcome. The Gators take a step back in 2007, before jumping forward in a big way in 2008 and 2009.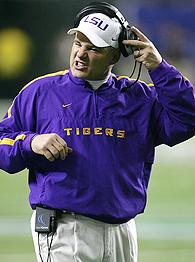 Streeter Lecka/Getty imagesLes Miles' team looks primed to play for the national title.
2. LSU will play USC in the BCS championship game
Tigers coach Les Miles will get his wish with a date against the Trojans in the Jan. 7 BCS National Championship Game in the Louisiana Superdome. After USC easily defeats the Tigers in front of LSU's home crowd, Miles will leave to become head coach at Michigan, replacing Lloyd Carr, who will retire after winning the Rose Bowl (and, of course, losing to Ohio State).
3. Nick Saban loses to LSU (but beats Auburn)
Saban's first season at Alabama will be a successful one, but the Crimson Tide won't come close to catching LSU in the SEC West. Alabama will lose twice in September and to LSU in November, but Saban will win the two games that matter most to Crimson Tide fans -- against Tennessee and Auburn.
4. The Egg Bowl loser gets poached
Ole Miss and Mississippi State will continue to struggle, and both will have losing records going into the Nov. 23 Egg Bowl in Starkville, Miss. Rebels coach Ed Orgeron and Bulldogs coach Sly Croom will be under intense pressure, but the winner of the game will buy himself another year. The loser gets a pink slip.
5. The SEC East champion will have two losses
Only three times in the last 15 years has the SEC East champion had more than one loss. That number should increase. Kentucky and Vanderbilt will each upset at least one of the other four teams in the division -- and possibly more -- causing havoc in the East. LSU will defeat either Georgia or Tennessee in the SEC championship game in the Georgia Dome, possibly opening the door for Arkansas to receive a BCS at-large berth, along with the unbeaten Tigers.
Mark Schlabach covers college football and men's college basketball for ESPN.com. You can contact him at schlabachma@yahoo.com.
College Football and Basketball
College football writer for ESPN.com
Author of seven books on college football
Formerly at the Washington Post and the Atlanta Journal-Constitution
SPONSORED HEADLINES
MORE COLLEGE FOOTBALL HEADLINES
MOST SENT STORIES ON ESPN.COM
2007 College Football Preview
The long wait for the start of the 2007 college football season is finally over. Get ready for the season with an in-depth look at the teams, trends, players and coaches. Index

Features
• Forde: Arkansas' favorite son also rising
• Forde: Welcome to Trickeration Nation
• Albright: Glanville has Portland State all shook up
• Maisel: Boise State part of quiet revolution
• Edwards: BCS system needs update


• Forde: QBs face burden of proof in '07
• Schlabach: Biggest shoes to fill this season
• Maisel: (Southern) State of the Game
• Schlabach: Hot or Not for 2007
Awards Watch
•
Ivan Maisel's preseason All-America team
•
Heisman Watch: Voters go Hog wild
•
SportsNation: Rank the Heisman contenders
Fearless Forecasts
•
Experts: Conference title projections
•
Maisel/Schlabach: Bowl predictions
•
McShay: Don't sleep on these teams

•
Games to watch:
National
|
Conference
Campus Confidential
•
Forde: Woodson stepping out of the shadow
•
Schlabach: Shhhh! Uncovering 2007's secrets
•
McShay: Seven secrets from the film room

•
Feldman: Saturday's secret agents revealed
•
EA Sports: Trick play simulations
•
Arkansas: Wildhog formation
•
Boise State: Statue of Liberty
•
LSU: Flea flicker
•
Texas: Wide receiver pass
•
USC: Halfback pass
ACC Features
•
Schlabach: ACC needs quality Miami, FSU
•
Schlabach: Wright, Freeman still battling at Miami
•
Schlabach: Wake sets bar high for encore
•
Schlabach: Five ACC predictions
Big East Features
•
Maisel: What's next for the Big East?
•
Maisel: USF's QB exudes old school cool
•
Maisel: Five Big East predictions
Big Ten Features
•
Schlabach: Michigan seniors return on a mission
•
Schlabach: Downsized Hill means supersized play
•
Schlabach: Big Ten at the crossroads
•
Schlabach: Five Big Ten predictions
Pac-10 Features
•
Forde: Now is the time for UCLA
•
Forde: Five Pac-10 predictions
•
Maisel: After long wait, Turner ready for stardom
•
Maisel: Ten Little Trojans running backs
•
Feldman: DeSean Jackson's born identity

SEC Features
•
Maisel: Saban snapshot reveals double feature
•
Higgins: Spurrier, Gamecocks thinking big
•
Schlabach: SEC balance of power shifts East
•
Schlabach: Five SEC predictions
Coaching Corner
•
Schlabach: Coaches on the hot seat
•
Schlabach: Rise of the assistants
•
McShay: Assistant coaches on the rise

•
McShay: Position coaches who deliver

Rule Changes
•
Kickoffs, timing rules highlight changes
•
McShay: Changes put premium on specialists

•
College Football Live: Impact of kickoff rule

•
Joe Tiller: Kickoff changes raise safety issues

•
College Football Live: Matter of time

Campus Call
ESPN.com will hit eight practice sessions to get an early pulse on the season. Check out what's happening on campus.
•
Aug. 7:
Gators looking for bite on D
•
Aug. 6:
ND's Weis plays respect card
|
McKnight makes USC debut
•
Aug. 5: Brown resolute in face of Texas' troubles
•
Aug. 4: WVU has speed to burn
•
Aug. 3: Taylor made Jacket
•
Aug. 2: Hokies begin road back to normalcy
•
Aug. 1: Report day is still a thrill for Tuberville