Commentary
Improved Commodores, Wildcats elevate SEC East
HOOVER, Ala. -- LSU is a national championship contender, even without quarterback JaMarcus Russell, the No. 1 pick in the NFL draft. Arkansas has Heisman Trophy favorite Darren McFadden. Alabama has Nick Saban, college football's first $4 million coach. And Auburn, the last team to go undefeated in the league, has become the SEC's model for consistency.
But during the 2007 season, at least, the SEC West won't be as good as the SEC East.
And here's why: Kentucky and Vanderbilt.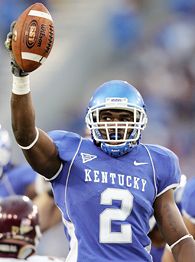 Andy Lyons/Getty ImagesMarcus McClinton expects the Wildcats to be a threat in 2007.
For the first time in a long time, there are no off weeks in the SEC East. Kentucky finally turned the corner under coach Rich Brooks last year, and Vanderbilt might reach that point this season after more than two decades of futility.
While the Commodores and Wildcats might not yet be ready to contend with traditional SEC East powers Florida, Georgia and Tennessee for a spot in the league championship game, the longtime pushovers might have a big say in which team ends up playing in Atlanta's Georgia Dome.
At least that's what Kentucky safety Marcus McClinton believes.
"They better not look at us like a homecoming game, because they'll be in for a rude awakening," McClinton said. "They aren't going to look at us as just a pushover team as they've done in the past. We have SEC-caliber players and we have the best quarterback in the SEC. They know that we're a threat and we can beat them. They should not underestimate the University of Kentucky."
Just what the SEC needs: bravado from Kentucky, which hasn't won an SEC championship in three decades and hasn't finished with a winning record in league play since 1977.
Unlike the SEC West, where LSU is an overwhelming favorite, the SEC East is seemingly up for grabs. So much so that South Carolina's title hopes might actually extend past September this season.
And now that the Commodores and Wildcats have transferred the 30-year mortgage on the league's cellar to Ole Miss and Mississippi State, they're confident they can play with anyone.
"I don't believe that I'm talking smack," McClinton said. "I just believe that with what we have accomplished, we can talk with a little more confidence."
And why not? Kentucky finished 8-5 last season, including a 24-20 upset of Georgia and a 28-20 victory over Clemson in the Music City Bowl, its first postseason win since 1984.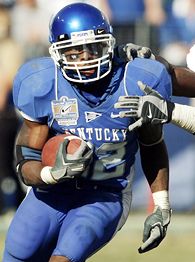 Joe Robbins/Getty ImagesRafael Little ran for 1,045 yards in 2005.
The Wildcats return 15 starters, including quarterback
Andre' Woodson
, an ESPN.com All-America choice who threw for 3,515 yards with 31 touchdowns and only seven interceptions in 2006. Tailback
Rafael Little
is back, along with receivers
Keenan Burton
and
Dicky Lyons
, who combined to catch 21 touchdowns last season.
If the Wildcats can play just a little defense, it might be an interesting season in the Bluegrass State.
"We think we have a chance to be an SEC contender and go to a BCS game," Woodson said. "I came to this university to help turn things around. We'd been a doormat for so many years, and now we want people and teams to know that we're a contender."
The Wildcats might indeed be a contender this season because the traditional powers in the SEC East seem to be as collectively vulnerable as they've ever been.
Florida must replace nine starters from its defense, which probably had more to do with the Gators' winning their second national championship than even coach Urban Meyer's high-octane offense. Sophomore quarterback Tim Tebow takes over a team that has only 10 juniors and 10 seniors and will be littered with underclassman starters.
"A lot of guys [were at] that national championship game," Meyer said of Florida's 41-14 win over Ohio State in the BCS title game. "But they're the ones who were wearing the hats on the sideline, not playing. I have concerns. I like the guys, but I just need to see how they're going to react in tough situations."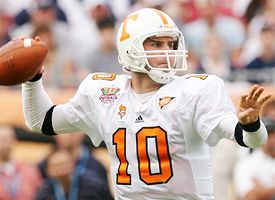 Scott Halleran/Getty ImagesErik Ainge and the Vols won't have an easy SEC East game in 2007.
Tennessee quarterback
Erik Ainge
might have to persevere in tougher situations, too, after the Volunteers lost starting receivers Robert Meachem, Jayson Swain and Bret Smith, who combined to catch 159 passes for 2,629 yards and 22 touchdowns. Starting tailback
LaMarcus Coker
has been suspended from the team indefinitely for off-field problems, and there are glaring holes in the secondary and on the defensive line.
Georgia didn't react very well in tough situations last season, after quarterback Matthew Stafford was thrown into the fire as a freshman. The Bulldogs lost to Kentucky and Vanderbilt in the same season for the first time since 1973, but rebounded to beat nationally ranked Auburn, Georgia Tech and Virginia Tech to finish the season.
The Bulldogs must replace three starters on the offensive line, and at least one freshman will start the Sept. 1 opener against Oklahoma State. Finding replacements for starting defensive ends Quentin Moses and Charles Johnson, each a third-round choice in the NFL draft, will be just as arduous.
"We're definitely under the radar," Bulldogs coach Mark Richt said. "Whether we rise or not is the big question. I believe in this team. I think we've got as good of a chance as any team we've had here."
Even Vanderbilt, which hasn't finished a season with a winning record since 1982, has high hopes this year. The Commodores return 17 starters from a team that finished 4-8 in 2006, but lost to Alabama by three, Arkansas by two and Florida by six.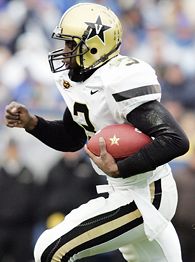 Andy Lyons/Getty ImagesChris Nickson rushed for nine touchdowns in 2006.
Vanderbilt quarterback
Chris Nickson
, who threw for 15 touchdowns and ran for nine last season, was named third-team All-SEC by the league's coaches, ahead of Stafford, Tebow and Auburn's
Brandon Cox
. Receiver
Earl Bennett
was a first-team All-SEC choice, after catching 82 passes and six touchdowns in 2006.
"I think we're more talented than we've been," Vanderbilt coach Bobby Johnson said.
When Spurrier returned to the SEC after leaving Florida for the NFL, he knew the Gamecocks would have to beat the Gators, Georgia and Tennessee to contend for league championships.
Spurrier probably wasn't too worried about having to beat Kentucky and Vanderbilt.
But as Spurrier begins his third season at South Carolina, the Wildcats and Commodores are more dangerous than before. And even Spurrier admits the SEC is more difficult than when he led Florida to six SEC championships during 1991-2000.
"I think it is a little tougher than back then," Spurrier said. "Seems like there was only maybe three, maybe four teams that had a chance to win the conference championship, whereas now there's at least six or maybe seven or so."
Even Kentucky.
Mark Schlabach covers college football and men's college basketball for ESPN.com. You can contact him at schlabachma@yahoo.com.
College Football and Basketball
College football writer for ESPN.com
Author of seven books on college football
Formerly at the Washington Post and the Atlanta Journal-Constitution
2007 College Football Preview
The long wait for the start of the 2007 college football season is finally over. Get ready for the season with an in-depth look at the teams, trends, players and coaches. Index

Features
• Forde: Arkansas' favorite son also rising
• Forde: Welcome to Trickeration Nation
• Albright: Glanville has Portland State all shook up
• Maisel: Boise State part of quiet revolution
• Edwards: BCS system needs update


• Forde: QBs face burden of proof in '07
• Schlabach: Biggest shoes to fill this season
• Maisel: (Southern) State of the Game
• Schlabach: Hot or Not for 2007
Awards Watch
•
Ivan Maisel's preseason All-America team
•
Heisman Watch: Voters go Hog wild
•
SportsNation: Rank the Heisman contenders
Fearless Forecasts
•
Experts: Conference title projections
•
Maisel/Schlabach: Bowl predictions
•
McShay: Don't sleep on these teams

•
Games to watch:
National
|
Conference
Campus Confidential
•
Forde: Woodson stepping out of the shadow
•
Schlabach: Shhhh! Uncovering 2007's secrets
•
McShay: Seven secrets from the film room

•
Feldman: Saturday's secret agents revealed
•
EA Sports: Trick play simulations
•
Arkansas: Wildhog formation
•
Boise State: Statue of Liberty
•
LSU: Flea flicker
•
Texas: Wide receiver pass
•
USC: Halfback pass
ACC Features
•
Schlabach: ACC needs quality Miami, FSU
•
Schlabach: Wright, Freeman still battling at Miami
•
Schlabach: Wake sets bar high for encore
•
Schlabach: Five ACC predictions
Big East Features
•
Maisel: What's next for the Big East?
•
Maisel: USF's QB exudes old school cool
•
Maisel: Five Big East predictions
Big Ten Features
•
Schlabach: Michigan seniors return on a mission
•
Schlabach: Downsized Hill means supersized play
•
Schlabach: Big Ten at the crossroads
•
Schlabach: Five Big Ten predictions
Pac-10 Features
•
Forde: Now is the time for UCLA
•
Forde: Five Pac-10 predictions
•
Maisel: After long wait, Turner ready for stardom
•
Maisel: Ten Little Trojans running backs
•
Feldman: DeSean Jackson's born identity

SEC Features
•
Maisel: Saban snapshot reveals double feature
•
Higgins: Spurrier, Gamecocks thinking big
•
Schlabach: SEC balance of power shifts East
•
Schlabach: Five SEC predictions
Coaching Corner
•
Schlabach: Coaches on the hot seat
•
Schlabach: Rise of the assistants
•
McShay: Assistant coaches on the rise

•
McShay: Position coaches who deliver

Rule Changes
•
Kickoffs, timing rules highlight changes
•
McShay: Changes put premium on specialists

•
College Football Live: Impact of kickoff rule

•
Joe Tiller: Kickoff changes raise safety issues

•
College Football Live: Matter of time

Campus Call
ESPN.com will hit eight practice sessions to get an early pulse on the season. Check out what's happening on campus.
•
Aug. 7:
Gators looking for bite on D
•
Aug. 6:
ND's Weis plays respect card
|
McKnight makes USC debut
•
Aug. 5: Brown resolute in face of Texas' troubles
•
Aug. 4: WVU has speed to burn
•
Aug. 3: Taylor made Jacket
•
Aug. 2: Hokies begin road back to normalcy
•
Aug. 1: Report day is still a thrill for Tuberville
MORE COLLEGE FOOTBALL HEADLINES