Commentary
Past national champs among most overrated
Which is the most overrated team in college football? Notre Dame? Michigan? Ohio State?
More than ever before, a school's position in the preseason rankings has a bearing on its chances of playing for the national championship at the end of the season. So even the preseason polls, which come out weeks before a game is even played, figure heavily in determining which teams will be ranked Nos. 1 and 2 in early December.
Preseason poll accuracy
ESPN.com examined which teams were the most overrated and underrated over the last 10 college football seasons by taking a team's preseason ranking in the AP Top 25 poll and compared it to where that team finished the season. Here are the highlights: Most overrated teams in last 10 years:
1. Florida State (-63)
2. Tennessee (-58)
3. Washington (-42)
4. Miami (-35)
T5. Ohio State (-34)
T5. Nebraska (-34)
7. Florida (-33 1/2)
8. Michigan (-25)
9. Texas (-24)
10. Clemson (-22) Most underrated teams in last 10 years:
1. Washington St. (+51)
2. Boise State (+48)
3. Oregon (+32 1/2)
4. Arkansas (+26)
5. Wisconsin (+23)
6. Louisville (+20)
7. TCU (+18)
T8. Boston College (+17)
T8. Iowa (+17)
T8. Maryland (+17) BCS Conferences:
1. Pac-10 (+60 1/2)
2. Big East (+9)
3. Big 10 (+3)
4. SEC (-12 1/2)
5. Big 12 (-78 1/2)
6. ACC (-102)
Evidence A: Since 1991, college football's national championship has come from outside the top 10 of the preseason Associated Press top 25 poll only four times -- Michigan was 14th in 1997, Oklahoma was 19th in 2000, Ohio State was 13th in 2002 and LSU was 14th in 2003. Evidence B: During the last 20 seasons, 13 teams have lost a game and still managed to finish the regular season ranked in the top two in the BCS standings or either poll of record. But only one of those teams -- LSU in 2003 -- was ranked lower than eighth in the preseason poll. So if your favorite team is beginning the 2007 season outside the top 10 in the AP or ESPN/USA Today coaches' polls, you'd better hope for an undefeated season. Otherwise, your team has a very small chance of winning the national championship. With that in mind, ESPN.com examined which teams were the most overrated and underrated over the last 10 college football seasons. The formula was simple: We took a team's preseason ranking in the AP Top 25 poll and compared it to where that team finished the season. For example, if State U. was ranked No. 6 in the preseason poll and finished 11th, the team lost five points. Conversely, if State Tech was ranked 13th in the preseason and finished second, it gained 11 points. Any team that started or finished the season unranked was given a ranking of No. 26. For example, if State U. started the season ranked No. 7 and finished unranked, it lost 19 points, and vice versa. Only teams that were ranked in at least three of the 10 preseason polls or final polls from 1997-2006 were included in the list of overrated and underrated teams. All teams included in at least one poll were included in conference standings. The results of the survey are probably surprising to even the most die-hard college football fans: • Florida State, which dominated college football during much of the 1990s, has been the sport's most overrated team during the last 10 seasons. In seven of the 10 seasons, the Seminoles finished with a lower ranking than they started with. FSU's biggest drop came during the 2002 season, when it started No. 3 and finished No. 21. Last season, the Seminoles were ranked No. 11 in the preseason and finished unranked in the AP poll for the first time in two decades. • Washington State, which has won only 15 games the last three seasons combined, was still the most underrated team during the 10-year stretch. The Cougars were ranked in four preseason AP polls since 1997 and finished significantly higher three times. The Cougars climbed from the ranks of the unranked to the final top 10 three times: No. 9 in 1997, No. 10 in 2001 and No. 9 in 2003. • Eight teams that won or shared national championships during the previous 10 seasons also were among college football's most overrated teams since 1997. Along with Florida State (1999 national champion), Tennessee (1998), Miami (2001), Ohio State (2002), Nebraska (1997), Florida (2006), Michigan (1997) and Texas (2005) finished in the top 10 of most overrated teams.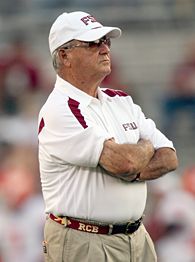 Doug Benc/Getty ImagesBobby Bowden's Seminoles have been the most overrated team of the last decade.
• Notre Dame, which long ago earned the reputation of being overhyped, wasn't among the top 10 overrated teams during the last 10 years. In fact, the aforementioned national champions, as well as 2003 co-champion LSU, were more overrated than the Fighting Irish in that time span. Although Notre Dame has failed to live up to lofty preseason rankings five times in the last 10 years, it also rose from unranked to ranked three times, finishing No. 15 in 2000, No. 17 in 2002 and No. 9 in 2005. • Boise State, which finished undefeated and beat Oklahoma 43-42 in overtime in the Fiesta Bowl last season, was the second-most underrated team of the last 10 years. The Broncos were ranked in the preseason only once (18th in 2005), but finished the season ranked four times, including No. 5 last season. TCU also was among the top 10 most underrated teams.
• The Pac-10 was by far the most underrated conference the last 10 years, thanks to yeoman's work from Washington State, Oregon and Oregon State. The Ducks improved their ranking significantly four straight seasons from 1998-2001, and the Beavers went from unranked to No. 4 at the end of the 2000 season. The Big East and Big Ten also finished on the positive side in aggregate score. • Despite producing two of the last four BCS national champions, the SEC is still underrated when it comes to the preseason AP poll. Seven of the nine SEC teams included in the survey scored in the black. In fact, SEC teams improved their ranking 49 percent of the time. Arkansas and Auburn were the most underrated teams; Tennessee and Florida were the most overrated. The Volunteers were ranked in each of the previous 10 preseason AP polls, but improved their ranking only three times by season's end. • Big 12 teams were the most overrated during the last 10 years. Only three teams included in the survey -- Iowa State, Kansas State and Texas Tech -- improved their overall ranking. Nebraska, Texas and Texas A&M were the league's most overrated teams.
Certainly, the preseason AP poll has proved to be far from prophetic, which is good news for teams ranked outside the top 25 at the beginning of the 2007 season. Since 1997, only 60 percent of the teams ranked in the preseason top 25 were still ranked at the end of the season. And nearly half (49 percent) of the teams in the top 10 fell out by season's end. And here's the real reason for hope for those teams not among the top 25 today: In every season since 1997, at least two teams that started the season unranked finished among the top 10.
Mark Schlabach covers college football and men's college basketball for ESPN.com. You can contact him at schlabachma@yahoo.com.
College Football and Basketball
College football writer for ESPN.com
Author of seven books on college football
Formerly at the Washington Post and the Atlanta Journal-Constitution
2007 College Football Preview
The long wait for the start of the 2007 college football season is finally over. Get ready for the season with an in-depth look at the teams, trends, players and coaches. Index

Features
• Forde: Arkansas' favorite son also rising
• Forde: Welcome to Trickeration Nation
• Albright: Glanville has Portland State all shook up
• Maisel: Boise State part of quiet revolution
• Edwards: BCS system needs update


• Forde: QBs face burden of proof in '07
• Schlabach: Biggest shoes to fill this season
• Maisel: (Southern) State of the Game
• Schlabach: Hot or Not for 2007
Awards Watch
•
Ivan Maisel's preseason All-America team
•
Heisman Watch: Voters go Hog wild
•
SportsNation: Rank the Heisman contenders
Fearless Forecasts
•
Experts: Conference title projections
•
Maisel/Schlabach: Bowl predictions
•
McShay: Don't sleep on these teams

•
Games to watch:
National
|
Conference
Campus Confidential
•
Forde: Woodson stepping out of the shadow
•
Schlabach: Shhhh! Uncovering 2007's secrets
•
McShay: Seven secrets from the film room

•
Feldman: Saturday's secret agents revealed
•
EA Sports: Trick play simulations
•
Arkansas: Wildhog formation
•
Boise State: Statue of Liberty
•
LSU: Flea flicker
•
Texas: Wide receiver pass
•
USC: Halfback pass
ACC Features
•
Schlabach: ACC needs quality Miami, FSU
•
Schlabach: Wright, Freeman still battling at Miami
•
Schlabach: Wake sets bar high for encore
•
Schlabach: Five ACC predictions
Big East Features
•
Maisel: What's next for the Big East?
•
Maisel: USF's QB exudes old school cool
•
Maisel: Five Big East predictions
Big Ten Features
•
Schlabach: Michigan seniors return on a mission
•
Schlabach: Downsized Hill means supersized play
•
Schlabach: Big Ten at the crossroads
•
Schlabach: Five Big Ten predictions
Pac-10 Features
•
Forde: Now is the time for UCLA
•
Forde: Five Pac-10 predictions
•
Maisel: After long wait, Turner ready for stardom
•
Maisel: Ten Little Trojans running backs
•
Feldman: DeSean Jackson's born identity

SEC Features
•
Maisel: Saban snapshot reveals double feature
•
Higgins: Spurrier, Gamecocks thinking big
•
Schlabach: SEC balance of power shifts East
•
Schlabach: Five SEC predictions
Coaching Corner
•
Schlabach: Coaches on the hot seat
•
Schlabach: Rise of the assistants
•
McShay: Assistant coaches on the rise

•
McShay: Position coaches who deliver

Rule Changes
•
Kickoffs, timing rules highlight changes
•
McShay: Changes put premium on specialists

•
College Football Live: Impact of kickoff rule

•
Joe Tiller: Kickoff changes raise safety issues

•
College Football Live: Matter of time

Campus Call
ESPN.com will hit eight practice sessions to get an early pulse on the season. Check out what's happening on campus.
•
Aug. 7:
Gators looking for bite on D
•
Aug. 6:
ND's Weis plays respect card
|
McKnight makes USC debut
•
Aug. 5: Brown resolute in face of Texas' troubles
•
Aug. 4: WVU has speed to burn
•
Aug. 3: Taylor made Jacket
•
Aug. 2: Hokies begin road back to normalcy
•
Aug. 1: Report day is still a thrill for Tuberville
MORE COLLEGE FOOTBALL HEADLINES

MOST SENT STORIES ON ESPN.COM