Commentary
Utah could surprise MWC, Pac-10 foes
Peering into the crystal ball revealed the following five predictions for the 2007 Mountain West season:
1. TCU will challenge Boise State for a BCS spot
The Horned Frogs return nine starters from one of the country's best defenses, led by ends Tommy Blake and Chase Ortiz. A victory at Texas on Sept. 8 would go a long way in getting TCU into the BCS discussion, and a close loss might even keep their BCS hopes alive. The Horned Frogs will finish the regular season no worse than 10-2.
2. Utah will make Karl Dorrell's seat warmer
The Utes are potentially good enough to challenge TCU for the Mountain West title, and they're good enough to beat the Bruins in Salt Lake City on Sept. 15. With quarterback
Brian Johnson
returning from a knee injury that forced him to redshirt last season, the Utes offense might be among the most explosive in the country.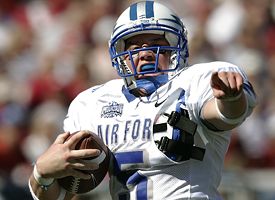 AP Photo/Douglas C. PizacAir Force's Shawn Carney should light up the scoreboard this season.
3. Air Force will throw the ball (and win)
Troy Calhoun replaces Fisher DeBerry, who retired after 24 seasons as coach at the Air Force Academy. Calhoun, a former Falcons quarterback and offensive coordinator of the Houston Texans in 2006, wants to throw the ball more. Air Force ran the ball nearly 82 percent of the time while running the wishbone last season, but
Shaun Carney
is an underrated passer and experienced quarterback. The Falcons will struggle early -- they face a tough four-game stretch in September (at Utah, against TCU and then at BYU and Navy) -- but they'll rebound late to make Calhoun's rookie season a success.
4. BYU won't slip much without John Beck
Beck, now a backup quarterback with the Miami Dolphins, was one of the country's most underrated quarterbacks last season. But Arizona State transfer
Max Hall
, who hasn't played since his senior year of high school in 2003, will flourish in BYU's pass-happy attack. Hall, the nephew of former Dallas Cowboys quarterback Danny White, spent the 2005 season on a Mormon mission and sat out last season after transferring.
5. Sonny Lubick will retire -- if Colorado State doesn't win
Lubick, entering his 15th season at Colorado State, put the Rams on the map as far as college football is concerned. He is one of nine active coaches to win 100 games at their current school, and the Rams have won six league titles under his watch. But the last three seasons have been hard. The Rams lost tailback
Kyle Bell
to a knee injury before the 2006 opener and finished 4-8, ending the season with a seven-game losing streak. With Bell and 17 other starters back, the Rams are poised for a big rebound. If not, Lubick might step down.
Mark Schlabach covers college football and men's college basketball for ESPN.com. You can contact him at schlabachma@yahoo.com.
College Football and Basketball
College football writer for ESPN.com
Author of seven books on college football
Formerly at the Washington Post and the Atlanta Journal-Constitution
2007 College Football Preview
The long wait for the start of the 2007 college football season is finally over. Get ready for the season with an in-depth look at the teams, trends, players and coaches. Index

Features
• Forde: Arkansas' favorite son also rising
• Forde: Welcome to Trickeration Nation
• Albright: Glanville has Portland State all shook up
• Maisel: Boise State part of quiet revolution
• Edwards: BCS system needs update


• Forde: QBs face burden of proof in '07
• Schlabach: Biggest shoes to fill this season
• Maisel: (Southern) State of the Game
• Schlabach: Hot or Not for 2007
Awards Watch
•
Ivan Maisel's preseason All-America team
•
Heisman Watch: Voters go Hog wild
•
SportsNation: Rank the Heisman contenders
Fearless Forecasts
•
Experts: Conference title projections
•
Maisel/Schlabach: Bowl predictions
•
McShay: Don't sleep on these teams

•
Games to watch:
National
|
Conference
Campus Confidential
•
Forde: Woodson stepping out of the shadow
•
Schlabach: Shhhh! Uncovering 2007's secrets
•
McShay: Seven secrets from the film room

•
Feldman: Saturday's secret agents revealed
•
EA Sports: Trick play simulations
•
Arkansas: Wildhog formation
•
Boise State: Statue of Liberty
•
LSU: Flea flicker
•
Texas: Wide receiver pass
•
USC: Halfback pass
ACC Features
•
Schlabach: ACC needs quality Miami, FSU
•
Schlabach: Wright, Freeman still battling at Miami
•
Schlabach: Wake sets bar high for encore
•
Schlabach: Five ACC predictions
Big East Features
•
Maisel: What's next for the Big East?
•
Maisel: USF's QB exudes old school cool
•
Maisel: Five Big East predictions
Big Ten Features
•
Schlabach: Michigan seniors return on a mission
•
Schlabach: Downsized Hill means supersized play
•
Schlabach: Big Ten at the crossroads
•
Schlabach: Five Big Ten predictions
Pac-10 Features
•
Forde: Now is the time for UCLA
•
Forde: Five Pac-10 predictions
•
Maisel: After long wait, Turner ready for stardom
•
Maisel: Ten Little Trojans running backs
•
Feldman: DeSean Jackson's born identity

SEC Features
•
Maisel: Saban snapshot reveals double feature
•
Higgins: Spurrier, Gamecocks thinking big
•
Schlabach: SEC balance of power shifts East
•
Schlabach: Five SEC predictions
Coaching Corner
•
Schlabach: Coaches on the hot seat
•
Schlabach: Rise of the assistants
•
McShay: Assistant coaches on the rise

•
McShay: Position coaches who deliver

Rule Changes
•
Kickoffs, timing rules highlight changes
•
McShay: Changes put premium on specialists

•
College Football Live: Impact of kickoff rule

•
Joe Tiller: Kickoff changes raise safety issues

•
College Football Live: Matter of time

Campus Call
ESPN.com will hit eight practice sessions to get an early pulse on the season. Check out what's happening on campus.
•
Aug. 7:
Gators looking for bite on D
•
Aug. 6:
ND's Weis plays respect card
|
McKnight makes USC debut
•
Aug. 5: Brown resolute in face of Texas' troubles
•
Aug. 4: WVU has speed to burn
•
Aug. 3: Taylor made Jacket
•
Aug. 2: Hokies begin road back to normalcy
•
Aug. 1: Report day is still a thrill for Tuberville
MORE COLLEGE FOOTBALL HEADLINES