Commentary
Michigan seniors ready to erase some dubious zeros
CHICAGO -- If left tackle Jake Long had left Michigan after the 2006 season, he probably would have collected an NFL signing bonus that ended in quite a few zeros.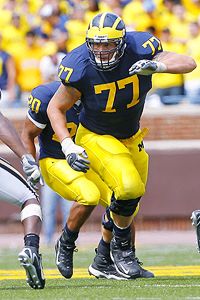 Leon Halip/WireImageJake Long passed up some big NFL dollars -- for now -- to take care of some unfinished business.
But Long, the Wolverines' soft-spoken All-American, was more concerned about two other zeros.
Zero wins against Ohio State. Zero bowl victories.
The Wolverines have finished each of the last three seasons with consecutive losses, and ending that dubious streak is why Long returned to Michigan for the 2007 season, rather than entering the NFL draft.
"That's one of the reasons I came back," Long said. "We haven't finished a season strong as a group. We haven't beaten Ohio State. We haven't won a bowl game. We want to come out on top as seniors."
Thanks to Long's surprising decision, the Wolverines enter this season as favorites to win the Big Ten championship, something that has elluded them since Long's redshirt freshman season in 2004.
When Long, a 6-foot-7, 313-pound native of Lapeer, Mich., decided to return to school for his senior season, tailback Mike Hart and quarterback Chad Henne soon followed. That trio, along with receivers Mario Manningham and Adrian Arrington, gives Michigan what could potentially be one of the most explosive offenses in college football.
And it was Long who started Michigan's domino effect.
"When you give up $12 or $15 million, you have to be a Michigan man," Hart said. "You have to love the school."
Or you must really want to beat Ohio State, which knocked the Wolverines out of the BCS National Championship Game with a 42-39 win in what was one of the most anticipated games in recent history.
After Michigan closed the 2006 season with a disappointing 32-18 loss to Southern California in the Rose Bowl, Long, Hart and Henne went their separate ways. Hart wasn't sure whether Long would return to school, but the running back said he wasn't coming back if his lead blocker didn't return. Henne had already told coach Lloyd Carr that he would come back, but the quarterback said his decision might have changed if Hart and Long had left.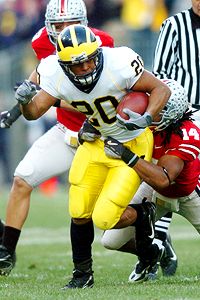 Steve Grayson/WireImageMike Hart's return made Long's decision a little easier.
"They never had to persuade me," Long said. "We kind of just stayed away from each other and let each other make their own decision. The biggest thing Mike said was he was coming back if I came back."
Certainly, Long faced the most difficult decision and had the most to gain financially. He started all 13 games at left tackle last season and was named Big Ten Offensive Lineman of the Year. He has exceptionally quick feet, long arms and is considered a prototypical NFL tackle.
If Long had left Michigan and entered the NFL draft, he might have been the second offensive lineman selected, behind Wisconsin tackle Joe Thomas, the third choice in the draft by the Cleveland Browns. Instead, Penn State tackle Levi Brown was picked fifth by the Arizona Cardinals.
"There would have been no Levi Brown at No. 5," Hart said. "Levi Brown owes Jake some of that signing bonus. Jake's better than Joe Thomas, too, but Thomas got all the hype."
Long, 22, said he watched the NFL draft alone in his apartment in Ann Arbor, Mich. After Thomas and Brown, his two former Big Ten rivals, were selected so high, Long said he didn't think about what he might have passed up.
"Levi Brown was a great player and deserves everything he got," Long said. "I was happy for him. I'm working so next year that's me."
While Long enters his senior season as a potential top 10 selection in the 2008 NFL draft, Hart and Henne still have questions to answer about their abilities. Hart finished fifth in voting for the Heisman Trophy voting last year, after running for 1,562 yards and 14 touchdowns. Hart enters this season needing 794 yards to surpass Anthony Thomas' school record of 4,472 career rushing yards.
Just as impressively, Hart has proved to be one of the most reliable runners in college football history. He has fumbled only three times in 750 carries during his career and hasn't lost the football in a game since 2004.
But because of Hart's small stature (the Syracuse, N.Y., native is only 5-foot-9 and 196 pounds), he still faces concerns about whether he's big enough to be an every-down runner in the NFL.
Henne has no doubt his tailback can excel in the pros.
"You compare him to Barry Sanders," Henne said. "He can move laterally and see the holes and make the cuts. He's such a competitor that nobody really gets in his way."
Hart's escapability and toughness are what separate him from running backs like Arkansas' Darren McFadden and West Virginia's Steve Slaton, Henne said.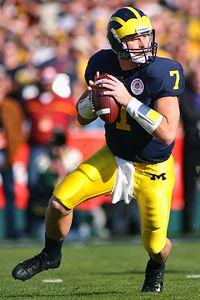 Christian Petersen/Getty ImagesChad Henne still has some doubters that he can win the big game.
"Those guys have the true speed," Henne said. "Mike is more hit the hole, find the hole and make people miss. Once they get him in the NFL combine and see how strong he is, there's no doubt they'll draft him high."
Going into last season, inconsistency was the only thing preventing Henne from becoming an elite quarterback. He became Michigan's quarterback the day he stepped on campus in 2004 and has started all 37 games the last three seasons combined. Barring an injury this season, Henne will break Michigan records for career attempts, completions, passing yards and touchdown passes.
But until Henne played well in last season's victories over Notre Dame, Penn State and Iowa, and even in the loss to Ohio State, he had been dogged by his performances in the Wolverines' biggest games.
"He's so confident now and knows what the defense is going to do," Long said. "He doesn't let anything get in his head or anything get in his way."
And if Michigan can survive the first 2½ months of the season, which include home games against Oregon, Notre Dame and Penn State, the Buckeyes again will be the only thing standing in the Wolverines' way.
"I'm excited," Long said. "This team looks hungry. This team looks excited. I feel like something would be missing [if we left without beating Ohio State and winning a bowl game]. We've done a lot of great things in our careers, but we haven't beaten Ohio State and haven't won a bowl game."
Mark Schlabach covers college football and men's college basketball for ESPN.com. You can contact him at schlabachma@yahoo.com.
College Football and Basketball
College football writer for ESPN.com
Author of seven books on college football
Formerly at the Washington Post and the Atlanta Journal-Constitution
SPONSORED HEADLINES
MORE COLLEGE FOOTBALL HEADLINES
MOST SENT STORIES ON ESPN.COM
2007 College Football Preview
The long wait for the start of the 2007 college football season is finally over. Get ready for the season with an in-depth look at the teams, trends, players and coaches. Index

Features
• Forde: Arkansas' favorite son also rising
• Forde: Welcome to Trickeration Nation
• Albright: Glanville has Portland State all shook up
• Maisel: Boise State part of quiet revolution
• Edwards: BCS system needs update


• Forde: QBs face burden of proof in '07
• Schlabach: Biggest shoes to fill this season
• Maisel: (Southern) State of the Game
• Schlabach: Hot or Not for 2007
Awards Watch
•
Ivan Maisel's preseason All-America team
•
Heisman Watch: Voters go Hog wild
•
SportsNation: Rank the Heisman contenders
Fearless Forecasts
•
Experts: Conference title projections
•
Maisel/Schlabach: Bowl predictions
•
McShay: Don't sleep on these teams

•
Games to watch:
National
|
Conference
Campus Confidential
•
Forde: Woodson stepping out of the shadow
•
Schlabach: Shhhh! Uncovering 2007's secrets
•
McShay: Seven secrets from the film room

•
Feldman: Saturday's secret agents revealed
•
EA Sports: Trick play simulations
•
Arkansas: Wildhog formation
•
Boise State: Statue of Liberty
•
LSU: Flea flicker
•
Texas: Wide receiver pass
•
USC: Halfback pass
ACC Features
•
Schlabach: ACC needs quality Miami, FSU
•
Schlabach: Wright, Freeman still battling at Miami
•
Schlabach: Wake sets bar high for encore
•
Schlabach: Five ACC predictions
Big East Features
•
Maisel: What's next for the Big East?
•
Maisel: USF's QB exudes old school cool
•
Maisel: Five Big East predictions
Big Ten Features
•
Schlabach: Michigan seniors return on a mission
•
Schlabach: Downsized Hill means supersized play
•
Schlabach: Big Ten at the crossroads
•
Schlabach: Five Big Ten predictions
Pac-10 Features
•
Forde: Now is the time for UCLA
•
Forde: Five Pac-10 predictions
•
Maisel: After long wait, Turner ready for stardom
•
Maisel: Ten Little Trojans running backs
•
Feldman: DeSean Jackson's born identity

SEC Features
•
Maisel: Saban snapshot reveals double feature
•
Higgins: Spurrier, Gamecocks thinking big
•
Schlabach: SEC balance of power shifts East
•
Schlabach: Five SEC predictions
Coaching Corner
•
Schlabach: Coaches on the hot seat
•
Schlabach: Rise of the assistants
•
McShay: Assistant coaches on the rise

•
McShay: Position coaches who deliver

Rule Changes
•
Kickoffs, timing rules highlight changes
•
McShay: Changes put premium on specialists

•
College Football Live: Impact of kickoff rule

•
Joe Tiller: Kickoff changes raise safety issues

•
College Football Live: Matter of time

Campus Call
ESPN.com will hit eight practice sessions to get an early pulse on the season. Check out what's happening on campus.
•
Aug. 7:
Gators looking for bite on D
•
Aug. 6:
ND's Weis plays respect card
|
McKnight makes USC debut
•
Aug. 5: Brown resolute in face of Texas' troubles
•
Aug. 4: WVU has speed to burn
•
Aug. 3: Taylor made Jacket
•
Aug. 2: Hokies begin road back to normalcy
•
Aug. 1: Report day is still a thrill for Tuberville