Commentary
Big Ten facing multiple hurdles in 2007
CHICAGO -- When a reporter began to recite the list of players Ohio State's football team will have to replace this season -- stars such as Heisman Trophy winner Troy Smith and receivers Ted Ginn Jr. and Anthony Gonzalez -- Buckeyes coach Jim Tressel cut him off.
"You mention all those names and they're gone," Tressel said. "It makes me feel bad."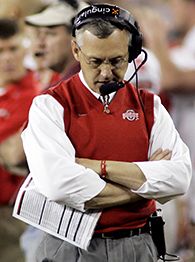 AP Photo/Ted S. WarrenJim Tressel and the Buckeyes have to replace most of their offensive weapons.
The defending Big Ten champion won't be the only team from the conference searching for an identity this season. Michigan, the 2006 Big Ten runner-up, must replace seven starters on defense, including All-American tackle Alan Branch and cornerback Leon Hall. Wisconsin must replace quarterback John Stocco, and Penn State must find replacements for leading rusher Tony Hunt and linebacker Paul Posluszny.
Three other Big Ten teams figure to endure even more difficult transitions. Indiana, Michigan State and Minnesota have new coaches. The Hoosiers promoted assistant head coach/offensive coordinator Bill Lynch to succeed Terry Hoeppner, who died June 19 after an 18-month battle with a brain tumor. The Spartans hired Cincinnati's Mark Dantonio to replace John L. Smith, who was fired, and the Gophers hired former NFL assistant Tim Brewster to succeed Glen Mason, who was ousted after 10 seasons.
Uncertainty also extended to the Big Ten's most high-profile teams at the end of the 2006 season. Ohio State and Michigan flopped in bowl games, raising questions about the league's overall strength.
Those factors, combined with the questions about expansion and scheduling, seem to place the Big Ten at a crossroads in 2007.
But Big Ten commissioner Jim Delany said his league is stronger than ever.
"The Big Ten intercollegiate athletics are in a very healthy state, in particular, the sport of football," Delany said. "We've had teams not only compete on the national basis, as we've had two teams win a national championship in the past 10 years and competing for several more, but also within the conference. We've had eight different champions or co-champions in the past decade."
However, the 2006 postseason was one to forget for the Big Ten. Ohio State was pummeled by 27 points by Florida in the BCS Championship Game. Michigan, which was ranked No. 2 in the country for much of last season, lost to USC by two touchdowns in the Rose Bowl.
While Wisconsin finished 12-1 in coach Bret Bielema's first year, beating Arkansas 17-14 in the Capital One Bowl to end the season, the rest of the Big Ten was largely mediocre or worse in 2006.
Penn State finished 9-4 after replacing many starters from a team that lost only one game in 2005. Iowa finished with a losing record for the first time in six seasons, and Purdue lost at least five games for the third season in a row.
All told, six of the league's 11 teams finished the 2006 season with losing records. And its bad teams have been really, really bad. Illinois has lost 30 of its past 32 conference games and hasn't won more than one Big Ten game in a season since 2002. Indiana has lost 26 of its past 32 Big Ten games.
So when the Buckeyes and Wolverines were beaten so soundly in bowl games, the overall strength of the Big Ten was immediately scrutinized. Were Michigan and Ohio State really that good? Or did those teams simply pad their records against soft conference schedules?
"You feel a little bit like you let down the rest of the conference," Tressel said.
So much so that during the offseason, the Big Ten examined the way it finishes the regular season. Did the long layoffs contribute to another poor postseason showing? The conference has produced one winning bowl season since 1999, going 20-27 in postseason games the past seven seasons combined.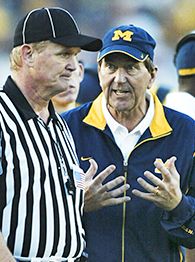 AP Photo/Kevork DjansezianLloyd Carr and the Wolverines have lost four straight bowl games.
Ohio State was beaten 41-14 by the Gators after a 51-day layoff. Michigan lost to USC 32-18 after waiting 44 days to play. The Big Ten regular season ended Nov. 18 last season, two weeks earlier than most other leagues.
This spring, Big Ten coaches discussed adding a bye week to the schedule to extend the regular season, thus eliminating the long layoff between the regular-season finale and bowl games. But coaches voted against it because they didn't want their teams playing beyond Thanksgiving Day.
Delany also squashed any thoughts about expanding the Big Ten to 12 teams, which would enable the league to stage a conference championship game, like the ACC, Big 12, SEC and other conferences do.
"This shouldn't surprise anybody," Delany said. "We're not looking for a championship game. If we were looking for a championship game, we would have had one 15 years ago. We're looking for a stronger conference, a conference that works better for all 11 members. Our goal from our 11 institutions is how can we get better."
Don't tell Delany the league should start by recruiting better athletes. When a Chicago Sun-Times reporter suggested Big Ten teams couldn't compete with SEC teams because they weren't recruiting the best athletes, Delany defended his league's schools -- and seemed to criticize some SEC schools' academic standards.
"I love speed and the SEC has great speed, especially on the defensive line, but there are appropriate balances when mixing academics and athletics," Delany wrote in an open letter to Big Ten fans, which was published on the league's Web site Feb. 9.
"Each school, as well as each conference, simply must do what fits their mission regardless of what a recruiting service recommends. I wish we had six teams among the top 10 recruiting classes every year, but winning our way requires some discipline and restraint with the recruitment process. Not every athlete fits athletically, academically or socially at every university. Fortunately, we have been able to balance our athletic and academic mission so that we can compete successfully and keep faith with our academic standards."
Before criticizing the SEC, Delany pointed out the Big Ten's recent success against the league: a 2-1 record against SEC teams in bowl games last season; an 8-6 record against SEC teams in bowl games the last five years; and 15 BCS berths to the SEC's 13. Delany also noted that Big Ten teams have produced five Heisman Trophy winners in the past 15 years, compared to the SEC's one.
Tressel said Ohio State's bad loss to the Gators wasn't a result of the Buckeyes' being slower.
"I think they were both pretty fast," Tressel said. "There's no question Florida was a fast team, and Ohio State was a fast team. The first play of the game [Ginn's 93-yard kickoff return for a touchdown], it looked like we had the fastest guy in the world."
Illinois coach Ron Zook, who coached at Florida for three seasons, said Big Ten teams are well-equipped to beat their SEC counterparts.
"In my mind, there isn't any difference," Zook said. "We have every bit the speed that they do. In my mind, there is no question that this league can compete against anyone in the country."
It's time for Big Ten teams to start doing it.
Mark Schlabach covers college football and men's college basketball for ESPN.com. You can contact him at schlabachma@yahoo.com.
College Football and Basketball
College football writer for ESPN.com
Author of seven books on college football
Formerly at the Washington Post and the Atlanta Journal-Constitution
2007 College Football Preview
The long wait for the start of the 2007 college football season is finally over. Get ready for the season with an in-depth look at the teams, trends, players and coaches. Index

Features
• Forde: Arkansas' favorite son also rising
• Forde: Welcome to Trickeration Nation
• Albright: Glanville has Portland State all shook up
• Maisel: Boise State part of quiet revolution
• Edwards: BCS system needs update


• Forde: QBs face burden of proof in '07
• Schlabach: Biggest shoes to fill this season
• Maisel: (Southern) State of the Game
• Schlabach: Hot or Not for 2007
Awards Watch
•
Ivan Maisel's preseason All-America team
•
Heisman Watch: Voters go Hog wild
•
SportsNation: Rank the Heisman contenders
Fearless Forecasts
•
Experts: Conference title projections
•
Maisel/Schlabach: Bowl predictions
•
McShay: Don't sleep on these teams

•
Games to watch:
National
|
Conference
Campus Confidential
•
Forde: Woodson stepping out of the shadow
•
Schlabach: Shhhh! Uncovering 2007's secrets
•
McShay: Seven secrets from the film room

•
Feldman: Saturday's secret agents revealed
•
EA Sports: Trick play simulations
•
Arkansas: Wildhog formation
•
Boise State: Statue of Liberty
•
LSU: Flea flicker
•
Texas: Wide receiver pass
•
USC: Halfback pass
ACC Features
•
Schlabach: ACC needs quality Miami, FSU
•
Schlabach: Wright, Freeman still battling at Miami
•
Schlabach: Wake sets bar high for encore
•
Schlabach: Five ACC predictions
Big East Features
•
Maisel: What's next for the Big East?
•
Maisel: USF's QB exudes old school cool
•
Maisel: Five Big East predictions
Big Ten Features
•
Schlabach: Michigan seniors return on a mission
•
Schlabach: Downsized Hill means supersized play
•
Schlabach: Big Ten at the crossroads
•
Schlabach: Five Big Ten predictions
Pac-10 Features
•
Forde: Now is the time for UCLA
•
Forde: Five Pac-10 predictions
•
Maisel: After long wait, Turner ready for stardom
•
Maisel: Ten Little Trojans running backs
•
Feldman: DeSean Jackson's born identity

SEC Features
•
Maisel: Saban snapshot reveals double feature
•
Higgins: Spurrier, Gamecocks thinking big
•
Schlabach: SEC balance of power shifts East
•
Schlabach: Five SEC predictions
Coaching Corner
•
Schlabach: Coaches on the hot seat
•
Schlabach: Rise of the assistants
•
McShay: Assistant coaches on the rise

•
McShay: Position coaches who deliver

Rule Changes
•
Kickoffs, timing rules highlight changes
•
McShay: Changes put premium on specialists

•
College Football Live: Impact of kickoff rule

•
Joe Tiller: Kickoff changes raise safety issues

•
College Football Live: Matter of time

Campus Call
ESPN.com will hit eight practice sessions to get an early pulse on the season. Check out what's happening on campus.
•
Aug. 7:
Gators looking for bite on D
•
Aug. 6:
ND's Weis plays respect card
|
McKnight makes USC debut
•
Aug. 5: Brown resolute in face of Texas' troubles
•
Aug. 4: WVU has speed to burn
•
Aug. 3: Taylor made Jacket
•
Aug. 2: Hokies begin road back to normalcy
•
Aug. 1: Report day is still a thrill for Tuberville
MORE COLLEGE FOOTBALL HEADLINES
Rawlings Michigan State Spartans 2014 Rose Bowl Game Champions Youth Football Shop »

MOST SENT STORIES ON ESPN.COM