Commentary
ACC needs Miami, Florida State to thrive
PINEHURST, N.C. -- When the ACC raided the Big East for Boston College, Miami and Virginia Tech, the longtime college basketball superconference was supposed to become just as successful in football.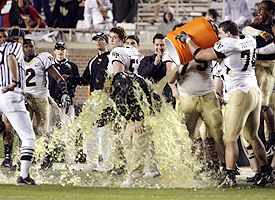 Don Juan Moore/WireImageJim Grobe's Wake Forest squad was an unlikely team to celebrate an ACC championship.
But as the ACC enters its third season with 12 teams, two divisions and a conference championship game, it's not any better than when it started.
In fact, it's not any better than the depleted Big East -- let alone the Big Ten, Big 12, Pac-10 or SEC.
Wake Forest, which never had won more than eight games in a season in its first 105 years of football, was ACC champion in 2006. Miami and Florida State, which were supposed to be the league's marquee teams post-expansion, each limped home with a 7-6 record. Four of the league's teams had losing records, including 0-12 Duke.
ACC commissioner John Swofford, who ruffled more than a few feathers when he started college football's most recent realignment by swiping the trio of former Big East teams, admits that his league still has work to do.
But Swofford won't apologize for Wake Forest winning the ACC in 2006. Although the Demon Deacons were one of the sport's best underdog stories in recent history, they were hardly the team many fans, advertisers and TV executives wanted to see in the ACC championship game and a BCS bowl game.
"They deserved it. They earned it," Swofford said. "If that fits Madison Avenue, fine. If it doesn't, that's fine, too, because the competition is most important. Whoever wins it should have instant credibility."
But the Demon Deacons didn't get much credibility when they won their second ACC championship in 53 years. They weren't considered on equal footing with Big 12 champion Oklahoma, Big Ten champ Ohio State, Pac-10 champ USC or SEC champ Florida. Instead, Wake Forest was considered a team that won a mediocre conference, mainly because Florida State and Miami struggled so much.
"People have these preconceived ideas of who's supposed to be what," Swofford said. "There's a reason for that, and it's tradition, history and what's happened in the past. But at the same time, when teams upset the apple cart, there has to be respect that other teams can do that. When a Wake Forest can win a league with Florida State, Miami and Virginia Tech in the league, that's something to be respected."
When Wake Forest won ACC basketball titles in the past, the Demon Deacons were regarded as a very good team. After all, they had to beat Duke, North Carolina and Maryland to do it.
But with traditional powers Florida State and Miami struggling in football, losing 20 games combined the past two seasons, the ACC's reputation has taken a serious hit.
"If you look at our basketball tradition, if a team won the championship, you would think they were pretty good," Swofford said. "That's what we're looking for in football."
The only way the ACC will get to that point is if the Hurricanes and Seminoles reclaim their positions among college football's best teams. Florida State won two national championships in the 1990s but hasn't finished in the top 10 of the final Associated Press Top 25 poll since 2000. Miami has won five national titles, most recently in 2001, but has finished second or worse in the ACC's Coastal Division in each of its three seasons in the league.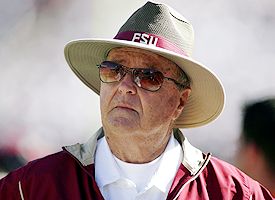 Marc Serota/Getty ImagesBobby Bowden and Florida State haven't enjoyed much BCS success recently.
"For all the writers and people across the world, that's what they expect to see," Hurricanes defensive end Calais Campbell said. "When the powerhouses aren't on top, they think the ACC must not be any good."
Frankly, the ACC hasn't been very good post-expansion. Consider:
• The ACC and Big East are the only conferences that have yet to have a team receive an at-large berth in the BCS. The four other BCS conferences (Big Ten, Big 12, Pac-10 and SEC) have combined for 15 at-large bids in the past nine years, led by the Big Ten's six at-large selections.
• ACC champions have lost their past seven bowl games, including Wake Forest's 24-13 loss to Louisville in the FedEx Orange Bowl last season. Florida State lost its past four BCS bowl games, including a 13-2 loss to Oklahoma in the 2001 Orange Bowl, the last time the ACC champ played for the national championship.
• The ACC has failed to have a team finish in the top five of the final AP poll since Florida State was No. 5 at the end of the 2000 season. Each of the other BCS conferences had at least four top-5 teams during that span. Virginia Tech is the only team with a top-10 ranking in the final AP poll in the past six seasons, finishing No. 7 in 2005 and No. 10 in 2004. Last year, no ACC team finished in the top 15 in the final AP poll, which hadn't happened since 1991, the year before FSU joined the league.
• Since 2000, ACC teams have lost 31 of 34 games against nonconference opponents ranked in the top 10 of the AP poll. Since Miami and Virginia Tech joined the ACC in 2004 (Boston College joined the next season), the league has lost 21 of its last 28 nonconference games against Top 25 opponents. ACC teams were 0-7 against ranked nonconference opponents last season.
New Miami coach Randy Shannon said the ACC's biggest problem is parity, not a lack of quality teams.
"Every year, everybody says Southern Cal is going to win the Pac-10 and it happens," Shannon said. "Every year, they say it's going to be Texas or Oklahoma [in the Big 12] and it happens. It's Michigan or Ohio State [in the Big Ten]. It's not that way in the ACC because there's so much balance."
The ACC used to be that way, back when Florida State won nine straight ACC titles after joining the league. Maryland finally broke the Seminoles' streak in 2001, and Virginia Tech won the ACC championship in its first season in the conference in 2004.
"I think other teams have gained on us," FSU defensive tackle Andre Fluellen said. "I think it goes both ways. I don't think we've lost anything."
But without FSU and Miami winning big, the ACC has lost quite a bit.
Mark Schlabach covers college football and men's college basketball for ESPN.com. You can contact him at schlabachma@yahoo.com.
College Football and Basketball
College football writer for ESPN.com
Author of seven books on college football
Formerly at the Washington Post and the Atlanta Journal-Constitution
2007 College Football Preview
The long wait for the start of the 2007 college football season is finally over. Get ready for the season with an in-depth look at the teams, trends, players and coaches. Index

Features
• Forde: Arkansas' favorite son also rising
• Forde: Welcome to Trickeration Nation
• Albright: Glanville has Portland State all shook up
• Maisel: Boise State part of quiet revolution
• Edwards: BCS system needs update


• Forde: QBs face burden of proof in '07
• Schlabach: Biggest shoes to fill this season
• Maisel: (Southern) State of the Game
• Schlabach: Hot or Not for 2007
Awards Watch
•
Ivan Maisel's preseason All-America team
•
Heisman Watch: Voters go Hog wild
•
SportsNation: Rank the Heisman contenders
Fearless Forecasts
•
Experts: Conference title projections
•
Maisel/Schlabach: Bowl predictions
•
McShay: Don't sleep on these teams

•
Games to watch:
National
|
Conference
Campus Confidential
•
Forde: Woodson stepping out of the shadow
•
Schlabach: Shhhh! Uncovering 2007's secrets
•
McShay: Seven secrets from the film room

•
Feldman: Saturday's secret agents revealed
•
EA Sports: Trick play simulations
•
Arkansas: Wildhog formation
•
Boise State: Statue of Liberty
•
LSU: Flea flicker
•
Texas: Wide receiver pass
•
USC: Halfback pass
ACC Features
•
Schlabach: ACC needs quality Miami, FSU
•
Schlabach: Wright, Freeman still battling at Miami
•
Schlabach: Wake sets bar high for encore
•
Schlabach: Five ACC predictions
Big East Features
•
Maisel: What's next for the Big East?
•
Maisel: USF's QB exudes old school cool
•
Maisel: Five Big East predictions
Big Ten Features
•
Schlabach: Michigan seniors return on a mission
•
Schlabach: Downsized Hill means supersized play
•
Schlabach: Big Ten at the crossroads
•
Schlabach: Five Big Ten predictions
Pac-10 Features
•
Forde: Now is the time for UCLA
•
Forde: Five Pac-10 predictions
•
Maisel: After long wait, Turner ready for stardom
•
Maisel: Ten Little Trojans running backs
•
Feldman: DeSean Jackson's born identity

SEC Features
•
Maisel: Saban snapshot reveals double feature
•
Higgins: Spurrier, Gamecocks thinking big
•
Schlabach: SEC balance of power shifts East
•
Schlabach: Five SEC predictions
Coaching Corner
•
Schlabach: Coaches on the hot seat
•
Schlabach: Rise of the assistants
•
McShay: Assistant coaches on the rise

•
McShay: Position coaches who deliver

Rule Changes
•
Kickoffs, timing rules highlight changes
•
McShay: Changes put premium on specialists

•
College Football Live: Impact of kickoff rule

•
Joe Tiller: Kickoff changes raise safety issues

•
College Football Live: Matter of time

Campus Call
ESPN.com will hit eight practice sessions to get an early pulse on the season. Check out what's happening on campus.
•
Aug. 7:
Gators looking for bite on D
•
Aug. 6:
ND's Weis plays respect card
|
McKnight makes USC debut
•
Aug. 5: Brown resolute in face of Texas' troubles
•
Aug. 4: WVU has speed to burn
•
Aug. 3: Taylor made Jacket
•
Aug. 2: Hokies begin road back to normalcy
•
Aug. 1: Report day is still a thrill for Tuberville
MORE COLLEGE FOOTBALL HEADLINES

MOST SENT STORIES ON ESPN.COM