Commentary
Gators to alter style of play with loss of nine defensive starters
GAINESVILLE, Fla. -- When Urban Meyer left Utah for the SEC, the Florida coach brought a faster style of football that left opposing defenses playing catch-up.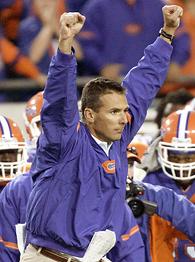 AP Photo/Phil CoaleUrban Meyer admits he'll have to manage the game differently in 2007.
Meyer's explosive spread offense and swarming defense helped the Gators finish 13-1 and win the school's second national championship in football in only his second season in 2006. But as the Gators prepare to defend their national title, Meyer is having to alter the way his team will play in 2007. With nine defensive starters gone from the team that blasted Ohio State 41-14 in the BCS National Championship Game, Meyer is having to show patience during preseason camp, which started Sunday. "I think how you manage the game will be a little different," Meyer said Monday after the Gators ended their second preseason practice in stifling heat. "We'll have to slow it down or try to score. The good thing is we've got some playmakers." Although the Gators still have plenty of weapons on offense, there are a lot of new faces on defense. Even with Florida's freshmen practicing at 5:50 a.m. Monday, the returning defensive players might have used name tags to become acquainted. Gone are All-American free safety Reggie Nelson and end Jarvis Moss, a first-round draft choice by the Denver Broncos. All three linebackers are gone, and only one starter returns in the secondary with cornerbacks Ryan Smith and Reggie Lewis also having departed. "The holes are very significant," Meyer said. "You just don't sit down and replace Reggie Nelson and Jarvis Moss and all the others."

The holes are very significant. You just don't sit down and replace Reggie Nelson and Jarvis Moss and all the others.
Urban Meyer
Asked whether he was confident the Gators could build a strong defense before the Sept. 1 opener against Western Kentucky, Meyer said: "I'm not real confident yet." The defensive line and secondary seem to be the areas of greatest concern. End Derrick Harvey, who led the Gators with 11 sacks last season, returns to anchor the unit. Redshirt freshman Jermaine Cunningham was working at end with the first-team defense Monday, and senior Clint McMillan and junior Javier Estopinan were the tackles. Meyer said as many as six freshman defensive linemen could challenge for playing time before camp ends. "It's like we're the teachers," Harvey said. "We've got to set the examples for the young guys. We've got talent, but it's young talent." The secondary might be of even greater concern. Junior Markus Manson and sophomore Markihe Anderson are the leading contenders at cornerback, and senior Kyle Jackson is the top candidate to replace Nelson. Senior Tony Joiner returns after starting all 14 games at strong safety in 2006. In the first two days of practice, Florida's cornerbacks struggled to cover returning receivers
Andre Caldwell
,
Percy Harvin
and
Jarred Fayson
. In Sunday night's practice, Harvin left Manson spinning so much on a pass route that the cornerback ended up on his rear. "Going against guys like that, it's going to make us better," Manson said. "A great cornerback will get burned sometimes. It's about how you do on the next play." Freshmen also could make an impact in the secondary. Joe Haden could work his way into the cornerback rotation, and Moses Jenkins and Major Wright are candidates to play safety. Meyer said Lorenzo Edwards, who was recruited as a safety, is big enough to play linebacker. The Gators have another eight days to evaluate their personnel on defense before the first preseason scrimmage on Aug. 14. After that, Florida will begin installing its game plan for Western Kentucky. "We have to accelerate the learning curve," Meyer said. "We can't waste time."
Mark Schlabach covers college football and men's college basketball for ESPN.com. You can contact him at schlabachma@yahoo.com.
College Football and Basketball
College football/basketball writer for ESPN.com
Author of seven books on college football
Formerly at the Washington Post and the Atlanta Journal-Constitution
SPONSORED HEADLINES
MORE COLLEGE FOOTBALL HEADLINES
MOST SENT STORIES ON ESPN.COM
2007 College Football Preview
The long wait for the start of the 2007 college football season is finally over. Get ready for the season with an in-depth look at the teams, trends, players and coaches. Index

Features
• Forde: Arkansas' favorite son also rising
• Forde: Welcome to Trickeration Nation
• Albright: Glanville has Portland State all shook up
• Maisel: Boise State part of quiet revolution
• Edwards: BCS system needs update


• Forde: QBs face burden of proof in '07
• Schlabach: Biggest shoes to fill this season
• Maisel: (Southern) State of the Game
• Schlabach: Hot or Not for 2007
Awards Watch
•
Ivan Maisel's preseason All-America team
•
Heisman Watch: Voters go Hog wild
•
SportsNation: Rank the Heisman contenders
Fearless Forecasts
•
Experts: Conference title projections
•
Maisel/Schlabach: Bowl predictions
•
McShay: Don't sleep on these teams

•
Games to watch:
National
|
Conference
Campus Confidential
•
Forde: Woodson stepping out of the shadow
•
Schlabach: Shhhh! Uncovering 2007's secrets
•
McShay: Seven secrets from the film room

•
Feldman: Saturday's secret agents revealed
•
EA Sports: Trick play simulations
•
Arkansas: Wildhog formation
•
Boise State: Statue of Liberty
•
LSU: Flea flicker
•
Texas: Wide receiver pass
•
USC: Halfback pass
ACC Features
•
Schlabach: ACC needs quality Miami, FSU
•
Schlabach: Wright, Freeman still battling at Miami
•
Schlabach: Wake sets bar high for encore
•
Schlabach: Five ACC predictions
Big East Features
•
Maisel: What's next for the Big East?
•
Maisel: USF's QB exudes old school cool
•
Maisel: Five Big East predictions
Big Ten Features
•
Schlabach: Michigan seniors return on a mission
•
Schlabach: Downsized Hill means supersized play
•
Schlabach: Big Ten at the crossroads
•
Schlabach: Five Big Ten predictions
Pac-10 Features
•
Forde: Now is the time for UCLA
•
Forde: Five Pac-10 predictions
•
Maisel: After long wait, Turner ready for stardom
•
Maisel: Ten Little Trojans running backs
•
Feldman: DeSean Jackson's born identity

SEC Features
•
Maisel: Saban snapshot reveals double feature
•
Higgins: Spurrier, Gamecocks thinking big
•
Schlabach: SEC balance of power shifts East
•
Schlabach: Five SEC predictions
Coaching Corner
•
Schlabach: Coaches on the hot seat
•
Schlabach: Rise of the assistants
•
McShay: Assistant coaches on the rise

•
McShay: Position coaches who deliver

Rule Changes
•
Kickoffs, timing rules highlight changes
•
McShay: Changes put premium on specialists

•
College Football Live: Impact of kickoff rule

•
Joe Tiller: Kickoff changes raise safety issues

•
College Football Live: Matter of time

Campus Call
ESPN.com will hit eight practice sessions to get an early pulse on the season. Check out what's happening on campus.
•
Aug. 7:
Gators looking for bite on D
•
Aug. 6:
ND's Weis plays respect card
|
McKnight makes USC debut
•
Aug. 5: Brown resolute in face of Texas' troubles
•
Aug. 4: WVU has speed to burn
•
Aug. 3: Taylor made Jacket
•
Aug. 2: Hokies begin road back to normalcy
•
Aug. 1: Report day is still a thrill for Tuberville