Commentary
Don't miss these conference games in 2007
Originally Published:
August 14, 2007
By
David Duffey
| ESPN.com
The stakes are higher during conference play. The rivalries are bitter. The wins mean more. Take a look at the 25 conference games that you don't want to miss this season.
Florida State at Clemson (Sept. 3)
Perennial hot-seat coach Tommy Bowden could use a good start to the season. So could his dad. Bobby Bowden hired assistants Jimbo Fisher and Rick Trickett to jump-start the offense and trigger a Seminole revival. Job security, family bragging rights and a divisional win will be in play on Labor Day night (ESPN, 8 ET).
NC State at Boston College (Sept. 8)
Tom O'Brien coached Boston College last season. He'll patrol the sideline for Atlantic Division foe NC State when they meet (ESPN2, 2:30 ET) this season. Think the Eagles might have circled O'Brien's return to Alumni Stadium on the calendar?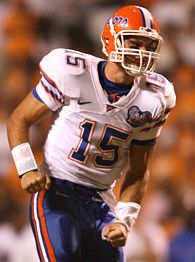 Jason Parkhurst-US PRESSWIRE Tim Tebow and the Gators knocked off Tennessee in 2006.
Tennessee at Florida (Sept. 15)
The Swamp. "Rocky Top." Albert E. Gator. Smokey.
Tim Tebow
.
Erik Ainge
. Urban Meyer. Phil Fulmer. There's never a shortage of reasons to watch this annual SEC East clash.
Penn State at Michigan (Sept. 22)
JoePa and the Nittany Lions have lost their last four visits to the Big House. Breaking that streak against Chad Henne, Mike Hart and Co. won't be easy.
Florida at LSU (Oct. 6)
The Gators are the defending national champs. The Tigers are being mentioned as a possible successor. Their Death Valley duel will have a lot to say about who wears the crown in 2007.
Nebraska at Missouri (Oct. 6)
Are Chase Daniel and the Tigers really a serious threat to win their first Big 12 North title? Beating the Cornhuskers would create a bunch of new believers.
Oklahoma versus Texas (Oct. 6)
For years, people wondered if Mack Brown would beat Bob Stoops again. If the Horns get past the Sooners for a third straight time, will they wonder the reverse?
Miami at Florida State (Oct. 20)
After three years of meeting in the season opener, the Canes versus Noles rivalry returns to October. Will the additional amount of seasoning improve the quality of play?
Florida versus Georgia (Oct. 27)
Will Percy Harvin and the Gators or Matt Stafford and the Bulldogs be the toast of Jacksonville after the game formerly known as the World's Largest Outdoor Cocktail Party concludes?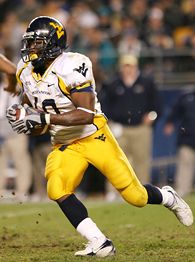 Mark S. Hawkins/Icon SMISteve Slaton ran for a school-record 1,744 yards in 2006.
West Virginia at Rutgers (Oct. 27)
Aside from the obvious Big East implications, just the opportunity to see
Steve Slaton
and
Ray Rice
run makes this one worth watching.
South Carolina at Tennessee (Oct. 27)
Steve Spurrier on one side. Phil Fulmer on the other. That's reason enough to watch.
LSU at Alabama (Nov. 3)
Two words: Nick Saban.
Wisconsin at Ohio State (Nov. 3)
Critics question the Badgers throughout their 12-win season in 2006. Winning in the Horseshoe would remove any doubt this time around.
Texas A&M at Oklahoma (Nov. 3)
If the Aggies are to reach the top of the Big 12, they must clear this hurdle. Watching the Aggies' powerful running game go against the Sooners' salty defense should be fun.
Louisville at West Virginia (Nov. 8)
The Cardinals won 44-34 last season. The Mountaineers needed three overtimes to take a 46-44 thriller in 2005. The scoreboard will take a pounding and BCS hopes will be on the line (ESPN, 7:30).
TCU at BYU (Nov. 8)
The Cougars ran away with the Mountain West title last season. The Horned Frogs are the runaway favorite this season. The Frogs could be playing for bigger stakes than just the MWC crown.
USC at Cal (Nov. 10)
Can the Bears figure out a way to unleash gamebreaker DeSean Jackson against the Trojans? Can USC clear the toughest of three conference road hurdles?
Michigan at Wisconsin (Nov. 10)
The Badgers will "Jump Around" in Camp Randall Stadium if they knock off the Wolverines.
Miami at Virginia Tech (Nov. 17)
A week after Florida State visits, the Hokies entertain the Canes. Navigate that Florida strait and the Hokies could sail away with the Coastal Division title.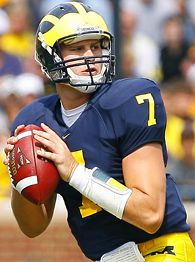 Leon Halip/WireImage.comMichigan's Chad Henne has a chance to really shine with the decision of some top QBs to bow out of the Senior Bowl.
Ohio State at Michigan (Nov. 17)
Big-time bragging rights are on the line. The Wolverines are desperate to end their three-game losing steak to the Buckeyes. If they do, a spot in Pasadena -- or New Orleans -- could follow.
Boise State at Hawaii (Nov. 23)
Ian Johnson and last season's BCS darling heads to the islands for a showdown (ESPN2, 9 ET) with Colt Brennan and the Warriors. WAC title and Heisman Trophy implications could be at stake.
Texas at Texas A&M (Nov. 23)
The Aggies broke a six-game losing streak to the Horns last season. A second straight win over Texas could propel A&M to the Big 12 title game.
Alabama at Auburn (Nov. 24)
The Crimson Tide have lost five in a row to the Tigers, which is one of the main reasons why Nick Saban's mailing address is in Tuscaloosa.
Rutgers at Louisville (Nov. 29)
The Scarlet Knights delivered the only blemish to the Cardinals' 2006 season. Brian Brohm and Co. have been waiting for the rematch (ESPN, 7:30 ET).
UCLA at USC (Dec. 1)
The Bruins pushed around their crosstown rivals and knocked the Trojans out of a possible BCS title game last season. Think John David Booty and Pete Carroll remember?
David Duffey is the college football editor at ESPN.com. He can be reached at david.duffey@espn3.com.
SPONSORED HEADLINES
MORE COLLEGE FOOTBALL HEADLINES
MOST SENT STORIES ON ESPN.COM
2007 College Football Preview
The long wait for the start of the 2007 college football season is finally over. Get ready for the season with an in-depth look at the teams, trends, players and coaches. Index

Features
• Forde: Arkansas' favorite son also rising
• Forde: Welcome to Trickeration Nation
• Albright: Glanville has Portland State all shook up
• Maisel: Boise State part of quiet revolution
• Edwards: BCS system needs update


• Forde: QBs face burden of proof in '07
• Schlabach: Biggest shoes to fill this season
• Maisel: (Southern) State of the Game
• Schlabach: Hot or Not for 2007
Awards Watch
•
Ivan Maisel's preseason All-America team
•
Heisman Watch: Voters go Hog wild
•
SportsNation: Rank the Heisman contenders
Fearless Forecasts
•
Experts: Conference title projections
•
Maisel/Schlabach: Bowl predictions
•
McShay: Don't sleep on these teams

•
Games to watch:
National
|
Conference
Campus Confidential
•
Forde: Woodson stepping out of the shadow
•
Schlabach: Shhhh! Uncovering 2007's secrets
•
McShay: Seven secrets from the film room

•
Feldman: Saturday's secret agents revealed
•
EA Sports: Trick play simulations
•
Arkansas: Wildhog formation
•
Boise State: Statue of Liberty
•
LSU: Flea flicker
•
Texas: Wide receiver pass
•
USC: Halfback pass
ACC Features
•
Schlabach: ACC needs quality Miami, FSU
•
Schlabach: Wright, Freeman still battling at Miami
•
Schlabach: Wake sets bar high for encore
•
Schlabach: Five ACC predictions
Big East Features
•
Maisel: What's next for the Big East?
•
Maisel: USF's QB exudes old school cool
•
Maisel: Five Big East predictions
Big Ten Features
•
Schlabach: Michigan seniors return on a mission
•
Schlabach: Downsized Hill means supersized play
•
Schlabach: Big Ten at the crossroads
•
Schlabach: Five Big Ten predictions
Pac-10 Features
•
Forde: Now is the time for UCLA
•
Forde: Five Pac-10 predictions
•
Maisel: After long wait, Turner ready for stardom
•
Maisel: Ten Little Trojans running backs
•
Feldman: DeSean Jackson's born identity

SEC Features
•
Maisel: Saban snapshot reveals double feature
•
Higgins: Spurrier, Gamecocks thinking big
•
Schlabach: SEC balance of power shifts East
•
Schlabach: Five SEC predictions
Coaching Corner
•
Schlabach: Coaches on the hot seat
•
Schlabach: Rise of the assistants
•
McShay: Assistant coaches on the rise

•
McShay: Position coaches who deliver

Rule Changes
•
Kickoffs, timing rules highlight changes
•
McShay: Changes put premium on specialists

•
College Football Live: Impact of kickoff rule

•
Joe Tiller: Kickoff changes raise safety issues

•
College Football Live: Matter of time

Campus Call
ESPN.com will hit eight practice sessions to get an early pulse on the season. Check out what's happening on campus.
•
Aug. 7:
Gators looking for bite on D
•
Aug. 6:
ND's Weis plays respect card
|
McKnight makes USC debut
•
Aug. 5: Brown resolute in face of Texas' troubles
•
Aug. 4: WVU has speed to burn
•
Aug. 3: Taylor made Jacket
•
Aug. 2: Hokies begin road back to normalcy
•
Aug. 1: Report day is still a thrill for Tuberville