Commentary
Don't miss these nonconference games in 2007
Originally Published:
August 15, 2007
By
David Duffey
| ESPN.com
While conference games provide the meat of the schedule, great intersectional games add the sizzle. Take a look at 12 nonconference matchups that you don't want to miss this season.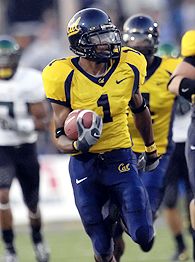 Scott A. Miller/US PresswireDeSean Jackson and the Bears are focused on the Vols.
Tennessee at Cal (Sept. 1)
The Volunteers' 35-18 thumping of the Golden Bears last season ignited a round of early-season Pac-10 bashing. Think the Bears are interested in making a statement for the West Coast in the rematch (
ABC, 8 ET
)?
Virginia Tech at LSU (Sept. 8)
Looking for that early-season intersectional game with major national-title implications? The Hokies' trip to Baton Rouge is it. Both teams are loaded with size, speed and stars. Both have a shot of ending up in New Orleans to play for the crystal ball. Make plans to watch it (ESPN, 9:15 ET) or set the TiVo.
Miami at Oklahoma (Sept. 8)
Sure, the Canes slipped in 2005, but Miami versus Oklahoma just sounds right. The teams have some history and the matchup has that big-game sound to it. Randy Shannon will have a pretty good idea where his program stands after visiting Bob Stoops and the Sooners.
TCU at Texas (Sept. 8)
The Horned Frogs knocked off Texas Tech last season. TCU toppled Oklahoma in 2005. Could the Horns be next? Tommy Blake, Chase Ortiz, Aaron Brown & Co. have the talent to hook the Horns in Austin.
Louisville at Kentucky (Sept. 15)
Brian Brohm rifling passes for the Cardinals. Andre' Woodson slinging the pigskin for the Wildcats. U of L's thinking national title. UK's thinking about ending its four-game losing streak to the Cards. (ESPN Classic, 7:30 ET)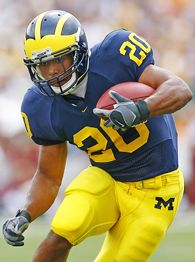 Leon Halip/WireImage.comMike Hart and the Wolverines will host the Irish in the Big House.
Notre Dame at Michigan (Sept. 15)
Talk about your fall classic. The Irish and the Wolverines are two of the biggest names in the sport. Their bands play two of the best fight songs. It's an annual must-see event (
ABC, 3:30 ET
). Good thing their new contract extends the series from 2012 to '31.
USC at Nebraska (Sept. 15)
The Cornhuskers have been waiting for the breakthough win of the Bill Callahan tenure. The Memorial Stadium sea of red is hoping it comes against the top-ranked Trojans.
Southern Miss at Boise State (Sept. 27)
The automatic-bid conferences aren't the only ones with big intersectional clashes. The Golden Eagles and Broncos share the Thursday night stage (ESPN, 7:30 ET) in a meaningful matchup.
Alabama vs. Florida State (Sept. 29)
Two of the South's premier programs. Bobby Bowden. Nick Saban. Roll Tide. The war chant. Big Al. Chief Osceola. It should be quite a scene in Jacksonville, Fla.
USC at Notre Dame (Oct. 20)
The last time the Trojans and Irish traded paint in South Bend it took a Bush push to lift USC to a win. Could the teams treat us to more last-minute excitement this season?
Florida State at Florida (Nov. 24)
Urban Meyer hasn't lost to the Seminoles yet. The Swamp will be a tough setting for Bobby Bowden & Co. to change that.
Army vs. Navy (Dec. 1)
While the BCS boys will be playing for conference championships, the Midshipmen and Black Knights will play for pride in Baltimore.
David Duffey is the college football editor at ESPN.com. He can be reached at david.duffey@espn3.com.
SPONSORED HEADLINES
MORE COLLEGE FOOTBALL HEADLINES
MOST SENT STORIES ON ESPN.COM
2007 College Football Preview
The long wait for the start of the 2007 college football season is finally over. Get ready for the season with an in-depth look at the teams, trends, players and coaches. Index

Features
• Forde: Arkansas' favorite son also rising
• Forde: Welcome to Trickeration Nation
• Albright: Glanville has Portland State all shook up
• Maisel: Boise State part of quiet revolution
• Edwards: BCS system needs update


• Forde: QBs face burden of proof in '07
• Schlabach: Biggest shoes to fill this season
• Maisel: (Southern) State of the Game
• Schlabach: Hot or Not for 2007
Awards Watch
•
Ivan Maisel's preseason All-America team
•
Heisman Watch: Voters go Hog wild
•
SportsNation: Rank the Heisman contenders
Fearless Forecasts
•
Experts: Conference title projections
•
Maisel/Schlabach: Bowl predictions
•
McShay: Don't sleep on these teams

•
Games to watch:
National
|
Conference
Campus Confidential
•
Forde: Woodson stepping out of the shadow
•
Schlabach: Shhhh! Uncovering 2007's secrets
•
McShay: Seven secrets from the film room

•
Feldman: Saturday's secret agents revealed
•
EA Sports: Trick play simulations
•
Arkansas: Wildhog formation
•
Boise State: Statue of Liberty
•
LSU: Flea flicker
•
Texas: Wide receiver pass
•
USC: Halfback pass
ACC Features
•
Schlabach: ACC needs quality Miami, FSU
•
Schlabach: Wright, Freeman still battling at Miami
•
Schlabach: Wake sets bar high for encore
•
Schlabach: Five ACC predictions
Big East Features
•
Maisel: What's next for the Big East?
•
Maisel: USF's QB exudes old school cool
•
Maisel: Five Big East predictions
Big Ten Features
•
Schlabach: Michigan seniors return on a mission
•
Schlabach: Downsized Hill means supersized play
•
Schlabach: Big Ten at the crossroads
•
Schlabach: Five Big Ten predictions
Pac-10 Features
•
Forde: Now is the time for UCLA
•
Forde: Five Pac-10 predictions
•
Maisel: After long wait, Turner ready for stardom
•
Maisel: Ten Little Trojans running backs
•
Feldman: DeSean Jackson's born identity

SEC Features
•
Maisel: Saban snapshot reveals double feature
•
Higgins: Spurrier, Gamecocks thinking big
•
Schlabach: SEC balance of power shifts East
•
Schlabach: Five SEC predictions
Coaching Corner
•
Schlabach: Coaches on the hot seat
•
Schlabach: Rise of the assistants
•
McShay: Assistant coaches on the rise

•
McShay: Position coaches who deliver

Rule Changes
•
Kickoffs, timing rules highlight changes
•
McShay: Changes put premium on specialists

•
College Football Live: Impact of kickoff rule

•
Joe Tiller: Kickoff changes raise safety issues

•
College Football Live: Matter of time

Campus Call
ESPN.com will hit eight practice sessions to get an early pulse on the season. Check out what's happening on campus.
•
Aug. 7:
Gators looking for bite on D
•
Aug. 6:
ND's Weis plays respect card
|
McKnight makes USC debut
•
Aug. 5: Brown resolute in face of Texas' troubles
•
Aug. 4: WVU has speed to burn
•
Aug. 3: Taylor made Jacket
•
Aug. 2: Hokies begin road back to normalcy
•
Aug. 1: Report day is still a thrill for Tuberville