Commentary
Spurrier proclaims Gamecocks are ready to contend for SEC title
Originally Published:
August 17, 2007
By
Ron Higgins
| Special to ESPN.com
When Steve Spurrier arrived at South Carolina as head coach three seasons ago, he acted like a man humbled by his two-year failure to resuscitate the NFL's Redskins. You'd thought an imposter had stolen his visor.
The former Florida coach who spoke with forked tongue all through the 1990s, ridiculing Florida State, Tennessee and Georgia and making no apologies for putting up 40 and 50 points on a weekly basis, was suddenly Mr. Golly Gosh.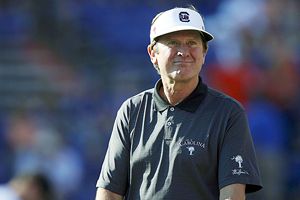 Doug Benc/Getty ImagesSteve Spurrier has high hopes for South Carolina.
Well, Steve, how's your team going to be at South Carolina?
"Our first goal is to win more than we lose," Spurrier said repeatedly in the first months following his arrival.
And even after his first team in 2005 went 7-5 with wins at Arkansas and at Tennessee and over Florida, he didn't even think about dropping a "you can't spell Citrus [Bowl] without UT" dig at the Vols.
Well, Steve, after winning seven games, can you win the SEC's Eastern Division in '06?
"There are about six teams each year that have a shot of winning the conference championship, and hopefully in a couple of years we'll be included in one of those six," Spurrier said. "I tell people and recruits, 'We've got nowhere to go but up.'"
Who is this man? What have you done with the Ol' Ball Coach, the guy who once said he ordered up a last-minute TD in a blowout at Georgia because "no one has ever scored 50 against Georgia in Athens."
But after last season, when the Gamecocks rallied to finish 8-5 after winning the AutoZone Liberty Bowl over Houston, Spurrier said something to his team they had been waiting to hear.
"We're good enough now to win a conference championship," Spurrier said.
For this year's seniors, such as running back Cory Boyd, such validation from the team's toughest critic was stunning.
"I think we celebrated like little school girls when Coach said that," Boyd said. "I've been waiting for him to say it. I've been feeling that way since the first day he stepped on the campus. He could have said it the first year he came in as coach, but who knows? We could have been putting a foot in our mouth and not getting the job done."
But by finally declaring his team had the talent to reach for the league title -- though the Gamecocks are one of four SEC teams never to play in the conference championship game established in 1992 -- Spurrier's public confidence has had a ripple effect.

We're good enough now to win a conference championship.
Steve Spurrier
It doesn't really matter that the Gamecocks have one of the SEC's toughest road schedules this season, playing at Georgia, LSU, Tennessee and Arkansas.
It doesn't matter that the guy Spurrier expected to be his offensive leader, senior quarterback Blake Mitchell, had a lousy spring game and then was suspended by Spurrier for the opening days of preseason practice due to poor class attendance at summer school.
Carolina players don't care about any of that. All they know is the coach that has won seven conference championships in two conferences (one at Duke in the ACC and six at Florida, along with the '96 national championship) is telling them they are good enough to grab their own rings. The players look around and see the rapid rise in talent level, bolstered by Spurrier's still-glowing reputation in blue-chip rich Florida.
"I can't think of one time that he's said something to us that has been wrong," senior linebacker Jasper Brinkley said. "I'm pretty sure Coach Spurrier has been coaching long enough to know when you have a good team, he knows it. If he believes it, I believe it."
And the reason his players believe it, and believe in Spurrier, is the very thing he gets hammered for -- speaking the truth, no matter how blunt, no matter who he puts on the spot.
Last season, after Kentucky hit a couple of deep passes to almost come from behind and beat South Carolina, Spurrier was asked about the defensive secondary busts. He brought an extremely nervous secondary coach, Ron Cooper, to the interview room where the interrogator Spurrier asked the questions instead of the media.
This past spring, Spurrier cut to the chase when talking about the lack of desire in some of his players.
"We've still got a few guys here at the University of South Carolina that don't really like football, I don't think," Spurrier said. "They're just happy to be on scholarship and happy to be on the team. But it's our job as coaches to try to identify those guys and let 'em play on the scout team all year."
A brutal assessment? Maybe. But ask any of the Carolina players, and they like that accountability. They believe that's what it takes to push the individual level of commitment to championship level. It has taken a couple of years for most of the Carolina players to understand what former Florida '96 Heisman Trophy quarterback Danny Wuerffel quickly learned about Spurrier.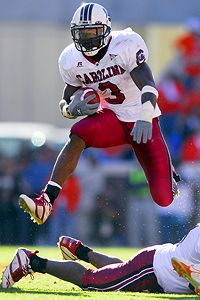 Grant Halverson/Getty Images Cory Boyd rushed for 823 yards and eight touchdowns in 2006.
"You must trust the system and really listen to what Coach Spurrier is saying," said Wuerffel, now director of Desire Street Ministries in New Orleans. "He harps on details that you don't think matter. But in the big picture, all those details do matter. It's something I realized as I got older."
Spurrier wants that commitment to detail from everyone.
He wants it from the Carolina fans who cheered close losses last year, saying, "I'm trying to get our fans in the mind-set that you don't applaud our guys and pat them on the back when we lose close games."
He wants it from the Carolina administration, recently challenging them on relaxing school academic admission standards after two of his signees weren't admitted despite qualifying under the NCAA standards. School president Andrew Sorensen reacted by promising a more streamlined admissions process.
Those close to Spurrier say that at age 62, with a contract that runs through 2012, he's never been more content with his career, despite coaching at a place that has won just one conference championship (the '69 ACC title). His unexpected patience building a program has been stunning.
There was a time when Spurrier measured perfection by devastating victory margins. Now, small successes, such as scoring 30 or more points in each of the last three games last season -- the first time that had been done at Carolina since 1997 -- make him happy.
And going a combined 2-4 in Spurrier's first two seasons against the SEC East's big three (Florida, Tennessee and Georgia) isn't headline news, but it's acceptable considering that Lou Holtz, Spurrier's predecessor, went 2-14 against the East beasts in his six seasons at Carolina.
If Spurrier does win an SEC championship at South Carolina, he'll join Bear Bryant (Kentucky and Alabama) as the only coach in league history to win SEC titles at two different schools.
"Every man has to dig deep in himself to find a challenge, and I think this is Coach Spurrier's challenge," Boyd said. "At the same time, he's trying to instill that in everybody. We all want that challenge. We want to beat the Georgias and the Tennessees. This year, we feel if we put out our best effort, the sky is the limit."
Ron Higgins covers the Southeastern Conference for the Commercial Appeal in Memphis.
SPONSORED HEADLINES
MORE COLLEGE FOOTBALL HEADLINES
MOST SENT STORIES ON ESPN.COM
2007 College Football Preview
The long wait for the start of the 2007 college football season is finally over. Get ready for the season with an in-depth look at the teams, trends, players and coaches. Index

Features
• Forde: Arkansas' favorite son also rising
• Forde: Welcome to Trickeration Nation
• Albright: Glanville has Portland State all shook up
• Maisel: Boise State part of quiet revolution
• Edwards: BCS system needs update


• Forde: QBs face burden of proof in '07
• Schlabach: Biggest shoes to fill this season
• Maisel: (Southern) State of the Game
• Schlabach: Hot or Not for 2007
Awards Watch
•
Ivan Maisel's preseason All-America team
•
Heisman Watch: Voters go Hog wild
•
SportsNation: Rank the Heisman contenders
Fearless Forecasts
•
Experts: Conference title projections
•
Maisel/Schlabach: Bowl predictions
•
McShay: Don't sleep on these teams

•
Games to watch:
National
|
Conference
Campus Confidential
•
Forde: Woodson stepping out of the shadow
•
Schlabach: Shhhh! Uncovering 2007's secrets
•
McShay: Seven secrets from the film room

•
Feldman: Saturday's secret agents revealed
•
EA Sports: Trick play simulations
•
Arkansas: Wildhog formation
•
Boise State: Statue of Liberty
•
LSU: Flea flicker
•
Texas: Wide receiver pass
•
USC: Halfback pass
ACC Features
•
Schlabach: ACC needs quality Miami, FSU
•
Schlabach: Wright, Freeman still battling at Miami
•
Schlabach: Wake sets bar high for encore
•
Schlabach: Five ACC predictions
Big East Features
•
Maisel: What's next for the Big East?
•
Maisel: USF's QB exudes old school cool
•
Maisel: Five Big East predictions
Big Ten Features
•
Schlabach: Michigan seniors return on a mission
•
Schlabach: Downsized Hill means supersized play
•
Schlabach: Big Ten at the crossroads
•
Schlabach: Five Big Ten predictions
Pac-10 Features
•
Forde: Now is the time for UCLA
•
Forde: Five Pac-10 predictions
•
Maisel: After long wait, Turner ready for stardom
•
Maisel: Ten Little Trojans running backs
•
Feldman: DeSean Jackson's born identity

SEC Features
•
Maisel: Saban snapshot reveals double feature
•
Higgins: Spurrier, Gamecocks thinking big
•
Schlabach: SEC balance of power shifts East
•
Schlabach: Five SEC predictions
Coaching Corner
•
Schlabach: Coaches on the hot seat
•
Schlabach: Rise of the assistants
•
McShay: Assistant coaches on the rise

•
McShay: Position coaches who deliver

Rule Changes
•
Kickoffs, timing rules highlight changes
•
McShay: Changes put premium on specialists

•
College Football Live: Impact of kickoff rule

•
Joe Tiller: Kickoff changes raise safety issues

•
College Football Live: Matter of time

Campus Call
ESPN.com will hit eight practice sessions to get an early pulse on the season. Check out what's happening on campus.
•
Aug. 7:
Gators looking for bite on D
•
Aug. 6:
ND's Weis plays respect card
|
McKnight makes USC debut
•
Aug. 5: Brown resolute in face of Texas' troubles
•
Aug. 4: WVU has speed to burn
•
Aug. 3: Taylor made Jacket
•
Aug. 2: Hokies begin road back to normalcy
•
Aug. 1: Report day is still a thrill for Tuberville