Commentary
Tenacious D makes TCU preseason MWC favorite
Originally Published:
August 18, 2007
By
Tim Griffin
| Special to ESPN.com
When Jason Phillips talks about football with some of his dad's coaching friends, the discussion always turns to defense.
Forget about run-and-shoot attacks and gaudy passing statistics -- at least in the circle of friends of Waller High School coach Jim Phillips. Around those water coolers, more heads are turned by the crunching defensive play typified by his son, a standout junior linebacker at TCU.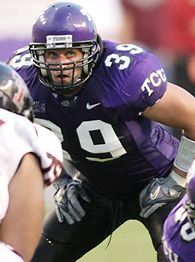 Vladimir Cherry/WireImage.comJason Phillips and TCU bring an old-school defense to modern-day offenses.
So it's understandable that the Horned Frogs have gained a lot of admirers over the years. Their swarming defense is seen as a throwback to a simpler era of football, when making stops was as important as scoring points. "When I talk to a bunch of the coaches, they all like to talk about how we play," Jason Phillips said. "They all seem impressed about how fast we fly around and the number of different guys who end up making plays. We're more of a team than just one or two players. And that's reflected in our defense."
The Horned Frogs have emerged as a fashionable pick to crash the Bowl Championship Series this season. The biggest reason is their defense.
In a marked contrast from schools like Boise State and Utah, both of which elbowed their way into BCS bowls with high-powered offensive attacks, the Horned Frogs will try to capitalize on their defense as their biggest strength. Nine starters return from last year's unit that ranked third or better nationally in total defense (235 yards per game), scoring defense (12.3 points per game) and rushing defense (61 yards per game).
Coach Gary Patterson is the architect of the Horned Frogs' unconventional 4-2-5 alignment that has served as the backbone of TCU's recent renaissance.
"We coach these kids hard and want them to be what I like to call fourth-and-1 players," Patterson said. "Basically, we're looking for somebody you know you can count on in tough situations. And that's the way we've always been on defense.
"We talk about not flinching in pressure situations. No matter who goes out there has got to be able to answer the call. We've got a lot of players like that on our defense."
That group has helped TCU emerge as one of the nation's budding powers, earning the program eight bowl trips in the last nine seasons.
Phillips and bookends Chase Ortiz and Tommy Blake, who might be the best pair of defensive ends in the country, key TCU's defense.
"When anybody watches and talks about college football, they know about our defense," Ortiz said. "We're a group of older guys, and none of us have any trouble being the backbone for this. As a defense, we have no problems leading the way for our team." Blake, a preseason ESPN.com All-America selection, was a running back at tiny Aransas Pass High School near Corpus Christi, where he rushed for 2,013 yards as a senior. He unexpectedly left the Horned Frogs training camp last week, although Patterson has left the door open for him to return. Phillips was an option quarterback who led his team to the state playoffs while rushing and passing for more than 1,000 yards each as a senior. And Ortiz was a combination tight end/linebacker at Clear Creek High School near Houston.
Patterson has developed a program that is a testament to the depth of Texas high-school talent. The Horned Frogs have thrived with what was perceived as second-level talent, often switching the players to new positions after their arrival in college.
"We just spend a long time evaluating kids," Patterson said. "One thing about having so many kids in Texas playing [in] high school and having so many camps is that it allows us to look at a bunch of them. You see them every year, and there's a certain model that we want to fill for our linebackers or our safeties."
The TCU coaches are regulars on the scouting trail across the state, particularly in the fertile North Texas area that serves as the hub of their recruiting terrain.
"We know what kind of player we need to have, and we try to stay within our means," Patterson said. "And a bunch of them have thrived when they got the chance." As strong as the defense is expected to be, TCU's BCS hopes will depend on finding a new quarterback. The Horned Frogs must replace quarterback
Jeff Ballard
, who went 19-2 as a starter and completed 61 percent of his passes.
Sophomore
Marcus Jackson
and redshirt freshman
Andy Dalton
are hooked up in a tight battle to fill the vacancy. Patterson plans to use results from a scrimmage Saturday as the final determining factor; the season opener is Sept. 1 at home against Baylor.
Jackson has thrown only 44 career passes, but he earned Mountain West Offensive Player of the Week honors after leading a fourth-quarter comeback against Baylor last season.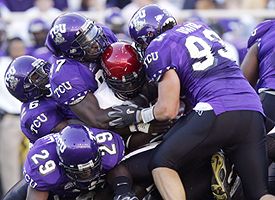 Tom Hauck/Getty ImagesStifling defense makes the Horned Frogs a formidable opponent in the MWC.
Dalton redshirted last season, but he directed Katy High School to the Texas Class 5A Division II state championship game in 2005. He has been praised for his quick grasp of the TCU offense after his early practices.
"We'll make a decision, even if it's just a gut decision," Patterson said. "Chemistry is important to me. Both of those guys have qualities to run our offense. And we don't ask our quarterbacks to win the game by themselves. Our goal is about managing the game and getting the ball [to] the players who can help us win."
Tailback
Aaron Brown
is one of the nation's most versatile backs; he rushed for 801 yards and nine touchdowns as a sophomore and added 34 receptions. The Horned Frogs' offensive line returns three starters and six top reserves from a unit that produced 194 yards rushing last season and allowed only 15 sacks -- sixth fewest in the country.
The Horned Frogs have posted a 64-21 record since 1999, with at least 11 wins in three of their past four seasons. Since 2002, the Horned Frogs are 11-5 against schools from BCS conferences, including 4-0 against Big 12 schools.
But they still are aiming for the elusive barrier of making a BCS bowl despite flirting with it four years ago.
"A lot of us remember how close we came in 2003," Ortiz said, referring to a 10-0 start that was spoiled by a late-season loss at Southern Mississippi. "It would be nice to finally get to that last level."
The Horned Frogs start the season with a brutal stretch of three games in the first 13 days of September. They begin with emotional games against old Southwest Conference rivals Baylor and Texas before their conference opener against Air Force only five days after their trip to Austin.
Most TCU fans already have circled the game against Texas. "Beat Texas" T-shirts have been available on the school's Web site and at TCU campus bookstores for several months.
And even if TCU fans might be pointing excitedly to the date with the Longhorns -- the program's first trip to Austin since 1995 -- the Horned Frogs know they have to get past Baylor first.
Patterson calls both of them "measuring stick games," giving him a chance to see how his team will compete against quality opponents early in the season.
"You've got to know where you are at," he said. "Games like this teach your kids to play at a high level. And both Baylor and Texas are those types of teams."
But he also knows that the Horned Frogs must win the Mountain West Conference to have any hope of making a BCS bowl. Their fortunes likely will be determined by tough Thursday night games later in the season against Utah and BYU (both beat the Horned Frogs last season).
"You can't get to a BCS bowl game unless you win your conference title," Patterson said. "That's our ultimate goal and it always will be. If we can pull that off, other things can happen. We'll know more about that come December."
Tim Griffin is a senior sportswriter for the San Antonio Express-News.
2007 College Football Preview
The long wait for the start of the 2007 college football season is finally over. Get ready for the season with an in-depth look at the teams, trends, players and coaches. Index

Features
• Forde: Arkansas' favorite son also rising
• Forde: Welcome to Trickeration Nation
• Albright: Glanville has Portland State all shook up
• Maisel: Boise State part of quiet revolution
• Edwards: BCS system needs update


• Forde: QBs face burden of proof in '07
• Schlabach: Biggest shoes to fill this season
• Maisel: (Southern) State of the Game
• Schlabach: Hot or Not for 2007
Awards Watch
•
Ivan Maisel's preseason All-America team
•
Heisman Watch: Voters go Hog wild
•
SportsNation: Rank the Heisman contenders
Fearless Forecasts
•
Experts: Conference title projections
•
Maisel/Schlabach: Bowl predictions
•
McShay: Don't sleep on these teams

•
Games to watch:
National
|
Conference
Campus Confidential
•
Forde: Woodson stepping out of the shadow
•
Schlabach: Shhhh! Uncovering 2007's secrets
•
McShay: Seven secrets from the film room

•
Feldman: Saturday's secret agents revealed
•
EA Sports: Trick play simulations
•
Arkansas: Wildhog formation
•
Boise State: Statue of Liberty
•
LSU: Flea flicker
•
Texas: Wide receiver pass
•
USC: Halfback pass
ACC Features
•
Schlabach: ACC needs quality Miami, FSU
•
Schlabach: Wright, Freeman still battling at Miami
•
Schlabach: Wake sets bar high for encore
•
Schlabach: Five ACC predictions
Big East Features
•
Maisel: What's next for the Big East?
•
Maisel: USF's QB exudes old school cool
•
Maisel: Five Big East predictions
Big Ten Features
•
Schlabach: Michigan seniors return on a mission
•
Schlabach: Downsized Hill means supersized play
•
Schlabach: Big Ten at the crossroads
•
Schlabach: Five Big Ten predictions
Pac-10 Features
•
Forde: Now is the time for UCLA
•
Forde: Five Pac-10 predictions
•
Maisel: After long wait, Turner ready for stardom
•
Maisel: Ten Little Trojans running backs
•
Feldman: DeSean Jackson's born identity

SEC Features
•
Maisel: Saban snapshot reveals double feature
•
Higgins: Spurrier, Gamecocks thinking big
•
Schlabach: SEC balance of power shifts East
•
Schlabach: Five SEC predictions
Coaching Corner
•
Schlabach: Coaches on the hot seat
•
Schlabach: Rise of the assistants
•
McShay: Assistant coaches on the rise

•
McShay: Position coaches who deliver

Rule Changes
•
Kickoffs, timing rules highlight changes
•
McShay: Changes put premium on specialists

•
College Football Live: Impact of kickoff rule

•
Joe Tiller: Kickoff changes raise safety issues

•
College Football Live: Matter of time

Campus Call
ESPN.com will hit eight practice sessions to get an early pulse on the season. Check out what's happening on campus.
•
Aug. 7:
Gators looking for bite on D
•
Aug. 6:
ND's Weis plays respect card
|
McKnight makes USC debut
•
Aug. 5: Brown resolute in face of Texas' troubles
•
Aug. 4: WVU has speed to burn
•
Aug. 3: Taylor made Jacket
•
Aug. 2: Hokies begin road back to normalcy
•
Aug. 1: Report day is still a thrill for Tuberville
MORE COLLEGE FOOTBALL HEADLINES

MOST SENT STORIES ON ESPN.COM