Commentary
Bowman, Reid ignite explosive OSU offense
Originally Published:
August 24, 2007
By
Tim Griffin
| Special to ESPN.com
So much for an early mulligan.
Oklahoma State faces one of the most challenging starts in college football with a Sept. 1 opener at Georgia (ESPN2, 6:45 p.m. ET). OSU coach Mike Gundy wouldn't have it any other way.
"As everybody knows, we don't have a warm-up game," Gundy said.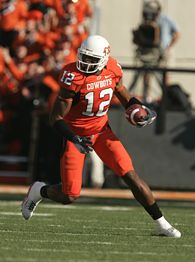 Brian Bahr/Getty ImagesAdarius Bowman caught 12 TD passes for the Cowboys in 2006.
Most coaches building a developing program would avoid a difficult start, which includes a potential trap game at Sun Belt preseason favorite Troy on Sept. 14 (ESPN2, 8 p.m. ET). But Gundy convinced OSU athletic director Mike Holder that the real benefit of such difficult early-season road tests will be noticeable later in the season.
Playing in the Big 12's South Division has placed a premium on tough road challenges. Gundy doesn't shy away from those tests, but instead embraces them as a way to help his program grow.
"We played horrible at Texas last season," Gundy said. "Our guys didn't play well on the road. That's one of the reasons we're playing at Georgia.
"Me and Coach Holder and the staff talked about what we thought it would take to win the Big 12 championship in the future. It's important that they prepare to play well on the road."
Excitement from the two nationally televised games, along with a high-powered offensive attack, has helped build excitement to a fever pitch among Cowboys fans coming into the season.
The Cowboys return 14 starters from last season's 7-6 team. That squad capped the season with a pulsating victory over Alabama in the Independence Bowl -- OSU's first bowl victory over an opponent from a BCS conference in 19 seasons.
But the Cowboys easily could have notched an even better record. Five of their six losses came by a combined 26 points.
And except for a blowout loss at Texas, the Cowboys either led or had possession of the ball with a chance to go ahead in the final period of all five of those close losses. Twice, they were unable to hold on to fourth-quarter leads, including a 34-33 loss to Texas A&M that was decided in overtime by a blocked extra point.
OSU strength and conditioning coach Rob Glass emphasized those near-misses throughout the offseason, using them as a prime motivational point for improved conditioning.
"Everything we did since December was based on the fact we were six minutes from winning 10 games last season," quarterback Bobby Reid said. "Finish, finish, finish. That's what he's been stressing since the end of the season."
Most of the weapons are back from an explosive offense that ranked seventh nationally in scoring and 16th in total offense. OSU was one of only two schools nationally to average 200 yards both rushing and passing last season.
The offense should be just as prolific this season with the return of leading rushers Dantrell Savage and Keith Toston, leading receiver Adarius Bowman and Reid.
Bowman, who set a Big 12 single-game record with 300 receiving yards against Kansas, is shooting for a team goal of averaging 50 points a game this season.
"I think that's realistic," Bowman said. "We have a very explosive offense with a lot of weapons. It wouldn't surprise me if we can do something like that."
One of the big reasons is Bowman, who is considered among the Big 12's top potential NFL draft picks in 2008. OSU has a Web site (www.Bowman12.com) that touts him for the Heisman Trophy. Last season, Bowman notched 12 touchdown receptions, including grabs of 75, 69, 64, 55, 54, 45 and 34 yards.
That notoriety is a huge transformation for Bowman, who almost had his career snuffed out before it ever really started. After making two starts as a freshman at North Carolina in 2004, he was kicked off the Tar Heels squad because of allegations of marijuana possession. The charges were eventually dismissed, and Bowman followed his old Tar Heels position coach, Gunter Brewer, west to Stillwater, where he's found a home.
"I'm just trying to stay humble and enjoy the game," Bowman said. "Rather than taking things to my heart and getting so mad, I've trained myself to realize this is something I should have fun with."
Bowman took yoga classes in the spring -- mainly to control his emotions on the field. He has become fast friends with Reid, who alternately dazzled and struggled at points last season in his first full season as OSU's starting quarterback.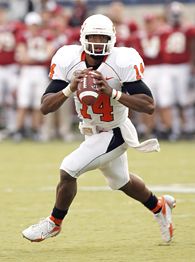 Chris Graythen/Getty ImagesBooby Reid passed for 2,266 yards and 24 TDs last season.
Reid was shut out in the first half against Kansas and rebounded to help the Cowboys score 42 points in the comeback victory over the Jayhawks. Reid was responsible for all the touchdowns -- including five touchdown passes -- in a 457-yard effort of total offense that set the school single-game record.
But he pouted in a loss against Oklahoma and spent the end of the game on the bench as backup Zac Robinson nearly orchestrated a comeback victory.
Reid credited a clear-the-air session with OSU offensive coordinator Larry Fedora late last season for helping him end with a flourish. Reid rebounded to lead the bowl victory.
"We're using that Alabama game as a turning point," Reid said. "It felt like everything finally came together. I know personally that I felt like 1,000 pounds of stress fell off my back after that."
Some of those expectations arrived before he came to OSU as the top quarterback recruit in school history. But it didn't make his college transformation any easier.
"I felt some pressure coming in and I let it get to me," Reid said. "I overdid some things because I wanted to be the guy from the start. I knew I had to really work for it, but I didn't realize how serious it would be."
The 6-3, 235-pound Reid often was compared to Vince Young during a legendary high-school career at Galena Park North Shore in the Houston area. Reid finally started fulfilling some of that promise late last season, passing for 2,266 yards and 24 touchdowns and running for 500 yards.
Some opposing coaches have said that the comparisons between Reid and Young will become even more noticeable this season if Reid continues improving.
"We saw the most improvement in Vince between his second and third years with us," Texas coach Mack Brown said. "I wouldn't be surprised if we saw something similar to that from Bobby this season."
Reid's personal growth has been so extensive that he says he can scarcely watch his old OSU game films.
"To tell you the truth, I hate watching those tapes," Reid said. "I had a lot going on in my head back then. But I'm past that. I'm a vet now."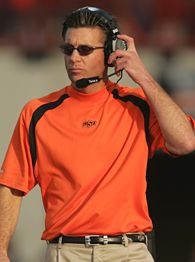 Brian Bahr/Getty ImagesMike Gundy is focused on leading the Cowboys to the Big 12 title.
The big question that will determine whether the Cowboys can narrow the gap with Texas and Oklahoma at the top of the Big 12 South will be defensive improvement.
Gundy has been impressed with the early growth directed by new defensive coordinator Tim Beckman, who served as Ohio State's cornerbacks coach the past two seasons. Before working with Jim Tressel and the Buckeyes, Beckman served on Urban Meyer's staff at Bowling Green.
"It's always about competition with Coach Beckman," OSU senior defensive end Marque Fountain said. "It's just not about going to practice and trying to learn a few plays. It's about going out and making them. This is our year and our chance to show people what we can do."
The Cowboys return seven defensive starters and 10 of their top 11 tacklers from last season. The group quickly gravitated to Beckman's competitive philosophy.
"Obviously, we're not as athletic defensively as we are on offense," Gundy said. "But that doesn't mean our players won't hit and run to the football. And they've accepted that as a challenge."
The top concern is lack of experience along the defensive front and particularly at defensive tackle, where first-time starters Jeray Chatham and Maurice Cummings have combined for 12 tackles in their college careers. Junior college transfer Tonga Tea Jr. and redshirt freshman Shane Jarka, both defensive linemen, will be making their Division I debuts versus Georgia.
"There's no question that in order for us to compete for the Big 12 championship, we have to play better on defense," Gundy said. "Our offense has to carry us a little while defense gets it going because of the youth in the defensive line. I fully expect Georgia to try to ram the ball down our throats."
Gundy is confident that excitement in the Cowboys' program will continue to grow. Plans call for the seating capacity at Boone Pickens Stadium to grow from 44,000 to 60,000 by the start of the 2008 season.
"There's no doubt that interest has increased now to the highest level ever for the school," said Gundy, who was quarterback of a similarly explosive offensive team for the Cowboys in the late 1980s that featured weapons such as Barry Sanders and Thurman Thomas. "But even with those great teams we had back in the 1980s, we didn't fill our stadium. That's changing."
OSU's offensive firepower and several strong recruiting classes have served as a base that should help Gundy attract fans to the expanded stadium in the future. But an improved defense that boosts the Cowboys into Big 12 title contention will be the drawing card that keeps them coming back.
Tim Griffin in a senior sportswriter with the San Antonio Express-News.
SPONSORED HEADLINES
MORE COLLEGE FOOTBALL HEADLINES
MOST SENT STORIES ON ESPN.COM
2007 College Football Preview
The long wait for the start of the 2007 college football season is finally over. Get ready for the season with an in-depth look at the teams, trends, players and coaches. Index

Features
• Forde: Arkansas' favorite son also rising
• Forde: Welcome to Trickeration Nation
• Albright: Glanville has Portland State all shook up
• Maisel: Boise State part of quiet revolution
• Edwards: BCS system needs update


• Forde: QBs face burden of proof in '07
• Schlabach: Biggest shoes to fill this season
• Maisel: (Southern) State of the Game
• Schlabach: Hot or Not for 2007
Awards Watch
•
Ivan Maisel's preseason All-America team
•
Heisman Watch: Voters go Hog wild
•
SportsNation: Rank the Heisman contenders
Fearless Forecasts
•
Experts: Conference title projections
•
Maisel/Schlabach: Bowl predictions
•
McShay: Don't sleep on these teams

•
Games to watch:
National
|
Conference
Campus Confidential
•
Forde: Woodson stepping out of the shadow
•
Schlabach: Shhhh! Uncovering 2007's secrets
•
McShay: Seven secrets from the film room

•
Feldman: Saturday's secret agents revealed
•
EA Sports: Trick play simulations
•
Arkansas: Wildhog formation
•
Boise State: Statue of Liberty
•
LSU: Flea flicker
•
Texas: Wide receiver pass
•
USC: Halfback pass
ACC Features
•
Schlabach: ACC needs quality Miami, FSU
•
Schlabach: Wright, Freeman still battling at Miami
•
Schlabach: Wake sets bar high for encore
•
Schlabach: Five ACC predictions
Big East Features
•
Maisel: What's next for the Big East?
•
Maisel: USF's QB exudes old school cool
•
Maisel: Five Big East predictions
Big Ten Features
•
Schlabach: Michigan seniors return on a mission
•
Schlabach: Downsized Hill means supersized play
•
Schlabach: Big Ten at the crossroads
•
Schlabach: Five Big Ten predictions
Pac-10 Features
•
Forde: Now is the time for UCLA
•
Forde: Five Pac-10 predictions
•
Maisel: After long wait, Turner ready for stardom
•
Maisel: Ten Little Trojans running backs
•
Feldman: DeSean Jackson's born identity

SEC Features
•
Maisel: Saban snapshot reveals double feature
•
Higgins: Spurrier, Gamecocks thinking big
•
Schlabach: SEC balance of power shifts East
•
Schlabach: Five SEC predictions
Coaching Corner
•
Schlabach: Coaches on the hot seat
•
Schlabach: Rise of the assistants
•
McShay: Assistant coaches on the rise

•
McShay: Position coaches who deliver

Rule Changes
•
Kickoffs, timing rules highlight changes
•
McShay: Changes put premium on specialists

•
College Football Live: Impact of kickoff rule

•
Joe Tiller: Kickoff changes raise safety issues

•
College Football Live: Matter of time

Campus Call
ESPN.com will hit eight practice sessions to get an early pulse on the season. Check out what's happening on campus.
•
Aug. 7:
Gators looking for bite on D
•
Aug. 6:
ND's Weis plays respect card
|
McKnight makes USC debut
•
Aug. 5: Brown resolute in face of Texas' troubles
•
Aug. 4: WVU has speed to burn
•
Aug. 3: Taylor made Jacket
•
Aug. 2: Hokies begin road back to normalcy
•
Aug. 1: Report day is still a thrill for Tuberville