Commentary
Evidence indicates slow move toward a day the counting stops
Originally Published:
August 6, 2008
By
Ivan Maisel
| ESPN.com
When Mississippi State made Sylvester Croom the first black head coach in the Southeastern Conference, the university created national news that buzzed for months. As Croom enters his fifth season, he is no longer news.
Black head coaches, however, remain sparse enough to count. The point is not for black coaches to be counted, but to be countless. A generation ago, the position of starting quarterback stood behind a racial barrier. Today, coaches scour the nation looking for the next Vince Young. Likewise, the number of black head coaches in Division I basketball is considered as newsy as the number of Catholics, Jews or left-handers.
[+] Enlarge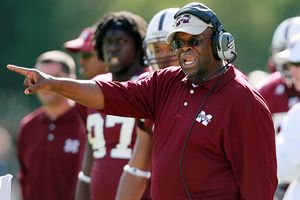 Marvin Gentry/US PresswireMississippi State's Sylvester Croom is one of six black head coaches in the FBS.
Croom is one of six black head coaches in the Football Bowl Subdivision. There is an unseen, commonsensical threshold out there. Once crossed, it will recede into the distance. College football seems to be moving toward that threshold with "all deliberate speed," the empty definition the U.S. Supreme Court used in Brown v. Board of Education II. When a black man is hired, as Kevin Sumlin was by Houston after last season, the ledgers come out and the races are counted. Only then does the sport go about its business.
The day will come when the counting stops. For years, that idea sounded like hand patting, a platitude sorely lacking in evidence. Now, it appears there is some evidence. It has arrived without fanfare, arrived with such stealth that not even Croom realized it.
Which is curious, given that he is partly responsible.
When Mississippi State defensive coordinator Ellis Johnson left after last season for the same job at South Carolina, Croom promoted secondary coach Charlie "Cheese" Harbison. That meant Mississippi State had two African-American coordinators -- Harbison and, on offense, Woody McCorvey. At about the same time, Notre Dame coach Charlie Weis elevated running backs coach Mike Haywood to offensive coordinator, giving the Irish two black coordinators (Corwin Brown on defense).
It's not so much that both schools hired two black coordinators. They are not the first. Both UCLA and Kansas State have done so in recent years. It's that the hirings didn't make news. Black coordinators no longer stand out.
"I hadn't given any thought to it," Croom said by telephone. "That's the way it should be. We hired the best guy for the job. That's the way I always felt about it. Hire the best guy."
In theory, that's the way it should work. In reality, the arrival of "the way it should work" has been slower than a 19th-century British novel. Although the number of black coordinators isn't countless, it took a while to add them up. Among FBS schools, there are 32: 12 on offense, 20 on defense.
It is one more step toward the threshold. Different coaches have different ideas about how much road there is left to travel.
"The fact that nobody else thought it [promoting Harbison] was a big deal, I think that's a good thing," Croom said.
[+] Enlarge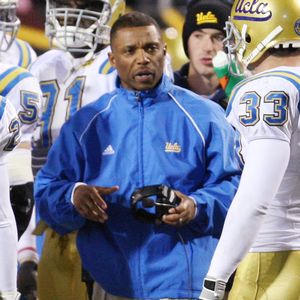 Marlene Karas/US PresswireCoordinator DeWayne Walker keyed UCLA's defensive improvement.
UCLA defensive coordinator DeWayne Walker, a black coach in his third season with the Bruins, didn't exactly declare victory.
"You can do the math," Walker said. "There are 120 schools, and you have two coordinators [at each]. … With that number you just mentioned [32], that's pretty bad."
Walker's point is that of 240 positions, 13.3 percent of them are filled by blacks.
"The bottom line is what the results are," Walker said. "It's important to me to do a good job so maybe another African-American can get an opportunity to do a good job. Whether that makes a difference or not, I don't know. Maybe it doesn't. One of my motivations is to show there are a lot of African-American coaches that are good coaches. They just need the opportunities."
In 2006, Walker's first season as the Bruins' defensive coordinator, he developed a defense that held six opponents to 12 or fewer points. One of them, No. 2 USC, lost to UCLA 13-9 and fell out of national championship contention. With that success, Walker has established his reputation, especially among fellow coaches. They have paid him the ultimate backhanded compliment in their field.
"I guess the word on the street that a lot of schools are using is that DeWayne Walker won't be at UCLA next year," Walker said. "They are telling recruits this, and I just kind of chuckle at it. I've only had one [head coaching] interview, and that was at UCLA!"
Walker lost the promotion when UCLA hired Rick Neuheisel, who in turn quickly decided to keep the defensive staff intact (one assistant, Gary DeLoach, left to become the defensive coordinator at North Texas).
In addition to Walker, coordinators such as Ruffin McNeill of Texas Tech and Jaime Hill of BYU have established defenses that propelled their teams into the preseason top 15. When Michigan coach Lloyd Carr retired after last season, his defensive coordinator, Ron English, was snapped up by Louisville.
On offense, the names of coordinators such as Mike Locksley at Illinois, McCorvey at Mississippi State and Calvin Magee, who came with Rich Rodriguez last winter from West Virginia to Michigan, have become grist for the coaching rumor mill.
The debate might concern how large a step has been taken. But no one disputes that 32 coordinators constitutes a step. Universities rarely look below the level of coordinator to hire a head coach. Athletic directors who claim there aren't enough qualified candidates will have to find another excuse.
Ivan Maisel is a senior writer for ESPN.com. Send your questions and comments to Ivan at ivan.maisel@espn3.com.
Senior Writer, ESPN.com
ESPN.com senior college football writer
Four-time FWAA award winner
27 seasons covering college football
SPONSORED HEADLINES
MORE COLLEGE FOOTBALL HEADLINES
MOST SENT STORIES ON ESPN.COM
2008 College Football Preview
The long wait for the start of the 2008 college football season is finally over. Get ready for the season with an in-depth look at the teams, trends, players and coaches. Index
Blog Network
Get the latest updates from your favorite conference and around the country.
ACC | Big 12 | Big East | Big Ten | Pac-10
SEC | Others | College Football Nation
National Features
• Maisel: Let the campaign '08 debate begin
• Bloggers: State of each conference
• Schlabach: Hot and not for 2008
• Maisel: Full speed ahead for offenses
• Maisel: Defending the fast-tempo spread
• Maisel: Nation's fastest teams
• Forde: SEC coaches in a league of their own
• Forde: Johnson stuck as SEC's roadie
• Schlabach: The nation's alpha-male coaches
• Schlabach: Coaches on the hot seat
• Maisel: Road left to travel for black coaches
• Schlabach: Critical mass await Ohio State
• Edwards: Are BCS voter tired of the Buckeyes?
• Edwards: Parity puts BCS at crossroads
• Feldman: Ten best-kept secrets
2008 Preseason All-America team
• Maisel: Preseason All-America team
What to watch
• Eighth annual Herbie Awards
• ESPN's experts' predictions
• Schlabach: Games to watch
• Schlabach: Intriguing games
• Bloggers: Preseason conference predictions
• Bloggers: Games to watch

Conference call
ACC
• Schlabach: Clemson craving title
• Dinich: In the Wake of success
• Dinich: Coast toast for Hokies?
• ACC needs Canes, Noles to win

Big Ten
• Rittenberg: Innovation not new to Big Ten
• Rittenberg: UM QBs adapt to offense
• Schlabach: Pryor's role with Ohio State

Big 12
• Maisel: Big 12 QBs face burden of proof
• Griffin: Where have the Big 12 runners gone?
• Griffin: Northern exposure
• Feldman: Is Crabtree the best college WR ever?

Big East
• Schlabach: Stewart's challenge at West Virginia
• Bennett: Knight moves focused on Teel

C-USA
• Tulsa building foundation for success
• Pirates sailing toward uncharted waters

Independents
• Watson: Are the Irish coming of age?
• Watson: Tenuta's tenacious D
• Maisel: Army exploring its options

MAC
• Watson: MAC QBs hope to share the spotlight
• Dinich: Golden touch working at Temple
• Watson: NIU's Kill found new perspective

Mountain West
• Watson: BYU-Utah going national?
• Watson: TCU looks to regroup

Pac-10
• Maisel: Son also rises at UCLA
• Miller: Stable is the USC Way
• Miller: Huskies counting on Locker

SEC
• Low: SEC's uncertain QB landscape
• Low: Tebow still learning
• Maisel: Richt knows expectations

Sun Belt
• Schlabach: Coach, QB to keep Owls soaring

Western Athletic
• Watson: Will tough schedule propel Fresno State?
• Watson: QB battle has Nevada thinking big

Rankings
• Georgia tops preseason power rankings
• Preseason Bottom 10: Lollapaloozers
• Conference preseason power rankings
• Bloggers: Ranking the coaches | Hot seat

Podcasts
• Podcast: Ivan, Mark discuss '08 season


• Podcast: Beano, Ivan talk coaches

SportsNation
• Chat wrap: Kicking off the season


• Rank 'em: ESPNU Fan Poll
• Rank 'em: How tough is each team's schedule?
Fantasy
• Predict the college football upsets each week.
Play College Pick 'Em