Commentary
Black Knights, option ready to reunite
Originally Published:
August 15, 2008
By
Ivan Maisel
| ESPN.com
Stan Brock can see the day fast approaching, and he's excited. The Army coach, two weeks after surgery to remove his cancerous prostate, believes the time is near when he won't go home mid-morning for a nap.
"Probably within the next week," Brock said Thursday, "I'll be back at the regular ridiculous hours that coaches think are necessary to work in this business."
Beyond the shock of the prognosis, the medical news for Brock, 50, has been nothing but good. Doctors found that the cancer had not escaped the prostate. Brock is expected to make a complete recovery.
"All the plumbing seems to be working," Brock said. "Nobody likes their plumbing messed with."
[+] Enlarge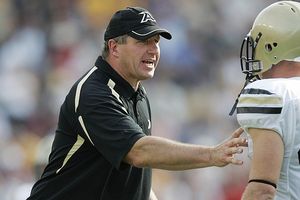 AP Photo/Michael DwyerStan Brock's bringing the option back to Army.
The recovery of Army football remains a work in progress. To put it politely, the Black Knights of the Hudson are in the second decade of rebuilding. Brock, promoted after the retirement of Bobby Ross following the 2006 season, led Army to a 3-9 record a year ago. He came away from last season convinced that he needed to scrap the pro-style offense.
Army finished in the bottom five in the nation in total offense (275.5 yards per game) and scoring offense (16.9 points). The inability to hold on to the ball led to a rushing defense (233.5 yards) that also finished in the bottom five.
So Brock set out to find an offense. You've seen this search before. The Golden Age of Hollywood cranked them out regularly. A couple meant to be together splits up and then finds their way back to one another. Cary Grant would have played Brock, and Katherine Hepburn would be the option offense.
The greatest success that Army, Navy and Air Force have had in the past 25 years has been when they have run the option. Army went away from the option eight years ago, firing Bob Sutton and hiring Todd Berry. He installed a no-huddle spread, the worst decision in an Army uniform since George Custer scheduled a game at Little Big Horn.
Brock has heard all the theories about why option offenses have found a home at the three service academies.
He has heard that the option is an equalizer against more talented teams.
He has heard that the option stretches a defense like the spread but without the same need for speed in the open field.
He has heard that the same discipline and intelligence that West Point demands from every cadet fit the option like a Speedo.
"I don't know about those things," Brock said. "I know we had to make a change. We needed something our players had confidence in."
Brock, offensive coordinator Tim Walsh and the Army staff have read every option book and playbook they could find. (The Internet is a beautiful thing.) They have watched a lot of video. What they have created, exactly, Brock isn't saying.
"It's a run-option-based offense," he said. "The reason I think it's going to work is that when you can make everybody honor the run, it will make throwing the ball a little easier.
"We can find a big fullback. We can have a smart quarterback. The offensive linemen can bend their elbows and bend their knees and come running off the ball. And the pass protection is taken care of by having [the defense] honor the run first."
Brock also played in the wishbone at Colorado in the mid-1970s. The offense is an old friend. He and his staff went to visit the retired Jim Young, the head coach who in the 1980s first made option football at Army a success. They went to visit Young's successor, Bob Sutton, now the defensive coordinator of the New York Jets.
In 1996, Sutton's Army team began the season 9-0 and finished it 10-2 and No. 25. That's the last time Army was ranked. That's also the last time that Army had a winning record. In the past 11 seasons, Army has won 27 games. It has been a long, black night for the Black Knights.
The option makes sense as the shortest path to renewed success. Brock has no idea if he's right. At this point, he's taking one day at a time. And looking forward to coaching without a nap.
Ivan Maisel is a senior writer for ESPN.com. Send your questions and comments to Ivan at ivan.maisel@espn3.com. His new book, "The Maisel Report: College Football's Most Overrated and Underrated Players, Coaches, Teams, & Traditions," is on sale now.
Senior Writer, ESPN.com
ESPN.com senior college football writer
Four-time FWAA award winner
27 seasons covering college football
SPONSORED HEADLINES
MORE COLLEGE FOOTBALL HEADLINES
MOST SENT STORIES ON ESPN.COM
2008 College Football Preview
The long wait for the start of the 2008 college football season is finally over. Get ready for the season with an in-depth look at the teams, trends, players and coaches. Index
Blog Network
Get the latest updates from your favorite conference and around the country.
ACC | Big 12 | Big East | Big Ten | Pac-10
SEC | Others | College Football Nation
National Features
• Maisel: Let the campaign '08 debate begin
• Bloggers: State of each conference
• Schlabach: Hot and not for 2008
• Maisel: Full speed ahead for offenses
• Maisel: Defending the fast-tempo spread
• Maisel: Nation's fastest teams
• Forde: SEC coaches in a league of their own
• Forde: Johnson stuck as SEC's roadie
• Schlabach: The nation's alpha-male coaches
• Schlabach: Coaches on the hot seat
• Maisel: Road left to travel for black coaches
• Schlabach: Critical mass await Ohio State
• Edwards: Are BCS voter tired of the Buckeyes?
• Edwards: Parity puts BCS at crossroads
• Feldman: Ten best-kept secrets
2008 Preseason All-America team
• Maisel: Preseason All-America team
What to watch
• Eighth annual Herbie Awards
• ESPN's experts' predictions
• Schlabach: Games to watch
• Schlabach: Intriguing games
• Bloggers: Preseason conference predictions
• Bloggers: Games to watch

Conference call
ACC
• Schlabach: Clemson craving title
• Dinich: In the Wake of success
• Dinich: Coast toast for Hokies?
• ACC needs Canes, Noles to win

Big Ten
• Rittenberg: Innovation not new to Big Ten
• Rittenberg: UM QBs adapt to offense
• Schlabach: Pryor's role with Ohio State

Big 12
• Maisel: Big 12 QBs face burden of proof
• Griffin: Where have the Big 12 runners gone?
• Griffin: Northern exposure
• Feldman: Is Crabtree the best college WR ever?

Big East
• Schlabach: Stewart's challenge at West Virginia
• Bennett: Knight moves focused on Teel

C-USA
• Tulsa building foundation for success
• Pirates sailing toward uncharted waters

Independents
• Watson: Are the Irish coming of age?
• Watson: Tenuta's tenacious D
• Maisel: Army exploring its options

MAC
• Watson: MAC QBs hope to share the spotlight
• Dinich: Golden touch working at Temple
• Watson: NIU's Kill found new perspective

Mountain West
• Watson: BYU-Utah going national?
• Watson: TCU looks to regroup

Pac-10
• Maisel: Son also rises at UCLA
• Miller: Stable is the USC Way
• Miller: Huskies counting on Locker

SEC
• Low: SEC's uncertain QB landscape
• Low: Tebow still learning
• Maisel: Richt knows expectations

Sun Belt
• Schlabach: Coach, QB to keep Owls soaring

Western Athletic
• Watson: Will tough schedule propel Fresno State?
• Watson: QB battle has Nevada thinking big

Rankings
• Georgia tops preseason power rankings
• Preseason Bottom 10: Lollapaloozers
• Conference preseason power rankings
• Bloggers: Ranking the coaches | Hot seat

Podcasts
• Podcast: Ivan, Mark discuss '08 season


• Podcast: Beano, Ivan talk coaches

SportsNation
• Chat wrap: Kicking off the season


• Rank 'em: ESPNU Fan Poll
• Rank 'em: How tough is each team's schedule?
Fantasy
• Predict the college football upsets each week.
Play College Pick 'Em