Commentary
Hoss' unique personality served Cotton Bowl well
Originally Published:
August 25, 2008
By
Ivan Maisel
| ESPN.com
Theologians will note the death of former Cotton Bowl executive director Jim Brock in Plano, Texas, on Aug. 14. Moments afterward came the first time in history that anyone met God face-to-face and called him "Hoss."
Hoss Brock is a name and a personality from a time not distant on the calendar, yet eons ago in the business of college football. Before the BCS turned the postseason corporate, bowls fended for themselves, competing for the best matchups. Their executive directors served more or less as entrepreneurs. The Cotton Bowl became known for its hospitality. Brock and his boss, a warm, courtly man named Field Scovell, took Texas friendliness and spread it nationwide.
[+] Enlarge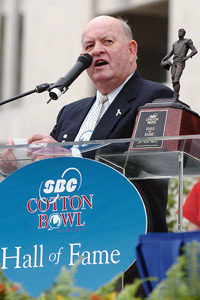 Ian Halperin/CBAAThe Cotton Bowl became known for its hospitality thanks to Jim "Hoss" Brock.
"He had an approach that wasn't Fortune 500," recalled John Junker, who has run the Fiesta Bowl for nearly two decades. "He really was one of the most memorable personalities I've been around, and that goes back 30 years." Men and women didn't exist in Brock's world. He called you "Hoss" or, if you weren't a Hoss, either "Darlin'," "Doll" or "Sweet Pea." That cut down on the number of names he needed to remember. That also led to one of the stories that college football writers my age tell on our second or third libation. Someone in our business once began a quote from an "unnamed bowl official" saying, "Well, Hoss, …" Brock had a difficult job. The Southwest Conference, whose champion served as the Cotton Bowl's host team, had cheated its way onto the road to oblivion. Seven of the nine SWC schools went on NCAA probation from 1985 through 1988. No SWC school finished in the top five from 1984 through the league's demise in 1995. The weather in Dallas from Christmas through New Year's Day can be sunny, warm, windy or icy -- all in the same afternoon. And the Cotton Bowl to this day has few of the amenities of the modern stadium. If any of that bothered Brock, he never let on. He stuck a Macanudo in the corner of his mouth -- rarely was the cigar lit -- shoved a handful of Cotton Bowl lapel pins in the pocket of his ever-present green Cotton Bowl blazer and pasted that squinty-eyed smile on his round, red face. "Hoss and Field Scovell kept the Cotton Bowl as a major player for years more than it deserved to be," said Butch Henry, a former Little Rock sportswriter who's now a broadcast executive. "They had the SWC champion, which more often than not had one or two losses. Hoss was really having to scratch to find somebody to make a game." Yet the Cotton Bowl almost always presented an interesting matchup. Brock had a fondness for Heisman Trophy winners, getting three in a four-year period from 1984 to '87. In 1987, the Cotton Bowl secured a resurgent Notre Dame and its Heisman winner, Dallas native Tim Brown. When Brock recruited a team for the Cotton Bowl, he recruited the entire campus. As a writer for The Dallas Morning News, I accompanied Brock on a trip to South Bend that November for the No. 7 Irish's game against No. 11 Alabama. At the far end of the parking lot of Notre Dame Stadium stood a dilapidated building that the seniors had overtaken and made into the senior bar. Brock held court and an open tab at the senior bar for hours. He handed out lapel pins, kisses and beers, depending upon whether you were a Hoss or a Darlin'. When the bar closed, Brock commanded a road trip to an all-night hot dog stand in downtown South Bend, where, at about 3 a.m., he led a spirited rendition of the Notre Dame Victory March. My story recounting the events of the evening landed Brock in hot water with the upright citizens of the Cotton Bowl Executive Committee, men who chafed at the same Brock antics that kept their game relevant. As Brock explained to Alexander Wolff of Sports Illustrated in a memorable 1988 profile, "Ain't but 2 a.m. Dallas time." Brock also snared Bo Jackson and his Heisman in the 1985 season. But the coup for which Brock would be remembered came a year earlier, when he secured 1984 Heisman winner Doug Flutie and Boston College. America fell in love with the Eagles quarterback that fall. Brock fell in love with Flutie, too, and outfoxed the Sugar Bowl to get Boston College to play in Dallas. "He convinced Flutie that a guy of his stature should never play indoors," Mickey Holmes, former executive director of the Sugar Bowl, said. "Hoss felt that [getting Flutie] was the primary thing he had to do to get Boston College to his place." So on that Thanksgiving Friday in the Orange Bowl, when Flutie threw the Hail Mary touchdown that beat Miami, clinched his Heisman and made him a college football legend, you might think the happiest man in the stadium was No. 22. No, it was Hoss, with a grin that spread from goalpost to goalpost. He had wooed the player who became America's sweetheart. Brock had a big hand in getting the Davey O'Brien National Quarterback Award up and running. He worked at several Olympics, including as the press liaison for men's basketball coach Bobby Knight in the 1984 Summer Games in Los Angeles. Whatever he did, he did to spread the Cotton Bowl gospel. In 1992, the upright citizens of the Cotton Bowl Executive Committee took the Cotton Bowl away from Brock. The decision roughly coincided with the breakup of Brock's marriage. The Cotton Bowl officials never said that Brock's behavior had become an embarrassment to them. Without Brock, the Cotton Bowl slipped out of the top tier of postseason college football. Without the Cotton Bowl, Brock slipped out of college football. He had an audition at ESPN, but somehow, calling every player "Hoss" didn't work from the studio. I last saw Brock a few years ago at the Byron Nelson Classic, where he worked as a volunteer in the media center. I've never been so happy to have someone slosh a beer onto my shoes. By then, Brock had dropped out of circulation. He suffered a series of strokes this year. He died early on the morning of Aug. 14. A friend said he had been watching the Olympics the night before he died.
Ivan Maisel is a senior writer for ESPN.com. Send your questions and comments to Ivan at ivan.maisel@espn3.com. His new book, "The Maisel Report: College Football's Most Overrated & Underrated Players, Coaches, Teams, and Traditions," is on sale now. For more information, go to TheMaiselReport.com.
Senior Writer, ESPN.com
ESPN.com senior college football writer
Four-time FWAA award winner
27 seasons covering college football
SPONSORED HEADLINES
MORE COLLEGE FOOTBALL HEADLINES
MOST SENT STORIES ON ESPN.COM
2008 College Football Preview
The long wait for the start of the 2008 college football season is finally over. Get ready for the season with an in-depth look at the teams, trends, players and coaches. Index
Blog Network
Get the latest updates from your favorite conference and around the country.
ACC | Big 12 | Big East | Big Ten | Pac-10
SEC | Others | College Football Nation
National Features
• Maisel: Let the campaign '08 debate begin
• Bloggers: State of each conference
• Schlabach: Hot and not for 2008
• Maisel: Full speed ahead for offenses
• Maisel: Defending the fast-tempo spread
• Maisel: Nation's fastest teams
• Forde: SEC coaches in a league of their own
• Forde: Johnson stuck as SEC's roadie
• Schlabach: The nation's alpha-male coaches
• Schlabach: Coaches on the hot seat
• Maisel: Road left to travel for black coaches
• Schlabach: Critical mass await Ohio State
• Edwards: Are BCS voter tired of the Buckeyes?
• Edwards: Parity puts BCS at crossroads
• Feldman: Ten best-kept secrets
2008 Preseason All-America team
• Maisel: Preseason All-America team
What to watch
• Eighth annual Herbie Awards
• ESPN's experts' predictions
• Schlabach: Games to watch
• Schlabach: Intriguing games
• Bloggers: Preseason conference predictions
• Bloggers: Games to watch

Conference call
ACC
• Schlabach: Clemson craving title
• Dinich: In the Wake of success
• Dinich: Coast toast for Hokies?
• ACC needs Canes, Noles to win

Big Ten
• Rittenberg: Innovation not new to Big Ten
• Rittenberg: UM QBs adapt to offense
• Schlabach: Pryor's role with Ohio State

Big 12
• Maisel: Big 12 QBs face burden of proof
• Griffin: Where have the Big 12 runners gone?
• Griffin: Northern exposure
• Feldman: Is Crabtree the best college WR ever?

Big East
• Schlabach: Stewart's challenge at West Virginia
• Bennett: Knight moves focused on Teel

C-USA
• Tulsa building foundation for success
• Pirates sailing toward uncharted waters

Independents
• Watson: Are the Irish coming of age?
• Watson: Tenuta's tenacious D
• Maisel: Army exploring its options

MAC
• Watson: MAC QBs hope to share the spotlight
• Dinich: Golden touch working at Temple
• Watson: NIU's Kill found new perspective

Mountain West
• Watson: BYU-Utah going national?
• Watson: TCU looks to regroup

Pac-10
• Maisel: Son also rises at UCLA
• Miller: Stable is the USC Way
• Miller: Huskies counting on Locker

SEC
• Low: SEC's uncertain QB landscape
• Low: Tebow still learning
• Maisel: Richt knows expectations

Sun Belt
• Schlabach: Coach, QB to keep Owls soaring

Western Athletic
• Watson: Will tough schedule propel Fresno State?
• Watson: QB battle has Nevada thinking big

Rankings
• Georgia tops preseason power rankings
• Preseason Bottom 10: Lollapaloozers
• Conference preseason power rankings
• Bloggers: Ranking the coaches | Hot seat

Podcasts
• Podcast: Ivan, Mark discuss '08 season


• Podcast: Beano, Ivan talk coaches

SportsNation
• Chat wrap: Kicking off the season


• Rank 'em: ESPNU Fan Poll
• Rank 'em: How tough is each team's schedule?
Fantasy
• Predict the college football upsets each week.
Play College Pick 'Em