Commentary
These coaches leave no doubt as to who is in charge
College football's alpha-male coaches have good looks, booming voices and very deep pockets. No place are they more prevalent than in the SEC, but that isn't the only location these coaches reign.
From Notre Dame to Ohio State to USC, football coaches tend to rule the roost. It's their way or the highway, and they seem very unwilling to budge about much.
Here's a closer look at the alpha-male coaches operating outside the SEC, along with those coaches who are trying to climb the ladder in their profession:
Leaders of the pack
Frank Beamer, Virginia Tech
The Southern gentleman changed the way Virginia Tech played football and how people thought about the Hokies. He became the face of the school after the horrific April 16, 2007 shooting on the Virginia Tech campus.
Mack Brown, Texas
It seems Brown has gotten more ornery with age. The coach that was once apt to hug his players is more inclined to holler at them.
Pete Carroll, USC
Don't let the suntan and good looks confuse you. The coach that was too nice for the NFL exudes confidence and even downright cockiness on the West Coast. The Trojans do things better than most everyone else -- and they're not afraid to tell you so.
Butch Davis, North Carolina
Davis learned under two of the greatest alpha males in college football history: Jimmy Johnson and Barry Switzer. His NFL career sputtered because his Cleveland Browns team was led by a beta male -- quarterback Tim Couch.
Dennis Erickson, Arizona State
Fans might not always agree with how Erickson does it, but he's produced championship-caliber teams at all of his stops. Just when we thought Arizona State athletics director Lisa Love had lost her mind in hiring Erickson, he turned the Sun Devils into winners.
[+] Enlarge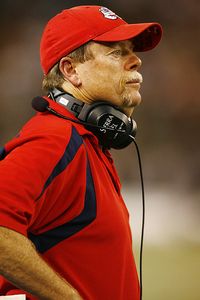 David Allio/Icon SMIPat Hill is the face and attitude of Fresno State football.
Pat Hill, Fresno State
Not only is Hill a coach you would want leading your program, but you'd also like him on your side in a dark alley. His rough-and-tough looks are a perfect match for Fresno.
Joe Paterno, Penn State
The 81-year-old coaching icon continues to scream at officials, his players, coaches and even reporters. Rest assured, Paterno won't go out quietly -- if and when retirement ever comes.
Rich Rodriguez, Michigan
Rodriguez wanted to control everything at West Virginia -- the Internet, who stood on the sideline during games and how the school marketed his name. The only thing he wants to control at Michigan? Ohio State, of course.
Howard Schnellenberger, Florida Atlantic
Schnellenberger coached under Paul "Bear" Bryant and used the same boot-camp mentality to rebuild crumbling programs at Miami and Louisville, before building his own program at Florida Atlantic. He was so confident in his abilities that he told Oklahoma fans, "They'll write books and make movies about my time here."
Bob Stoops, Oklahoma
Has there ever been a more booming voice in college football? It's a shame we don't hear it much once bowl games begin.
Jim Tressel, Ohio State
The man in the sweater vest and glasses reigns over the Big Ten with an iron fist. How does Tressel do it? You can read about it in his new book, "The Winners Manual: For the Game of Life."
Charlie Weis, Notre Dame
Weis was educated in the Bill Parcells and Bill Belichick schools of coaching and at times is as standoffish as his former bosses.
Moving up the line
Mike Gundy, Oklahoma State
Gundy is famous for screaming, "I'm a man!" If he's truly going to become
the
man, his Cowboys are going to have to win more.
Jim Harbaugh, Stanford
What other coach has the guts to criticize the academics of his alma mater before even winning a game at Stanford?
Dan Hawkins, Colorado
A little "Hawk Love" typically includes Hawkins ranting like a madman about how Colorado football "ain't intramurals, brother!"
Mike Leach, Texas Tech
There isn't a subject -- or airport -- Leach isn't willing to tackle. His postgame comments about officials and the Big 12 have left him in hot water more than once.
Jim Leavitt, South Florida
The Bulls love Leavitt for building their football program from scratch. Reporters who cover him sometimes cringe when hearing his baritone voice.
Bo Pelini, Nebraska
Pelini takes his no-nonsense approach to Nebraska, where he'll become the state's alpha male if he can turn the Cornhuskers into winners again.
Greg Schiano, Rutgers
Schiano has worked miracles at Rutgers, which was one of the worst programs in the country when he arrived. So much so that the Scarlet Knights seem willing to do anything to keep him there.
Mark Schlabach covers college football and men's college basketball for ESPN.com. You can contact him at schlabachma@yahoo.com.
College Football and Basketball
College football writer for ESPN.com
Author of seven books on college football
Formerly at the Washington Post and the Atlanta Journal-Constitution
2008 College Football Preview
The long wait for the start of the 2008 college football season is finally over. Get ready for the season with an in-depth look at the teams, trends, players and coaches. Index
Blog Network
Get the latest updates from your favorite conference and around the country.
ACC | Big 12 | Big East | Big Ten | Pac-10
SEC | Others | College Football Nation
National Features
• Maisel: Let the campaign '08 debate begin
• Bloggers: State of each conference
• Schlabach: Hot and not for 2008
• Maisel: Full speed ahead for offenses
• Maisel: Defending the fast-tempo spread
• Maisel: Nation's fastest teams
• Forde: SEC coaches in a league of their own
• Forde: Johnson stuck as SEC's roadie
• Schlabach: The nation's alpha-male coaches
• Schlabach: Coaches on the hot seat
• Maisel: Road left to travel for black coaches
• Schlabach: Critical mass await Ohio State
• Edwards: Are BCS voter tired of the Buckeyes?
• Edwards: Parity puts BCS at crossroads
• Feldman: Ten best-kept secrets
2008 Preseason All-America team
• Maisel: Preseason All-America team
What to watch
• Eighth annual Herbie Awards
• ESPN's experts' predictions
• Schlabach: Games to watch
• Schlabach: Intriguing games
• Bloggers: Preseason conference predictions
• Bloggers: Games to watch

Conference call
ACC
• Schlabach: Clemson craving title
• Dinich: In the Wake of success
• Dinich: Coast toast for Hokies?
• ACC needs Canes, Noles to win

Big Ten
• Rittenberg: Innovation not new to Big Ten
• Rittenberg: UM QBs adapt to offense
• Schlabach: Pryor's role with Ohio State

Big 12
• Maisel: Big 12 QBs face burden of proof
• Griffin: Where have the Big 12 runners gone?
• Griffin: Northern exposure
• Feldman: Is Crabtree the best college WR ever?

Big East
• Schlabach: Stewart's challenge at West Virginia
• Bennett: Knight moves focused on Teel

C-USA
• Tulsa building foundation for success
• Pirates sailing toward uncharted waters

Independents
• Watson: Are the Irish coming of age?
• Watson: Tenuta's tenacious D
• Maisel: Army exploring its options

MAC
• Watson: MAC QBs hope to share the spotlight
• Dinich: Golden touch working at Temple
• Watson: NIU's Kill found new perspective

Mountain West
• Watson: BYU-Utah going national?
• Watson: TCU looks to regroup

Pac-10
• Maisel: Son also rises at UCLA
• Miller: Stable is the USC Way
• Miller: Huskies counting on Locker

SEC
• Low: SEC's uncertain QB landscape
• Low: Tebow still learning
• Maisel: Richt knows expectations

Sun Belt
• Schlabach: Coach, QB to keep Owls soaring

Western Athletic
• Watson: Will tough schedule propel Fresno State?
• Watson: QB battle has Nevada thinking big

Rankings
• Georgia tops preseason power rankings
• Preseason Bottom 10: Lollapaloozers
• Conference preseason power rankings
• Bloggers: Ranking the coaches | Hot seat

Podcasts
• Podcast: Ivan, Mark discuss '08 season


• Podcast: Beano, Ivan talk coaches

SportsNation
• Chat wrap: Kicking off the season


• Rank 'em: ESPNU Fan Poll
• Rank 'em: How tough is each team's schedule?
Fantasy
• Predict the college football upsets each week.
Play College Pick 'Em
MORE COLLEGE FOOTBALL HEADLINES

MOST SENT STORIES ON ESPN.COM