Commentary
Sustained success breeds outrageous expectations
CHICAGO -- The Ohio State record books reveal that legendary coach Woody Hayes won nearly 76 percent of his games, 13 Big Ten titles and three national championships.
But if you believe the expectations surrounding Ohio State's football team each season, you might think Hayes won much more often.
"The general feeling you have at Ohio State is you're expected to win every game," Buckeyes coach Jim Tressel said. "It's like Woody never lost a game."
[+] Enlarge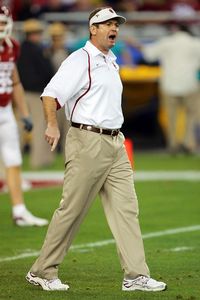 Doug Pensinger/Getty ImagesBob Stoops and the Sooners have lost four straight BCS bowl games.
Oklahoma's Bob Stoops might feel like he's never won a bowl game -- or the 2000 national championship -- after being scorned for much of the past five seasons for his team's failure in BCS bowl games.
"We've been in six Big 12 championships and we won five of them," Stoops said. "We are doing something right."
But is it enough at schools such as Ohio State and Oklahoma, where sustained success breeds outrageous expectations? The Buckeyes and Sooners are scrutinized more than most schools. Even USC, which has produced three of the past six Heisman Trophy winners and has littered the NFL with its former players, doesn't seem to be under such a powerful microscope.
The Trojans played for at least a share of the national championship for three straight seasons from 2003-05, winning an Associated Press title the first season and a BCS title the later. But USC coach Pete Carroll wasn't heavily criticized after the Trojans lost to Texas 41-38 in the 2006 Rose Bowl, a game in which his late-game strategy might have cost his team a national championship. Most people believed the Trojans were just beaten by a great player, Texas quarterback Vince Young.
USC seemed to get a free pass even after it was upset by Stanford 24-23 last season, a stunning loss that ultimately knocked the Trojans out of the national championship race.
In a city consumed with so much, Los Angeles doesn't seem to live and die with the Trojans each Saturday. The smog-filled sky doesn't fall after each loss. As a result, Carroll doesn't face quite the same pressure as coaches at such schools as Ohio State and Oklahoma, where State U seems to be the only team that matters.
USC's lofty expectations don't seem to be as overwhelming, either. Late last month, when the Trojans were selected as a unanimous choice to win their seventh straight Pac-10 championship, Carroll said, "It's cool. It's a beautiful thing."

Sometimes we're held to a higher standard than other schools. It's good because you're in the spotlight and get a lot of attention. It's hard because the expectations are always so high. That's Ohio State's tradition.
--Ohio State cornerback Malcolm Jenkins
Things couldn't be more beautiful at Ohio State -- or so it would seem. Tressel has won 82 percent of his games, four Big Ten championships and the 2002 national title. He reversed the Buckeyes' losing streak against rival Michigan and has reigned over the Big Ten like few coaches before him.
But as Ohio State opens another season with national championship aspirations, it has become the butt of jokes and, for many college football fans, is Example A for why the BCS system of determining a national champion isn't working. After winning 23 games the past two seasons, the Buckeyes were embarrassed by SEC schools in two straight BCS championship games.
Florida beat Ohio State 41-14 in 2006, and LSU whipped the Buckeyes 38-24 in '07.
For the Buckeyes, just earning a chance to win a national championship isn't good enough anymore. Finishing second simply isn't good enough.
"Sometimes we're held to a higher standard than other schools," Ohio State cornerback Malcolm Jenkins said. "It's good because you're in the spotlight and get a lot of attention. It's hard because the expectations are always so high. That's Ohio State's tradition."
Tressel said he believes most people, particularly those in the media, don't appreciate the difficulty in simply reaching the BCS championship game.
"When you're covering the game, everyone is there," Tressel said. "It wasn't that hard. They got on a plane and went there and their job is to write about it. How hard was it to get there? It was no different than getting to any other game. To the people that cover it, it wasn't hard. To the X-number of people that have never been in it, they think it's next to impossible."
In each of the past two seasons, Tressel has learned that winning a second national championship is difficult.
[+] Enlarge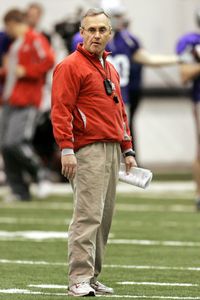 AP Photo/Charlie RiedelJim Tressel and the Buckeyes have lost two straight BCS title games.
"Does that bother me?" Tressel said. "I like to analyze our shortcoming as much as anybody does. I happen to think we're capable of anything. I love to try to get there."
Most college football fans love to beat up the Buckeyes -- and the Big Ten Conference -- for losing on college football's biggest stage. Ohio State is 0-9 against SEC schools in bowl games. Big Ten teams lost badly to USC in the past two Rose Bowls (Illinois in '08, Michigan in '07).
So after Ohio State seemed so overwhelmed in the past two BCS championship games, it was criticized for playing in a weak conference. Not only are the Buckeyes expected to carry the flag for their school and state, but they've also become the face of the Big Ten.
"Should that paint a picture of our whole conference? I don't think so," Tressel said. "But it also makes me feel disappointed that our performance in two championship games brushes with a wider brush. I don't think it's fair. But what I think and what you think doesn't matter. What happens in the games is what matters."
The Buckeyes have won three consecutive Big Ten championships and have lost only two of their past 24 games against conference foes. For many fans outside the Big Ten, it seems too easy.
"Maybe we should put some people in our shoes," Ohio State quarterback Todd Boeckman said. "It's tough going through the Big Ten. It's brutal. Teams come at you each and every week, and they're always tough, hard-nosed football games. It's a very, very tough thing to do."
Tougher than most people believe, if you ask the Buckeyes.
"When you're getting talked bad about and hated on and stuff, you've got to be doing something right for people to be talking about you," Buckeyes linebacker James Laurinaitis said. "If you're just a mediocre team, people aren't going to talk about you. People are going to have their own opinion. Hopefully, people in Big Ten country will stick up for the Big Ten. I think the Big Ten is talked about in more of a negative light than it should be. It's a terrific conference and a first-class conference; I truly believe that."
And you better believe that -- fair or not -- nothing short of holding up the crystal trophy in Miami on Jan. 8 will curtail the criticism.
Mark Schlabach covers college football and men's college basketball for ESPN.com. You can contact him at schlabachma@yahoo.com.
College Football and Basketball
College football/basketball writer for ESPN.com
Author of seven books on college football
Formerly at the Washington Post and the Atlanta Journal-Constitution
SPONSORED HEADLINES
MORE COLLEGE FOOTBALL HEADLINES
MOST SENT STORIES ON ESPN.COM
2008 College Football Preview
The long wait for the start of the 2008 college football season is finally over. Get ready for the season with an in-depth look at the teams, trends, players and coaches. Index
Blog Network
Get the latest updates from your favorite conference and around the country.
ACC | Big 12 | Big East | Big Ten | Pac-10
SEC | Others | College Football Nation
National Features
• Maisel: Let the campaign '08 debate begin
• Bloggers: State of each conference
• Schlabach: Hot and not for 2008
• Maisel: Full speed ahead for offenses
• Maisel: Defending the fast-tempo spread
• Maisel: Nation's fastest teams
• Forde: SEC coaches in a league of their own
• Forde: Johnson stuck as SEC's roadie
• Schlabach: The nation's alpha-male coaches
• Schlabach: Coaches on the hot seat
• Maisel: Road left to travel for black coaches
• Schlabach: Critical mass await Ohio State
• Edwards: Are BCS voter tired of the Buckeyes?
• Edwards: Parity puts BCS at crossroads
• Feldman: Ten best-kept secrets
2008 Preseason All-America team
• Maisel: Preseason All-America team
What to watch
• Eighth annual Herbie Awards
• ESPN's experts' predictions
• Schlabach: Games to watch
• Schlabach: Intriguing games
• Bloggers: Preseason conference predictions
• Bloggers: Games to watch

Conference call
ACC
• Schlabach: Clemson craving title
• Dinich: In the Wake of success
• Dinich: Coast toast for Hokies?
• ACC needs Canes, Noles to win

Big Ten
• Rittenberg: Innovation not new to Big Ten
• Rittenberg: UM QBs adapt to offense
• Schlabach: Pryor's role with Ohio State

Big 12
• Maisel: Big 12 QBs face burden of proof
• Griffin: Where have the Big 12 runners gone?
• Griffin: Northern exposure
• Feldman: Is Crabtree the best college WR ever?

Big East
• Schlabach: Stewart's challenge at West Virginia
• Bennett: Knight moves focused on Teel

C-USA
• Tulsa building foundation for success
• Pirates sailing toward uncharted waters

Independents
• Watson: Are the Irish coming of age?
• Watson: Tenuta's tenacious D
• Maisel: Army exploring its options

MAC
• Watson: MAC QBs hope to share the spotlight
• Dinich: Golden touch working at Temple
• Watson: NIU's Kill found new perspective

Mountain West
• Watson: BYU-Utah going national?
• Watson: TCU looks to regroup

Pac-10
• Maisel: Son also rises at UCLA
• Miller: Stable is the USC Way
• Miller: Huskies counting on Locker

SEC
• Low: SEC's uncertain QB landscape
• Low: Tebow still learning
• Maisel: Richt knows expectations

Sun Belt
• Schlabach: Coach, QB to keep Owls soaring

Western Athletic
• Watson: Will tough schedule propel Fresno State?
• Watson: QB battle has Nevada thinking big

Rankings
• Georgia tops preseason power rankings
• Preseason Bottom 10: Lollapaloozers
• Conference preseason power rankings
• Bloggers: Ranking the coaches | Hot seat

Podcasts
• Podcast: Ivan, Mark discuss '08 season


• Podcast: Beano, Ivan talk coaches

SportsNation
• Chat wrap: Kicking off the season


• Rank 'em: ESPNU Fan Poll
• Rank 'em: How tough is each team's schedule?
Fantasy
• Predict the college football upsets each week.
Play College Pick 'Em