Commentary
Stewart, White perfect remedy for Mountaineers
Newport, R.I. -- New West Virginia coach Bill Stewart won't tell you he's going to outscheme every other coach in the Big East.
The son of a pipe fitter from a small mining town, Stewart changed jobs six times in 12 years, even making two stops in the Canadian Football League, before becoming one of the best rags-to-riches stories in college football.
[+] Enlarge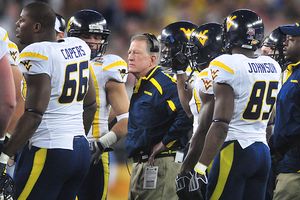 Mark J. Rebilas/US PresswireBill Stewart led the Mountaineers to an upset win over Oklahoma in the 2008 Fiesta Bowl.
After West Virginia coach Rich Rodriguez bolted his home state for Michigan last season, Stewart was named the Mountaineers' interim coach for the Fiesta Bowl. With West Virginia still reeling from a 13-9 loss to Pittsburgh that cost the Mountaineers a chance to play in the BCS championship game, Stewart somehow rallied his team to a 48-28 rout of No. 3 Oklahoma. Stewart was named West Virginia's coach the next morning.
"I'm just a jockey," Stewart said. "I jumped on the back of the best team in the West. Our young men were very disappointed with the loss to Pittsburgh. They whooped us. Our guys were really frustrated, but I told them, 'Guys, that's in the past.' It was an easy ride for me."
The full-time job doesn't figure to be as easy. Stewart's task at West Virginia is twofold: He must continue to win the way Rodriguez did (the Mountaineers won 11 games in each of the past three seasons and won two BCS bowl games) and help his home state forget about its former favorite son.
After Rodriguez left for Michigan only a year after extending his contract at West Virginia, his former employer sued to recoup a $4 million buyout. The messy divorce produced sensational headlines and wasn't finalized until July; Michigan agreed to pay West Virginia $2.5 million and Rodriguez will pay $1.5 million in future payments.
Stewart seemed like the perfect remedy for West Virginia at the time. A devoted family man, Stewart didn't even have an agent present when he agreed to become the Mountaineers' coach. He accepted the job during a 2 a.m. meeting in athletic director Ed Pastilong's hotel room in Arizona. The meeting happened only a couple of hours after West Virginia routed Oklahoma.
"That's my agent right there," Stewart said, extending his right hand during a breakfast meeting at Big East media day last month. "I stuck my hand out and said, 'You've got a ball coach.'"
The rest of college football is wondering whether the Mountaineers hired the right coach. Stewart's only other head-coaching experience came during a three-year tenure at Virginia Military Institute, where his teams compiled an 8-25 record.
"I not only expect to get opinions, but I welcome them," Stewart said. "People are going to call you what they're going to call you. It's a great opportunity for us as a staff and us as a team to prove our administration right. I'm excited about this opportunity, and it's my job to prove [the naysayers] wrong."
[+] Enlarge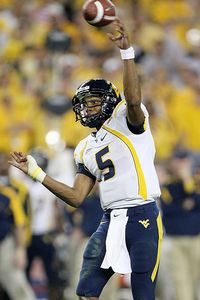 Stephen Dunn/Getty ImagesPat White is expected to pass more in Bill Stewart's offense.
Frankly, Stewart seems too good to be true. When the mayor of Buckhannon, W. Va., invited Stewart to be grand marshal of the annual West Virginia Strawberry Festival in May, the coach was overwhelmed by the invitation. Buckhannon has a population of about 5,700 residents.
"I was a grand marshal," Stewart said. "Are you kidding me? There were people coming to me for autographs and it stunned me."
But Stewart was also introduced to the potential pitfalls of his newfound fame. He spent nine hours at the Strawberry Festival, which apparently wasn't long enough for some residents.
"The newspaper said, 'One day, coach will get his time right,'" Stewart said.
The timing has never been better for Stewart. He inherits a West Virginia team that returns 12 starters, including quarterback Pat White, a Heisman Trophy candidate.
"Pat White's our franchise," Stewart said. "He's the greatest winner in college football today. I really believe that. But he cannot carry the ball every play. I want to run the ball and do what we've done. But we've got to take the ball out of Pat White's hands just a little bit. He can't do it every time. We've got to develop some other players, whether it's a wide receiver or a tailback. He can't win every game. We've got to give him some help."
White was hurt twice last season, and the Mountaineers lost both games -- 21-13 at South Florida and the deflating loss to Pittsburgh at home. Last season, White carried the football 197 times for 1,335 yards with 14 touchdowns. Stewart believes White's running made the Mountaineers too one-dimensional on offense. Stewart doesn't want tailback Noel Devine running the ball every other down, either.
"On first-and-10, we're going to pass the ball," Stewart said. "We are not going to just let Pat run it or let Noel run it. We've got to spread the wealth. White knows where the second and third guys are now. That's what makes Pat better. Now, he's not going to be [former Louisville QB] Brian Brohm, but he's going to be better. He had a tremendous spring with flood routes and second and third reads. NFL guys came in and said, 'Wow, this guy is getting it.'"
White, who has yet to throw for 2,000 yards in a season, said he welcomes the new wrinkles on offense.
"We're going to put the ball in the hands of a lot more players," White said. "We're going to spread the wealth. Everybody needs to get more touches."
But Stewart isn't stupid, either. If West Virginia's best chance to win a game involves White's running the ball, he said that's what the Mountaineers will do.
"We're going to win the game any way we can," Stewart said. "If we have to run 80 times to win, we'll do it."
Mark Schlabach covers college football for ESPN.com. You can contact him at schlabachma@yahoo.com.
College Football and Basketball
College football writer for ESPN.com
Author of seven books on college football
Formerly at the Washington Post and the Atlanta Journal-Constitution
SPONSORED HEADLINES
MORE COLLEGE FOOTBALL HEADLINES
MOST SENT STORIES ON ESPN.COM
2008 College Football Preview
The long wait for the start of the 2008 college football season is finally over. Get ready for the season with an in-depth look at the teams, trends, players and coaches. Index
Blog Network
Get the latest updates from your favorite conference and around the country.
ACC | Big 12 | Big East | Big Ten | Pac-10
SEC | Others | College Football Nation
National Features
• Maisel: Let the campaign '08 debate begin
• Bloggers: State of each conference
• Schlabach: Hot and not for 2008
• Maisel: Full speed ahead for offenses
• Maisel: Defending the fast-tempo spread
• Maisel: Nation's fastest teams
• Forde: SEC coaches in a league of their own
• Forde: Johnson stuck as SEC's roadie
• Schlabach: The nation's alpha-male coaches
• Schlabach: Coaches on the hot seat
• Maisel: Road left to travel for black coaches
• Schlabach: Critical mass await Ohio State
• Edwards: Are BCS voter tired of the Buckeyes?
• Edwards: Parity puts BCS at crossroads
• Feldman: Ten best-kept secrets
2008 Preseason All-America team
• Maisel: Preseason All-America team
What to watch
• Eighth annual Herbie Awards
• ESPN's experts' predictions
• Schlabach: Games to watch
• Schlabach: Intriguing games
• Bloggers: Preseason conference predictions
• Bloggers: Games to watch

Conference call
ACC
• Schlabach: Clemson craving title
• Dinich: In the Wake of success
• Dinich: Coast toast for Hokies?
• ACC needs Canes, Noles to win

Big Ten
• Rittenberg: Innovation not new to Big Ten
• Rittenberg: UM QBs adapt to offense
• Schlabach: Pryor's role with Ohio State

Big 12
• Maisel: Big 12 QBs face burden of proof
• Griffin: Where have the Big 12 runners gone?
• Griffin: Northern exposure
• Feldman: Is Crabtree the best college WR ever?

Big East
• Schlabach: Stewart's challenge at West Virginia
• Bennett: Knight moves focused on Teel

C-USA
• Tulsa building foundation for success
• Pirates sailing toward uncharted waters

Independents
• Watson: Are the Irish coming of age?
• Watson: Tenuta's tenacious D
• Maisel: Army exploring its options

MAC
• Watson: MAC QBs hope to share the spotlight
• Dinich: Golden touch working at Temple
• Watson: NIU's Kill found new perspective

Mountain West
• Watson: BYU-Utah going national?
• Watson: TCU looks to regroup

Pac-10
• Maisel: Son also rises at UCLA
• Miller: Stable is the USC Way
• Miller: Huskies counting on Locker

SEC
• Low: SEC's uncertain QB landscape
• Low: Tebow still learning
• Maisel: Richt knows expectations

Sun Belt
• Schlabach: Coach, QB to keep Owls soaring

Western Athletic
• Watson: Will tough schedule propel Fresno State?
• Watson: QB battle has Nevada thinking big

Rankings
• Georgia tops preseason power rankings
• Preseason Bottom 10: Lollapaloozers
• Conference preseason power rankings
• Bloggers: Ranking the coaches | Hot seat

Podcasts
• Podcast: Ivan, Mark discuss '08 season


• Podcast: Beano, Ivan talk coaches

SportsNation
• Chat wrap: Kicking off the season


• Rank 'em: ESPNU Fan Poll
• Rank 'em: How tough is each team's schedule?
Fantasy
• Predict the college football upsets each week.
Play College Pick 'Em