Commentary
Big 12 North putting dent in South's dominance
Originally Published:
August 14, 2008
By
Tim Griffin
| ESPN.com
In most recent seasons, the Big 12's North Division teams kept getting sand kicked in their faces by schools from the conference's South Division.
[+] Enlarge
Joel Auerbach/US PresswireTodd Reesing and Kansas are looking to compete for the Big 12 championship.
With national championship-caliber teams at Oklahoma and Texas and growing respectability at programs like Oklahoma State and Texas Tech, the South Division raced far ahead of its Northern counterpart. And it showed on the field.
A funny thing happened last season. The North Division finally swung back.
Buoyed by surprising across-the-board showings, the North reclaimed a measure of respect by claiming the cross-divisional series between the two divisions. And every South Division team lost at least once to a North member -- the first time that's happened since 1999.
And the new trend should be even more pronounced this season, when most coaches are expecting continued strength throughout the conference.
"I think without a doubt this is the most balanced I've ever seen this league," said Texas coach Mack Brown, the dean of Big 12 coaches.
The development of power teams at Missouri and Kansas last season helped tilt the Big 12's balance of power north. Their regular season-ending game had national-title ramifications and helped spark a renaissance in the North Division not seen since the storied Kansas State-Nebraska rivalry in the early days of the conference.
"It will be the same as last year," said Missouri coach Gary Pinkel, who helped direct the Tigers to their first North title in history last season. "Every team in the North will be better than they were last year."
The North's ultimate goal remains unmet as it hasn't notched a Big 12 championship game victory since Kansas State's upset of Oklahoma in 2003. Since then, Oklahoma has claimed three of the last four Big 12 championships, including an unprecedented back-to-back title run in the past two seasons. Texas accounted for the other title, racing to the national championship in the 2005 season.
But teams like Missouri and Kansas might have a chance to challenge any of the South powers at the Dec. 6 championship game in Kansas City, Mo., if they build on what they did last season.
[+] Enlarge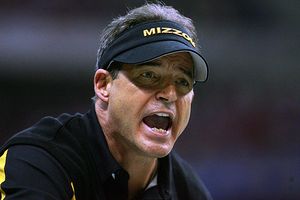 Julie Scheidegger/US PresswireGary Pinkel knows Missouri hasn't made it until it can conquer the entire conference.
Iowa State coach Gene Chizik, who was an assistant at Texas before starting over with the Cyclones last season, was impressed with the North's strength in his first season coaching in the division.
"I would say there's just great parity in this league, period," Chizik said. "It doesn't matter who you're playing, North team, South team, pick your poison they are going to be good. I was blessed to see pretty good teams over the years, but is one [division] better than the other? You know, they are all good.
"And if there ever was a separation, then it certainly would be hard to argue that it hasn't been closed somewhat. I think it's just a phenomenal league."
Last season marked the first time since 2000 that the South has not won the 18-game cross-division series. In 2006, the South won 13 of the 18 games. And as recently as 2004, the competition was a joke. Baylor was the only South team to lose to the North in a 15-3 beatdown for South Division teams.
The biggest reason for the North's success last season was improved defense. Kansas finished No. 4 nationally in points allowed and Missouri and the Jayhawks finished as the Big 12's two best defenses in conference play.
Missouri limited Texas Tech to 10 points, more than 30 points below its average. Colorado held Oklahoma more than 11 points below its average in a stunning upset and then restricted Texas Tech to its lowest scoring total in Lubbock last season. That upset punctuated a 3-0 record that was the Buffaloes' first perfect run over the South since 1998.
All of this happened while traditional North power Nebraska limped through a 5-7 record that led to a coaching change. Six of the North's eight losses to the South were accounted for by the Cornhuskers and Iowa State.
That North domination was highlighted by Missouri finishing fourth and Kansas seventh in the final Associated Press poll after the bowl games. That was a throwback to the early history in the conference. In three of the Big 12's first four seasons, the North finished the season with the conference's top two teams in the final Associated Press poll.
And it could be more of the same this season. Missouri will have most of its weapons back from its North Division title team, topped by Heisman Trophy candidates Chase Daniel and Jeremy Maclin and 10 defensive starters.
Kansas is ranked in the top 15 in most preseason polls. Quarterback Todd Reesing is back after breaking most of the school's passing records and the Jayhawks will have an intriguing one-two punch in the backfield with Jake Sharp and Jocques Crawford.
Nebraska should be improved after hiring new coach Bo Pelini, the former defensive coordinator at LSU who is charged with improving a Cornhuskers defense that struggled mightily in allowing a record 37.9 points per game last season.
Excitement is also high at Colorado, where heralded freshman running back Darrell Scott arrives. The Buffaloes also will benefit from an easier schedule, missing Oklahoma and Texas Tech and drawing Texas at home.
Despite all of the talk about narrowing the competitive gap, the South has continued to dominate the championship game. During the past four seasons, South Division teams have outscored the North 171-30. North teams have been limited to two touchdowns in championship games during that period.
And even with Missouri becoming a fashionable pick to perhaps unseat the Sooners and crack the Bowl Championship Series this season, Pinkel realizes the ultimate barometer between the two conferences will be the championship game.
"We haven't arrived, yet," Pinkel said. "We won the Big 12 North last year. [The] University of Missouri hasn't won a Big 12 championship. And our guys are approaching it that way."
Tim Griffin covers college football for ESPN.com. Send your questions and comments to Tim at espntimgriff@yahoo.com.
2008 College Football Preview
The long wait for the start of the 2008 college football season is finally over. Get ready for the season with an in-depth look at the teams, trends, players and coaches. Index
Blog Network
Get the latest updates from your favorite conference and around the country.
ACC | Big 12 | Big East | Big Ten | Pac-10
SEC | Others | College Football Nation
National Features
• Maisel: Let the campaign '08 debate begin
• Bloggers: State of each conference
• Schlabach: Hot and not for 2008
• Maisel: Full speed ahead for offenses
• Maisel: Defending the fast-tempo spread
• Maisel: Nation's fastest teams
• Forde: SEC coaches in a league of their own
• Forde: Johnson stuck as SEC's roadie
• Schlabach: The nation's alpha-male coaches
• Schlabach: Coaches on the hot seat
• Maisel: Road left to travel for black coaches
• Schlabach: Critical mass await Ohio State
• Edwards: Are BCS voter tired of the Buckeyes?
• Edwards: Parity puts BCS at crossroads
• Feldman: Ten best-kept secrets
2008 Preseason All-America team
• Maisel: Preseason All-America team
What to watch
• Eighth annual Herbie Awards
• ESPN's experts' predictions
• Schlabach: Games to watch
• Schlabach: Intriguing games
• Bloggers: Preseason conference predictions
• Bloggers: Games to watch

Conference call
ACC
• Schlabach: Clemson craving title
• Dinich: In the Wake of success
• Dinich: Coast toast for Hokies?
• ACC needs Canes, Noles to win

Big Ten
• Rittenberg: Innovation not new to Big Ten
• Rittenberg: UM QBs adapt to offense
• Schlabach: Pryor's role with Ohio State

Big 12
• Maisel: Big 12 QBs face burden of proof
• Griffin: Where have the Big 12 runners gone?
• Griffin: Northern exposure
• Feldman: Is Crabtree the best college WR ever?

Big East
• Schlabach: Stewart's challenge at West Virginia
• Bennett: Knight moves focused on Teel

C-USA
• Tulsa building foundation for success
• Pirates sailing toward uncharted waters

Independents
• Watson: Are the Irish coming of age?
• Watson: Tenuta's tenacious D
• Maisel: Army exploring its options

MAC
• Watson: MAC QBs hope to share the spotlight
• Dinich: Golden touch working at Temple
• Watson: NIU's Kill found new perspective

Mountain West
• Watson: BYU-Utah going national?
• Watson: TCU looks to regroup

Pac-10
• Maisel: Son also rises at UCLA
• Miller: Stable is the USC Way
• Miller: Huskies counting on Locker

SEC
• Low: SEC's uncertain QB landscape
• Low: Tebow still learning
• Maisel: Richt knows expectations

Sun Belt
• Schlabach: Coach, QB to keep Owls soaring

Western Athletic
• Watson: Will tough schedule propel Fresno State?
• Watson: QB battle has Nevada thinking big

Rankings
• Georgia tops preseason power rankings
• Preseason Bottom 10: Lollapaloozers
• Conference preseason power rankings
• Bloggers: Ranking the coaches | Hot seat

Podcasts
• Podcast: Ivan, Mark discuss '08 season


• Podcast: Beano, Ivan talk coaches

SportsNation
• Chat wrap: Kicking off the season


• Rank 'em: ESPNU Fan Poll
• Rank 'em: How tough is each team's schedule?
Fantasy
• Predict the college football upsets each week.
Play College Pick 'Em
MORE COLLEGE FOOTBALL HEADLINES