Commentary
Game versus USC likely to determine Ohio State's fate
Originally Published:
August 7, 2008
By
Brad Edwards
| ESPN.com
Few things about the BCS can be considered predictable.
[+] Enlarge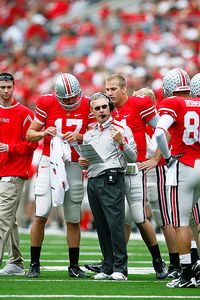 Joe Robbins/Getty ImagesYou can thank Jim Tressel (and Pete Carroll) for the fact that OSU and USC haven't met since 1990.
But when it comes to the polls, there are some established patterns. Teams drop in the rankings after a loss. West Coast teams other than USC won't catch any breaks. Non-BCS schools won't be in the preseason top 15.
And then there's this one.
In the 10-year BCS era, every final regular-season poll -- coaches', Harris and AP -- has put the top three teams in sequential order by number of losses. There have been times when the top three all were undefeated (2004) or all had one loss (2003), but a one-loss team has never been ranked ahead of an undefeated team, nor a two-loss team ahead of a one-loss team. Not with a spot in the BCS Championship Game on the line.
The last time that happened in the top three of the rankings at the end of the regular season was the 1993 AP poll, when 11-1 Florida State was ranked first, ahead of 11-0 Nebraska and 11-0 West Virginia. The last time it happened in the final regular-season coaches' poll was 1990, when 10-1-1 Colorado was ahead of 10-0-1 Georgia Tech. (Those were the top two teams, and the coaches ultimately flipped that order after the bowl games.)
The message is fairly clear. A national title contender's record is the primary point of analysis for most voters, and to ignore the numbers in the loss column requires a very strong feeling that one team is superior to another.
Could that happen in 2008?
Ohio State has college football's third-best winning percentage for the past six years and is expected to contend for the national title again this season. But whether that gaudy record says more about the Buckeyes than their past two bowl results is a topic of much debate.
OSU was undefeated and a unanimous No. 1 in the polls at the end of the 2006 regular season, but then suffered a 27-point loss to Florida in the BCS Championship Game. At the end of the 2007 regular season, the Buckeyes once again had the best record of any major-conference champion and were ranked No. 1, but they no longer were a unanimous choice.
Sixteen percent of the voters (13 of 60 coaches, 15 of 114 in the Harris poll) ranked 11-1 Ohio State behind a team with two losses. And a similar bowl result -- a 14-point loss to LSU in the BCS Championship Game -- seemed to justify that skepticism toward the Buckeyes.
So, what if OSU is back in the mix for a spot in the national title game at the end of this season? How many more voters might consider ranking a team with more losses ahead of the Buckeyes, and could there be enough of those votes to make a difference this time around?

But it would be very tough for me to judge this Ohio State team based on what happened in previous years. It's a new season and a new team, and I think anyone who played college football would realize that.
--Former Baylor QB J.J. Joe
ESPN.com polled 16 Harris voters who had Ohio State ranked first on their final ballot last year. They were asked the following question regarding the 2008 season:
If Ohio State is 11-1 with a loss to USC, and the SEC champion is 11-2, which team would you rank higher?
Jesse Kurtz of KKTV in Colorado Springs was one of two voters to share a sentiment that seems quite popular among fans outside of Ohio, even if it wasn't quite as prevalent in this poll.
"I'd have to lean toward the SEC team," Kurtz said. "Having seen Ohio State's performances against elite teams the last couple of years, if they lose another really big game against USC, I'd probably have a hard time putting them ahead of the SEC champ."
Several others leaned toward the SEC champion but were very hesitant to make too many assumptions before the season. Broadcaster Tim Neverett summed up the majority opinion of the polled voters.
"Hypothetically, you might go with the SEC, but I couldn't say for sure until December," Neverett said. "It would really depend on the way things play out. LSU last year lost two games in triple overtime, and that worked in their favor. The nature of the losses is very important when you talk about putting a two-loss team into the championship game."
Philadelphia Daily News columnist Mike Kern also took the cautious approach, but he did lean a bit toward the Buckeyes.
"Without knowing all the details, I would be inclined to rank Ohio State ahead," Kern said. "In general, I have a tough time putting a two-loss team over a one-loss team from another major conference. If you're 11-1, and the one loss is to USC, that's pretty strong. … Now, if Ohio State wins four conference games by a field goal, and the SEC team loses both games by one point, I might look at things a little different."
The common thread of the responses, which should be encouraging to college football fans, was that the overwhelming majority of these voters seemed very open-minded on the matter, whether it's the "Ohio State versus the SEC" debate or the "one loss versus two losses" question.
"My thought process is to look at schedules and scores," former Baylor quarterback J.J. Joe said. "In this case, I'd also have to look at the way the conferences are set up and the fact that the Big Ten doesn't have a championship game. I'd have to consider all of that, and I might put the SEC team ahead. I'd have no problem voting that way and defending that decision if that's how I felt after looking at both teams.
"But it would be very tough for me to judge this Ohio State team based on what happened in previous years. It's a new season and a new team, and I think anyone who played college football would realize that."
The 114 voters in the Harris poll account for one-third of the BCS formula, and the coaches' poll accounts for another third. The final factor is the computer rankings, but don't expect them to rescue Ohio State in this scenario if the voting is close. Last year, the relative weakness of the Buckeyes' schedule was enough to rank them a distant third in the computer element, behind twice-beaten Virginia Tech and LSU.
Whether this particular hypothetical situation actually unfolds will depend on a lot of variables, starting with OSU's visit to USC on Sept. 13.
As one voter said, "The competitiveness of that game will have a big impact on everyone's perception of Ohio State."
And that might be the key to it all.
Brad Edwards is a college football researcher at ESPN. His "Road to the BCS" appears weekly during the season.
ESPN Insider
• Analyzes college football and the BCS as part of ESPN's Stats & Information Group
• Analyst for both College GameDay on ESPN Radio and the ESPN College Football app
SPONSORED HEADLINES
MORE COLLEGE FOOTBALL HEADLINES
MOST SENT STORIES ON ESPN.COM
2008 College Football Preview
The long wait for the start of the 2008 college football season is finally over. Get ready for the season with an in-depth look at the teams, trends, players and coaches. Index
Blog Network
Get the latest updates from your favorite conference and around the country.
ACC | Big 12 | Big East | Big Ten | Pac-10
SEC | Others | College Football Nation
National Features
• Maisel: Let the campaign '08 debate begin
• Bloggers: State of each conference
• Schlabach: Hot and not for 2008
• Maisel: Full speed ahead for offenses
• Maisel: Defending the fast-tempo spread
• Maisel: Nation's fastest teams
• Forde: SEC coaches in a league of their own
• Forde: Johnson stuck as SEC's roadie
• Schlabach: The nation's alpha-male coaches
• Schlabach: Coaches on the hot seat
• Maisel: Road left to travel for black coaches
• Schlabach: Critical mass await Ohio State
• Edwards: Are BCS voter tired of the Buckeyes?
• Edwards: Parity puts BCS at crossroads
• Feldman: Ten best-kept secrets
2008 Preseason All-America team
• Maisel: Preseason All-America team
What to watch
• Eighth annual Herbie Awards
• ESPN's experts' predictions
• Schlabach: Games to watch
• Schlabach: Intriguing games
• Bloggers: Preseason conference predictions
• Bloggers: Games to watch

Conference call
ACC
• Schlabach: Clemson craving title
• Dinich: In the Wake of success
• Dinich: Coast toast for Hokies?
• ACC needs Canes, Noles to win

Big Ten
• Rittenberg: Innovation not new to Big Ten
• Rittenberg: UM QBs adapt to offense
• Schlabach: Pryor's role with Ohio State

Big 12
• Maisel: Big 12 QBs face burden of proof
• Griffin: Where have the Big 12 runners gone?
• Griffin: Northern exposure
• Feldman: Is Crabtree the best college WR ever?

Big East
• Schlabach: Stewart's challenge at West Virginia
• Bennett: Knight moves focused on Teel

C-USA
• Tulsa building foundation for success
• Pirates sailing toward uncharted waters

Independents
• Watson: Are the Irish coming of age?
• Watson: Tenuta's tenacious D
• Maisel: Army exploring its options

MAC
• Watson: MAC QBs hope to share the spotlight
• Dinich: Golden touch working at Temple
• Watson: NIU's Kill found new perspective

Mountain West
• Watson: BYU-Utah going national?
• Watson: TCU looks to regroup

Pac-10
• Maisel: Son also rises at UCLA
• Miller: Stable is the USC Way
• Miller: Huskies counting on Locker

SEC
• Low: SEC's uncertain QB landscape
• Low: Tebow still learning
• Maisel: Richt knows expectations

Sun Belt
• Schlabach: Coach, QB to keep Owls soaring

Western Athletic
• Watson: Will tough schedule propel Fresno State?
• Watson: QB battle has Nevada thinking big

Rankings
• Georgia tops preseason power rankings
• Preseason Bottom 10: Lollapaloozers
• Conference preseason power rankings
• Bloggers: Ranking the coaches | Hot seat

Podcasts
• Podcast: Ivan, Mark discuss '08 season


• Podcast: Beano, Ivan talk coaches

SportsNation
• Chat wrap: Kicking off the season


• Rank 'em: ESPNU Fan Poll
• Rank 'em: How tough is each team's schedule?
Fantasy
• Predict the college football upsets each week.
Play College Pick 'Em