Commentary
Will parity run the BCS out of town?
Originally Published:
August 7, 2008
By
Brad Edwards
| ESPN.com
It probably won't happen again.
But if it does, the BCS as we know it might not last too much longer.
[+] Enlarge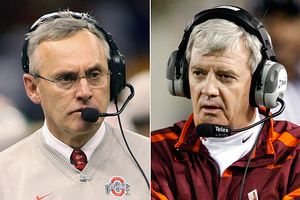 US PresswireIf Frank Beamer and Virginia Tech played James Madison instead of LSU, the Hokies would have been playing Ohio State for the title.
A mere eight months ago, college football's regular season ended with only three teams (Ohio State, Kansas and Hawaii) showing a number lower than 2 in the loss column. That's three out of 119 Division I-A schools! It's the only time in college football history that so few teams were defeated less than twice prior to the bowls.
If anything screams for some sort of playoff, it's ending the regular season with a once-beaten team atop the polls, followed by two-loss teams in the next six spots. No formula -- BCS or otherwise -- can definitively say who's the best among a group of teams that all lost approximately 15 percent of their games in such a short season.
As outgoing BCS coordinator Mike Slive appropriately pondered last December, "Is this year an anomaly? Or is this year a precursor to what we might see in the future?"
Similar questions were asked after the 2003 regular season produced no undefeated teams and only three single-loss teams from the major conferences. That was followed by a 2004 regular season in which five teams finished with unblemished records.
So don't get carried away with this parity thing just yet.
But if 2007 was not an aberration, and top-five teams continue to get knocked off with the same frequency in upcoming seasons, then something has to give. Either a new postseason format that gives more than two teams a chance to win the national championship must be implemented, or the teams must make adjustments to minimize their risk of losing games.
Look at the three teams that didn't have at least two losses in the 2007 regular season, and you'll see a common trait that probably isn't coincidental.
According to the Colley Matrix, one of the six computers used in the BCS formula, Ohio State's schedule ranked 73rd, Kansas' ranked 90th and Hawaii's ranked dead last among Division I-A teams before the bowls were played.
And that schedule might have played the Buckeyes right into a national title if not for Virginia Tech's decision to play a home-and-home with LSU several years earlier. If Tech had instead scheduled an easy, nonconference win -- even if it had been against nearby James Madison -- the Hokies would've finished with only one loss and played Ohio State in the BCS Championship Game.
It's hard to like the message sent by that dose of reality.
Under the current BCS system, with the polls determining which teams will play for the title, the damage inflicted by any one loss far outweighs the benefit of even the greatest win. How does a game like Ohio State-USC even get scheduled in such an environment?
While those teams are out there entertaining the college football world, some other team might be sneaking into the national championship game by taking a less challenging path. It's just a matter of time before that happens.
And when it does, a choice must be made by the BCS decision-makers: Either change the postseason format to give more teams a shot at the title, or give up many of the games that make the first month of the season worth watching.
Surely, the two can't coexist much longer.
Brad Edwards is a college football researcher at ESPN. His "Road to the BCS" appears weekly during the season.
ESPN Insider
• Analyzes college football and the CFB Playoff as part of ESPN's Stats & Information Group
• Analyst for both College GameDay on ESPN Radio and the ESPN College Football app
2008 College Football Preview
The long wait for the start of the 2008 college football season is finally over. Get ready for the season with an in-depth look at the teams, trends, players and coaches. Index
Blog Network
Get the latest updates from your favorite conference and around the country.
ACC | Big 12 | Big East | Big Ten | Pac-10
SEC | Others | College Football Nation
National Features
• Maisel: Let the campaign '08 debate begin
• Bloggers: State of each conference
• Schlabach: Hot and not for 2008
• Maisel: Full speed ahead for offenses
• Maisel: Defending the fast-tempo spread
• Maisel: Nation's fastest teams
• Forde: SEC coaches in a league of their own
• Forde: Johnson stuck as SEC's roadie
• Schlabach: The nation's alpha-male coaches
• Schlabach: Coaches on the hot seat
• Maisel: Road left to travel for black coaches
• Schlabach: Critical mass await Ohio State
• Edwards: Are BCS voter tired of the Buckeyes?
• Edwards: Parity puts BCS at crossroads
• Feldman: Ten best-kept secrets
2008 Preseason All-America team
• Maisel: Preseason All-America team
What to watch
• Eighth annual Herbie Awards
• ESPN's experts' predictions
• Schlabach: Games to watch
• Schlabach: Intriguing games
• Bloggers: Preseason conference predictions
• Bloggers: Games to watch

Conference call
ACC
• Schlabach: Clemson craving title
• Dinich: In the Wake of success
• Dinich: Coast toast for Hokies?
• ACC needs Canes, Noles to win

Big Ten
• Rittenberg: Innovation not new to Big Ten
• Rittenberg: UM QBs adapt to offense
• Schlabach: Pryor's role with Ohio State

Big 12
• Maisel: Big 12 QBs face burden of proof
• Griffin: Where have the Big 12 runners gone?
• Griffin: Northern exposure
• Feldman: Is Crabtree the best college WR ever?

Big East
• Schlabach: Stewart's challenge at West Virginia
• Bennett: Knight moves focused on Teel

C-USA
• Tulsa building foundation for success
• Pirates sailing toward uncharted waters

Independents
• Watson: Are the Irish coming of age?
• Watson: Tenuta's tenacious D
• Maisel: Army exploring its options

MAC
• Watson: MAC QBs hope to share the spotlight
• Dinich: Golden touch working at Temple
• Watson: NIU's Kill found new perspective

Mountain West
• Watson: BYU-Utah going national?
• Watson: TCU looks to regroup

Pac-10
• Maisel: Son also rises at UCLA
• Miller: Stable is the USC Way
• Miller: Huskies counting on Locker

SEC
• Low: SEC's uncertain QB landscape
• Low: Tebow still learning
• Maisel: Richt knows expectations

Sun Belt
• Schlabach: Coach, QB to keep Owls soaring

Western Athletic
• Watson: Will tough schedule propel Fresno State?
• Watson: QB battle has Nevada thinking big

Rankings
• Georgia tops preseason power rankings
• Preseason Bottom 10: Lollapaloozers
• Conference preseason power rankings
• Bloggers: Ranking the coaches | Hot seat

Podcasts
• Podcast: Ivan, Mark discuss '08 season


• Podcast: Beano, Ivan talk coaches

SportsNation
• Chat wrap: Kicking off the season


• Rank 'em: ESPNU Fan Poll
• Rank 'em: How tough is each team's schedule?
Fantasy
• Predict the college football upsets each week.
Play College Pick 'Em
MORE COLLEGE FOOTBALL HEADLINES