Commentary
Recruiting, motivation among keys to Grobe's, Demon Deacons' success
Not long after Wake Forest coach Jim Grobe had been wooed by Arkansas, linebacker Aaron Curry tried calling his coach on his cell phone and noticed Grobe had to click over from another conversation.
[+] Enlarge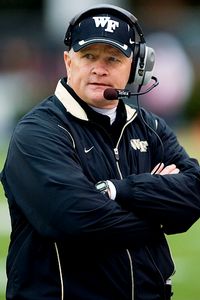 Brian A. Westerholt/Getty ImagesJim Grobe has found the recipe for success at Wake Forest.
"I said, 'Coach, who is that on the phone?'" Curry said, smiling at the memory. "He said, 'It was just my wife.' I said it better be." In retrospect, Curry said increased interest in Grobe from other programs throughout the country could mean only one thing -- the Demon Deacons are for real. "He's going to get offers as long as we're winning, as long as we're doing good," Curry said. "That was a sign that something good was happening. The players are playing well, the coaches are coaching well, and people are looking at Wake Forest like we can do something." With 16 starters returning from last year's 9-4 season, Wake Forest has a chance to do something the program hasn't accomplished since the early 1950s -- string together three straight winning seasons. Grobe, who is entering his eighth season, is in the midst of leading Wake Forest through its most successful period in school history, and he has done it with nary a superstar. Instead, Grobe has built the smallest school in the conference into a legitimate contender in the ACC with his brutal honesty, staff stability and steadfast recruiting philosophies.
2008 ACC Preview
Is this the season the ACC regains some of its swagger? Is Clemson the team to bring the conference some BCS glory? Get ready for the 2008 ACC season:
• Schlabach: Clemson craving title
• Dinich: In the Wake of success
• Dinich: Coast toast for Hokies?
• ACC needs Canes, Noles to win
• Skill threat: Jacoby Ford
• Schlabach: Five ACC predictions
• SportsNation: Vote on ACC
Last year's nine-win season proved the 2006 ACC title wasn't a fluke, and for the first time in school history, Wake Forest will enter a season ranked among the nation's top 25 teams, as the Demon Deacons were No. 23 in the USA Today Coaches' Poll released earlier this month. For the program to truly make a statement at the national level, though, Grobe said it needs to continue winning well beyond three seasons.
"I'm still at Wake Forest," said Grobe, who is 20-7 over the past two seasons. "I feel pretty good about the place right now. I like our players, I like the way we've been patient with our players. We're kind of lined up where we really don't have an empty class right now. There's not any class you look at that you don't see 15-18 pretty good football players. I really like where we are right now. Potential means you haven't done it yet, but I like our potential to be a pretty good football team year in and year out." When Grobe took over the program in 2001, he inherited just enough talent to scrape together back-to-back winning seasons the first two years, but the program was in dire need of a major overhaul, and Grobe was adamant about redshirting players as part of the plan. His philosophy has been to redshirt all freshmen unless they are difference-makers who can contribute 20-40 snaps a game on offense or defense -- not just on special teams. Wake Forest struggled through three straight losing seasons while it searched for athletes who had a passion for football and could balance academics. "Our goal in recruiting has always been to find the developmental player," Wake Forest recruiting coordinator Ray McCartney said. "Many schools with their national reputation and great tradition are able to go and compete for the four- and five-star athletes. We have to find the diamond in the rough. We have to find the kid that we think is being somewhat underrecruited but has growth potential, excellent speed … a player who if we have for two, three, four years, he's going to really blossom into a player who can win games for us."

I really like where we are right now. Potential means you haven't done it yet, but I like our potential to be a pretty good football team year in and year out.
--Jim Grobe
The redshirting is paying off now. When Wake's defense lines up this season, there will be one sixth-year player (Matt Robinson, who was granted a medical redshirt), seven fifth-year senior starters, one true junior starter and two fourth-year redshirt junior starters. "You're trying to get your program to the point where you're playing with older players who get it," McCartney said. "That doesn't guarantee victories, but it gives you a better chance to win." So does having continuity on the staff. In Grobe's first seven seasons, only two assistants left. After 2007, defensive coordinator Dean Hood was hired as head coach at Eastern Kentucky and quarterbacks coach Jeff Mullen was named offensive coordinator at West Virginia. Grobe filled the vacancies with familiar faces who had connections to his previous stints at Air Force and Ohio, and it was a seamless transition. Although the staff can't always line up with better skilled athletes, it has been able to mold the players into a cohesive team. Curry struggled to explain how Grobe gets each player to work so hard on every down. "It could be voodoo," he said, laughing. "It could be magic. I don't know how to explain it. He doesn't get in our faces and scream at us and beat us up. He just calmly sat down and said, 'If y'all go out there and work hard, good things will happen.' There's just something about him that grabs my attention every time I see him, whatever he says, it's like that's the word of the world."
Heather Dinich is a college football writer for ESPN.com. Send your questions and comments to Heather at espn.hd@hotmail.com.
College Football
ESPN.com reporter
Joined ESPN.com in 2007
Graduate of Indiana University
2008 College Football Preview
The long wait for the start of the 2008 college football season is finally over. Get ready for the season with an in-depth look at the teams, trends, players and coaches. Index
Blog Network
Get the latest updates from your favorite conference and around the country.
ACC | Big 12 | Big East | Big Ten | Pac-10
SEC | Others | College Football Nation
National Features
• Maisel: Let the campaign '08 debate begin
• Bloggers: State of each conference
• Schlabach: Hot and not for 2008
• Maisel: Full speed ahead for offenses
• Maisel: Defending the fast-tempo spread
• Maisel: Nation's fastest teams
• Forde: SEC coaches in a league of their own
• Forde: Johnson stuck as SEC's roadie
• Schlabach: The nation's alpha-male coaches
• Schlabach: Coaches on the hot seat
• Maisel: Road left to travel for black coaches
• Schlabach: Critical mass await Ohio State
• Edwards: Are BCS voter tired of the Buckeyes?
• Edwards: Parity puts BCS at crossroads
• Feldman: Ten best-kept secrets
2008 Preseason All-America team
• Maisel: Preseason All-America team
What to watch
• Eighth annual Herbie Awards
• ESPN's experts' predictions
• Schlabach: Games to watch
• Schlabach: Intriguing games
• Bloggers: Preseason conference predictions
• Bloggers: Games to watch

Conference call
ACC
• Schlabach: Clemson craving title
• Dinich: In the Wake of success
• Dinich: Coast toast for Hokies?
• ACC needs Canes, Noles to win

Big Ten
• Rittenberg: Innovation not new to Big Ten
• Rittenberg: UM QBs adapt to offense
• Schlabach: Pryor's role with Ohio State

Big 12
• Maisel: Big 12 QBs face burden of proof
• Griffin: Where have the Big 12 runners gone?
• Griffin: Northern exposure
• Feldman: Is Crabtree the best college WR ever?

Big East
• Schlabach: Stewart's challenge at West Virginia
• Bennett: Knight moves focused on Teel

C-USA
• Tulsa building foundation for success
• Pirates sailing toward uncharted waters

Independents
• Watson: Are the Irish coming of age?
• Watson: Tenuta's tenacious D
• Maisel: Army exploring its options

MAC
• Watson: MAC QBs hope to share the spotlight
• Dinich: Golden touch working at Temple
• Watson: NIU's Kill found new perspective

Mountain West
• Watson: BYU-Utah going national?
• Watson: TCU looks to regroup

Pac-10
• Maisel: Son also rises at UCLA
• Miller: Stable is the USC Way
• Miller: Huskies counting on Locker

SEC
• Low: SEC's uncertain QB landscape
• Low: Tebow still learning
• Maisel: Richt knows expectations

Sun Belt
• Schlabach: Coach, QB to keep Owls soaring

Western Athletic
• Watson: Will tough schedule propel Fresno State?
• Watson: QB battle has Nevada thinking big

Rankings
• Georgia tops preseason power rankings
• Preseason Bottom 10: Lollapaloozers
• Conference preseason power rankings
• Bloggers: Ranking the coaches | Hot seat

Podcasts
• Podcast: Ivan, Mark discuss '08 season


• Podcast: Beano, Ivan talk coaches

SportsNation
• Chat wrap: Kicking off the season


• Rank 'em: ESPNU Fan Poll
• Rank 'em: How tough is each team's schedule?
Fantasy
• Predict the college football upsets each week.
Play College Pick 'Em
MORE COLLEGE FOOTBALL HEADLINES

MOST SENT STORIES ON ESPN.COM