Commentary
Running games take a backseat to pass-happy offenses in Big 12
Originally Published:
August 14, 2008
By
Tim Griffin
| ESPN.com
Where have you gone Ricky Williams?
And how about you, Adrian Peterson and Troy Davis?
Great running backs used to dot the Big 12 like buffalo scattered across the Great Plains. But the Big 12's once-mighty tradition as a producer of tailbacks is taking a hit because of a plethora of spread offenses, strong-armed passers and fleet receivers.
[+] Enlarge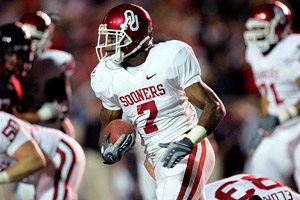 Ronald Martinez/Getty ImageIf he stays healthy, Oklahoma's DeMarco Murray has game-breaking ability.
Today, players like Texas Tech's Michael Crabtree, Missouri's Jeremy Maclin and Chase Daniel, and Oklahoma's Sam Bradford are the poster boys for the Big 12's offensive explosion and command most of the league's national attention.
The Big 12's running backs are almost an afterthought -- an amazing trend considering the conference once was on the forefront for producing bruising, between-the-tackle ball carriers. Davis was a Heisman finalist in 1995 and '96 and Williams won the conference's first Heisman in 1998.
Never has this trend appeared more pronounced than in the upcoming season. Only one 1,000-yard back returns in 2008 -- Nebraska's
Marlon Lucky
. That marks the lowest total heading into a season in Big 12 history.
Want an example of how much the once-vaunted position has fallen in the Big 12 this season? Only one running back was invited to the conference's media days last month. And Iowa State's Jason Scales finished last season on the bench, watching Alexander Robinson produce as the Cyclones' featured back.
And only three times during last season was a conference back chosen as the Big 12's player of the week. That compares with nine times in the conference's first season in 1996, seven times in 1997 and nine times again in 1998.
For the first time in the history of the conference, the league's top rusher failed to average more yards per game than the top receiver. The 124.5 yards per game produced by Texas' Jamaal Charles was nowhere close to Crabtree's 150.9-per-game average as a receiver.
These changes have new Nebraska coach Bo Pelini wondering if this is the same conference he left after serving as the Cornhuskers' defensive coordinator in 2003.
"I was really taken aback when I first got back to Nebraska seeing the numbers, the offensive numbers, that were happening in the Big 12," Pelini said. "For a defensive guy, that kind of woke me up a little bit about how things have changed."
The transformation represents a massive seismic shift from the past. The Big 12's two predecessors -- the old Big Eight and Southwest Conference -- had ground-bound traditions as strong as any nationally.
[+] Enlarge
Chris Williamson/Icon SMITeammates predict a Heisman Trophy in Colorado newcomer Darrell Scott's future.
Those were the conferences that helped produce the wishbone offense, the Pony Express backfield and Nebraska's power-packed running attack from the I formation. The Cornhuskers used that philosophy to smash their way to back-to-back national championships in the two years before the conference began play in 1996 and a share of the Big 12's first national title in 1997.
Kansas defensive coordinator Clint Bowen remembers those days well --both as a player and a fan. As a young boy, he used to sneak through cracks at Memorial Stadium in Lawrence to watch Big Eight games with his brothers. And he tried to stop those battering-ram attacks when he was a Jayhawks player.
"In those days, it seemed like everybody in the old Big Eight had a big back and they just ran the ball and ran it," Bowen said. "Those days have really changed. The spread has caused people to evolve and change their thinking."
Nebraska offensive coordinator Shawn Watson always featured elements of a power running game at his previous jobs. His Colorado backfield that led the Buffaloes to four North Division titles during a five-year period was characterized by tough inside running with backs like Chris Brown and Bobby Purify.
And he'd like to feature a similar philosophy at times with the Cornhuskers, even with all of the spread offenses sprouting around him.
"There's an element of us that would always like to have a back that can dictate tempo and run downhill," Watson said. "You still see that some, but not as much as the guys in the spread who are trying to get guys out in space."
The conference's top two returning rushers are facing big challenges in order to earn even their teams' starting jobs. Lucky is involved in a tight battle with
Roy Helu Jr.
and
Quentin Castille
for playing time in Nebraska's offense.
"We want to be able to play physical football in Nebraska," Pelini said. "We want to be able to run the football when we want to and not let people dictate to us, but dictate to the defense what we want to do -- impose our will on the opposing team."

We want to be able to play physical football in Nebraska. We want to be able to run the football when we want to and not let people dictate to us, but dictate to the defense what we want to do -- impose our will on the opposing team.
-- Nebraska coach Bo Pelini
Jake Sharp, who rushed for 821 yards last season, is currently Mark Mangino's top back at Kansas. But he's expected to eventually face a playing-time push from Jocques Crawford, a heralded transfer from Cisco Junior College who led the nation's juco backs with 1,935 yards last season.
Three other Big 12 running backs have shown promise as potential game-breakers and a link to the conference's run-based glory days. But Texas A&M's Mike Goodson has never been more than a situational back. Oklahoma's DeMarco Murray has been injury-prone throughout his career, and Colorado's Darrell Scott has never played in a college game.
Oklahoma coach Bob Stoops has told reporters that Murray could rival Peterson as the best back he's ever coached.
Aggies coach Mike Sherman moved
Jorvorskie Lane
to fullback so Goodson could be featured. And after several early practices, Colorado teammates have compared Scott, the conference's most heralded incoming freshman recruit, to Eric Dickerson and a young Jim Brown because of his unique combination of size, speed and power. "As seniors and leaders, we have to show him how to play football," Colorado defensive tackle George Hypolite told reporters about Scott. "We have to show him how to prepare, how to work, how to work smart, how to be a smart football player in practice and all those things. If we do that, say in three years, if I'm worth my salt in doing that, he will be a Heisman Trophy winner."
But whether any of them can rejuvenate the Big 12's running philosophy remains to be seen.
Tim Griffin covers college football for ESPN.com. Send your questions and comments to Tim at espntimgriff@yahoo.com.
2008 College Football Preview
The long wait for the start of the 2008 college football season is finally over. Get ready for the season with an in-depth look at the teams, trends, players and coaches. Index
Blog Network
Get the latest updates from your favorite conference and around the country.
ACC | Big 12 | Big East | Big Ten | Pac-10
SEC | Others | College Football Nation
National Features
• Maisel: Let the campaign '08 debate begin
• Bloggers: State of each conference
• Schlabach: Hot and not for 2008
• Maisel: Full speed ahead for offenses
• Maisel: Defending the fast-tempo spread
• Maisel: Nation's fastest teams
• Forde: SEC coaches in a league of their own
• Forde: Johnson stuck as SEC's roadie
• Schlabach: The nation's alpha-male coaches
• Schlabach: Coaches on the hot seat
• Maisel: Road left to travel for black coaches
• Schlabach: Critical mass await Ohio State
• Edwards: Are BCS voter tired of the Buckeyes?
• Edwards: Parity puts BCS at crossroads
• Feldman: Ten best-kept secrets
2008 Preseason All-America team
• Maisel: Preseason All-America team
What to watch
• Eighth annual Herbie Awards
• ESPN's experts' predictions
• Schlabach: Games to watch
• Schlabach: Intriguing games
• Bloggers: Preseason conference predictions
• Bloggers: Games to watch

Conference call
ACC
• Schlabach: Clemson craving title
• Dinich: In the Wake of success
• Dinich: Coast toast for Hokies?
• ACC needs Canes, Noles to win

Big Ten
• Rittenberg: Innovation not new to Big Ten
• Rittenberg: UM QBs adapt to offense
• Schlabach: Pryor's role with Ohio State

Big 12
• Maisel: Big 12 QBs face burden of proof
• Griffin: Where have the Big 12 runners gone?
• Griffin: Northern exposure
• Feldman: Is Crabtree the best college WR ever?

Big East
• Schlabach: Stewart's challenge at West Virginia
• Bennett: Knight moves focused on Teel

C-USA
• Tulsa building foundation for success
• Pirates sailing toward uncharted waters

Independents
• Watson: Are the Irish coming of age?
• Watson: Tenuta's tenacious D
• Maisel: Army exploring its options

MAC
• Watson: MAC QBs hope to share the spotlight
• Dinich: Golden touch working at Temple
• Watson: NIU's Kill found new perspective

Mountain West
• Watson: BYU-Utah going national?
• Watson: TCU looks to regroup

Pac-10
• Maisel: Son also rises at UCLA
• Miller: Stable is the USC Way
• Miller: Huskies counting on Locker

SEC
• Low: SEC's uncertain QB landscape
• Low: Tebow still learning
• Maisel: Richt knows expectations

Sun Belt
• Schlabach: Coach, QB to keep Owls soaring

Western Athletic
• Watson: Will tough schedule propel Fresno State?
• Watson: QB battle has Nevada thinking big

Rankings
• Georgia tops preseason power rankings
• Preseason Bottom 10: Lollapaloozers
• Conference preseason power rankings
• Bloggers: Ranking the coaches | Hot seat

Podcasts
• Podcast: Ivan, Mark discuss '08 season


• Podcast: Beano, Ivan talk coaches

SportsNation
• Chat wrap: Kicking off the season


• Rank 'em: ESPNU Fan Poll
• Rank 'em: How tough is each team's schedule?
Fantasy
• Predict the college football upsets each week.
Play College Pick 'Em
MORE COLLEGE FOOTBALL HEADLINES
Nike Youth Missouri Tigers Icon Legend Football Performance Black T-shirt Shop »

MOST SENT STORIES ON ESPN.COM