Commentary
Carroll sees no problem with wealth of RB talent
Updated:
August 18, 2008, 4:42 PM ET
By
Ted Miller
| ESPN.com
LOS ANGELES -- It wouldn't be accurate to say USC coach Pete Carroll is annoyed by the question. He's bored with it, sure. But it's more that he wishes he could get everyone else to think like him, to fix their faulty wiring and understand the "USC Way."
[+] Enlarge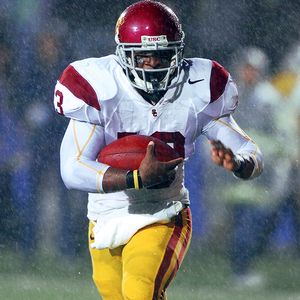 Kirby Lee/Image of Sport/US PresswireStafon Johnson is the leading returning rusher for the Trojans.
No, USC doesn't need to anoint one go-to running back out of the talented crew of six vying for precious carries. Or even two. Or three. The Trojans will do what they want to do, and the observing horde just should understand it's the right way to do things because, well, look at the win-loss ledger.
None of the skeptical scribblers or perturbed pundits have coached a team to six consecutive Pac-10 titles, 11-win seasons and top-four final rankings. So they should agree more and opine less, Carroll's tone suggests.
"It's never been a problem for us," Carroll said. "It's a problem for everyone else that they can't figure out why we do it that way."
Carroll likes the diversity of styles. He likes keeping guys fresh. And hungry. It's a part of the culture of competition he espouses at USC, and, so far at least, there haven't been any significant ruptures in the established groupthink, other than the defection of Emmanuel Moody to Florida in 2007.
2008 Pac-10 Preview
Will USC be challenged in the Pac-10? Can Rick Neuheisel turn around UCLA? Will Jake Locker elevate Washington? Get ready for the 2008 Pac-10 season:
• Maisel: Son also rises at UCLA
• Miller: Stable is the USC Way
• Miller: Huskies counting on Locker
• Maisel: Five Pac-10 predictions
• Skill threat: Cal's Jahvid Best
• Opportunity knocks: Arizona State
• SportsNation: Vote on Pac-10
"Coaches are going to make the right decision," sophomore Joe McKnight said. "It's going to be a hard decision for them, but we know they'll make the best decision for the team."
McKnight and the other five backs, none of whom are seniors, each earned Parade or USA Today All-American honors in high school. Actually, McKnight is one of four who earned both.
Digest that for a second. It's mind-boggling if you follow recruiting.
McKnight is a sure thing to get priority touches every game. His game-breaking elusiveness and ability to split out wide as a receiver -- like a fellow by the name of Reggie Bush used to do -- make him the multidimensional threat that drives defenses to distraction. Witness the 206 all-purpose yards he rolled up in the Rose Bowl victory over Illinois.
Even though he sat out spring practices, junior Stafon Johnson probably stands beside McKnight as first among equals. He is the leading returning rusher and was, at times, spectacular last season, gaining 673 yards and averaging 6.9 yards per carry. A midseason foot injury derailed his ascension in 2007 and thrust him back into the muddle.
"I can get you with power or speed -- or a mixture of both," Johnson said. "Vision is my biggest [asset]. Whatever you want, I can get it for you."

I can get you with power or speed -- or a mixture of both. Vision is my biggest [asset]. Whatever you want, I can get it for you.
-- USC RB Stafon Johnson
If it sounds like Johnson wants the ball, he does. But he thinks the Trojans' depth actually benefits him.
"Having so many people just as good as you makes the competition be at a high level, and it helps you to work hard every day," he said. "When you don't have that, you have a tendency to lay back because you know you have the position. Here, during the time you slack off, another guy can step in. You always have that in the back of your mind, and it kind of helps you as a player."
The player who seems to have gained the most ground is 225-pound junior Allen Bradford, who was a standout during spring practices and has continued to shine.
Then there's sophomore C.J. Gable, who was at the top of the pecking order until an abdominal injury waylaid him in 2007, and a pair of redshirt freshmen, 235-pound bruiser Broderick Green and Marc Tyler, who's surged of late.
[+] Enlarge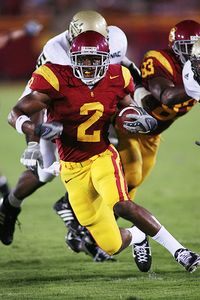 Jeff Golden/Getty ImagesC.J. Gable was once at the top of the RB list.
Most Division I-A teams would love to have any of the six. And don't think other Pac-10 teams don't eyeball the group and wonder about transfer possibilities.
The USC coaches, meanwhile, work hard to insist that juggling the group is merely part of the Trojan Way. Not surprisingly, they have yet to say: "Yes, we have too many good running backs." Or, "Some of these guys are going to play only special teams or late in blowout games."
And Carroll waves away the notion of needing to establish a firm pecking order with a lead, go-to back getting the majority of the carries. He likes his system for one major reason.
"It's worked," he said, "as long as we give them opportunities to do what they can do. As long as they know they've got a chance. My job is to keep showing them they've got a chance."
Said one running back: "It's all about competing. It's how confident you are and knowing your abilities. I know my talents. I didn't care what running backs came to USC. I just knew I wanted to come here."
That running back, however, was Moody, speaking to the Seattle Post-Intelligencer in 2006. A year later, he bolted for Florida.
It seems reasonable to guess that whoever comes out on the short end of a two-, three- or four-back rotation will seek his fortune elsewhere, either at another position or at another school.
Still, with the pecking order seemingly in daily flux, the party line is the team comes first and things will work out for the best through good old competition.
Said McKnight: "We're competitive, but we're family first."
Ted Miller is a college football writer for ESPN.com. Send your questions and comments to Ted at tedmillerespn@gmail.com.
College Football
ESPN.com Pac-12 reporter
Covered college football since 1997
Graduate of the University of Richmond
2008 College Football Preview
The long wait for the start of the 2008 college football season is finally over. Get ready for the season with an in-depth look at the teams, trends, players and coaches. Index
Blog Network
Get the latest updates from your favorite conference and around the country.
ACC | Big 12 | Big East | Big Ten | Pac-10
SEC | Others | College Football Nation
National Features
• Maisel: Let the campaign '08 debate begin
• Bloggers: State of each conference
• Schlabach: Hot and not for 2008
• Maisel: Full speed ahead for offenses
• Maisel: Defending the fast-tempo spread
• Maisel: Nation's fastest teams
• Forde: SEC coaches in a league of their own
• Forde: Johnson stuck as SEC's roadie
• Schlabach: The nation's alpha-male coaches
• Schlabach: Coaches on the hot seat
• Maisel: Road left to travel for black coaches
• Schlabach: Critical mass await Ohio State
• Edwards: Are BCS voter tired of the Buckeyes?
• Edwards: Parity puts BCS at crossroads
• Feldman: Ten best-kept secrets
2008 Preseason All-America team
• Maisel: Preseason All-America team
What to watch
• Eighth annual Herbie Awards
• ESPN's experts' predictions
• Schlabach: Games to watch
• Schlabach: Intriguing games
• Bloggers: Preseason conference predictions
• Bloggers: Games to watch

Conference call
ACC
• Schlabach: Clemson craving title
• Dinich: In the Wake of success
• Dinich: Coast toast for Hokies?
• ACC needs Canes, Noles to win

Big Ten
• Rittenberg: Innovation not new to Big Ten
• Rittenberg: UM QBs adapt to offense
• Schlabach: Pryor's role with Ohio State

Big 12
• Maisel: Big 12 QBs face burden of proof
• Griffin: Where have the Big 12 runners gone?
• Griffin: Northern exposure
• Feldman: Is Crabtree the best college WR ever?

Big East
• Schlabach: Stewart's challenge at West Virginia
• Bennett: Knight moves focused on Teel

C-USA
• Tulsa building foundation for success
• Pirates sailing toward uncharted waters

Independents
• Watson: Are the Irish coming of age?
• Watson: Tenuta's tenacious D
• Maisel: Army exploring its options

MAC
• Watson: MAC QBs hope to share the spotlight
• Dinich: Golden touch working at Temple
• Watson: NIU's Kill found new perspective

Mountain West
• Watson: BYU-Utah going national?
• Watson: TCU looks to regroup

Pac-10
• Maisel: Son also rises at UCLA
• Miller: Stable is the USC Way
• Miller: Huskies counting on Locker

SEC
• Low: SEC's uncertain QB landscape
• Low: Tebow still learning
• Maisel: Richt knows expectations

Sun Belt
• Schlabach: Coach, QB to keep Owls soaring

Western Athletic
• Watson: Will tough schedule propel Fresno State?
• Watson: QB battle has Nevada thinking big

Rankings
• Georgia tops preseason power rankings
• Preseason Bottom 10: Lollapaloozers
• Conference preseason power rankings
• Bloggers: Ranking the coaches | Hot seat

Podcasts
• Podcast: Ivan, Mark discuss '08 season


• Podcast: Beano, Ivan talk coaches

SportsNation
• Chat wrap: Kicking off the season


• Rank 'em: ESPNU Fan Poll
• Rank 'em: How tough is each team's schedule?
Fantasy
• Predict the college football upsets each week.
Play College Pick 'Em
MORE COLLEGE FOOTBALL HEADLINES

MOST SENT STORIES ON ESPN.COM