Commentary
Anybody, anytime, anywhere: Is this Fresno State's year?
Originally Published:
August 19, 2008
By
Graham Watson
| ESPN.com
Pat Hill needed a hook, a selling point, a motto.
When he came to Fresno State in 1997, the talent was depleted. The team hadn't been to a bowl game in three years, and recruiting was starting to go stagnant. Kids didn't want to play for a non-BCS school in California when the Pac-10 controlled the state.
[+] Enlarge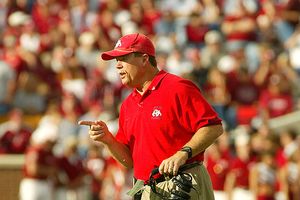 Justin Kase Conder/Icon SMIPat Hill has never shied away from going into hostile stadiums -- like here at Oklahoma.
So Hill started scheduling nonconference games against those BCS teams in his state. He added a couple other major schools from major conferences. And all of a sudden, Hill had a nonconference schedule that didn't produce a lot of wins but generated a buzz nationally and caused recruits to take a second look.
"That's why people know who we are," Hill said. "That's our niche. Winning the WAC is very important for us, but being in a non-BCS conference we had to do something, especially being in the state of California, to give us a chance to recruit.
"What's the point of difference for Fresno? Well, the point of difference for Fresno is great hometown fans, they play great teams on the road, and they're on TV all the time. So that became our point of difference, and I think that outweighs the negatives."
The first few years were difficult. Fresno State lost its first nine games against BCS opponents. But since 2000, Fresno State's talent has started to match its competition, and the Bulldogs have won 12 games against BCS programs, which is second best among non-BCS programs (Utah has 13). That includes two wins against Georgia Tech in bowl games, and wins against Oregon State, UCLA, Washington, and ranked Kansas State and Virginia teams.
Fresno State is 12-14 against BCS teams since 2000, which has given birth to Hill's battle cry: Anybody, anytime, anywhere.
"I wouldn't have it any other way," quarterback Tom Brandstater said about playing the tough schedules. "When I look back on my college career, I want to know that I played the best teams possible. The best way to gauge yourself and figure out where you're at is to play against the best. That's a barometer for college football. So I wouldn't change it at all."

Well, the point of difference for Fresno is great hometown fans, they play great teams on the road, and they're on TV all the time. So that became our point of difference, and I think that outweighs the negatives.
--Fresno State coach Pat Hill
This season's nonconference schedule will challenge that motto when the Bulldogs open at Rutgers, then face Wisconsin at home before traveling to Toledo and UCLA.
But for all their posturing in the nonconference season, Fresno State has not won a WAC title since the conference reformed in 2005 and consequently never played in a BCS bowl.
According to the WAC media guide, the Bulldogs did share the WAC title in 1999 with TCU and Hawaii, but have finished second in the conference standings just twice since and not since 2003.
Hill's critics say the difficulty of the nonconference schedule wears the Bulldogs down by the time they enter WAC play. In 2005, Fresno State entered its game against No. 1 USC 8-1 and 6-0 in conference play. The Bulldogs lost the game 50-42 and proceeded to lose their last two conference games and their bowl game.
"Those are the things that hurt you," Hill said. "Right after the SC game, they had already given us our bowl game, and we went to Reno and [Nevada] just outplayed us and beat us. And in the last week of the season we weren't physical, and Louisiana Tech came in and beat us. Not taking anything away from them. It just got to the point where I had to do a better job of making sure we're ready to play every week."
The setbacks aren't going to back Hill off the tough schedule. In 2010, Cincinnati comes to Fresno, and Hill said from 2010 to 2015 there is at least one BCS team coming to Fresno each year. The Bulldogs and Colorado will meet in 2011, '12 and '13.
[+] Enlarge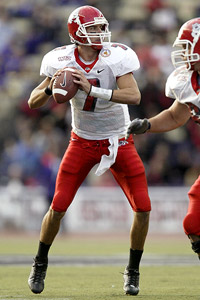 Otto Greule Jr/Getty ImagesTom Brandstater returns to QB what could be the most talented Fresno team in years.
Hill said he also is trying to add a Division I-AA team to the mix every year. UC Davis will play at Fresno State next season, and negotiations are in the works to bring Cal Poly to campus. Hill said he's hoping to strike up some deals with the I-AA teams in California to lessen the pressure on the Bulldogs' nonconference schedule. He said Fresno State has not been able to regularly schedule those teams in the past because they don't have the money to pay them what a UCLA or Arizona State could.
"It's a business deal," Hill said. "If we could make money and be successful off of playing that type of schedule then it would be different and we could play it. But we can't."
The players don't mind the tough scheduling; in fact, most revel in the opportunity to play in front of large crowds and perhaps be a spoiler. Hill said for most of the players he recruits, the schedule is what got them on campus.
But the question now is what can they do with it?
The Bulldogs have arguably the best team they've had in several years with 17 starters back, including 10 on offense. There's talk of an undefeated season, or at the very least a conference championship, and Brandstater as a Heisman dark horse.
And unlike other teams, Fresno State won't have a warm-up game.
"The Super Bowl is game one, because if you lose that game, everything you planned for, all your hopes and dreams are gone," Brandstater said "I look at it as here's a chance to play some of the best teams in the country and really see how we stack up. We talk a big game about wanting to be one of the big boys so we have to back that up and prove that we belong there."
Graham Watson covers college football for ESPN.com.
College Football
Watson joined ESPN.com in 2008 after four seasons covering the Missouri Tigers and the Big 12 Conference for the St. Louis Post-Dispatch. She also covered college football recruiting for the Dallas Morning News.
SPONSORED HEADLINES
MORE COLLEGE FOOTBALL HEADLINES
MOST SENT STORIES ON ESPN.COM
2008 College Football Preview
The long wait for the start of the 2008 college football season is finally over. Get ready for the season with an in-depth look at the teams, trends, players and coaches. Index
Blog Network
Get the latest updates from your favorite conference and around the country.
ACC | Big 12 | Big East | Big Ten | Pac-10
SEC | Others | College Football Nation
National Features
• Maisel: Let the campaign '08 debate begin
• Bloggers: State of each conference
• Schlabach: Hot and not for 2008
• Maisel: Full speed ahead for offenses
• Maisel: Defending the fast-tempo spread
• Maisel: Nation's fastest teams
• Forde: SEC coaches in a league of their own
• Forde: Johnson stuck as SEC's roadie
• Schlabach: The nation's alpha-male coaches
• Schlabach: Coaches on the hot seat
• Maisel: Road left to travel for black coaches
• Schlabach: Critical mass await Ohio State
• Edwards: Are BCS voter tired of the Buckeyes?
• Edwards: Parity puts BCS at crossroads
• Feldman: Ten best-kept secrets
2008 Preseason All-America team
• Maisel: Preseason All-America team
What to watch
• Eighth annual Herbie Awards
• ESPN's experts' predictions
• Schlabach: Games to watch
• Schlabach: Intriguing games
• Bloggers: Preseason conference predictions
• Bloggers: Games to watch

Conference call
ACC
• Schlabach: Clemson craving title
• Dinich: In the Wake of success
• Dinich: Coast toast for Hokies?
• ACC needs Canes, Noles to win

Big Ten
• Rittenberg: Innovation not new to Big Ten
• Rittenberg: UM QBs adapt to offense
• Schlabach: Pryor's role with Ohio State

Big 12
• Maisel: Big 12 QBs face burden of proof
• Griffin: Where have the Big 12 runners gone?
• Griffin: Northern exposure
• Feldman: Is Crabtree the best college WR ever?

Big East
• Schlabach: Stewart's challenge at West Virginia
• Bennett: Knight moves focused on Teel

C-USA
• Tulsa building foundation for success
• Pirates sailing toward uncharted waters

Independents
• Watson: Are the Irish coming of age?
• Watson: Tenuta's tenacious D
• Maisel: Army exploring its options

MAC
• Watson: MAC QBs hope to share the spotlight
• Dinich: Golden touch working at Temple
• Watson: NIU's Kill found new perspective

Mountain West
• Watson: BYU-Utah going national?
• Watson: TCU looks to regroup

Pac-10
• Maisel: Son also rises at UCLA
• Miller: Stable is the USC Way
• Miller: Huskies counting on Locker

SEC
• Low: SEC's uncertain QB landscape
• Low: Tebow still learning
• Maisel: Richt knows expectations

Sun Belt
• Schlabach: Coach, QB to keep Owls soaring

Western Athletic
• Watson: Will tough schedule propel Fresno State?
• Watson: QB battle has Nevada thinking big

Rankings
• Georgia tops preseason power rankings
• Preseason Bottom 10: Lollapaloozers
• Conference preseason power rankings
• Bloggers: Ranking the coaches | Hot seat

Podcasts
• Podcast: Ivan, Mark discuss '08 season


• Podcast: Beano, Ivan talk coaches

SportsNation
• Chat wrap: Kicking off the season


• Rank 'em: ESPNU Fan Poll
• Rank 'em: How tough is each team's schedule?
Fantasy
• Predict the college football upsets each week.
Play College Pick 'Em