Commentary
Rodriguez's offense is innovative but not completely foreign to Big Ten
One by one, Big Ten coaches stood at the dais overlooking a cavernous ballroom and saluted Joe Tiller, offensive innovator.
[+] Enlarge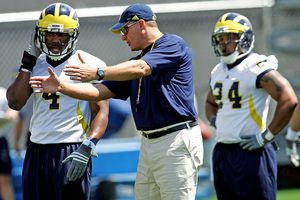 AP Photo/Tony DingRich Rodriguez won't be springing anything new on the Big Ten with his spread offense.
As the league's media session kicked off, the coaches made obligatory jokes about Tiller's impending retirement from Purdue and his fly-fishing fixation, but they spent more time discussing the instant impact he had upon arriving in the league in 1997.
"We didn't have the indoor facilities, we couldn't throw the football because we couldn't practice year-round," Penn State coach Joe Paterno said. "And then Joe came in and he started to open up offenses and created a lot of problems."
Tiller's shotgun spread offense -- a pass-heavy system with four- and five-wideouts that earned the nickname "Basketball on Grass" -- was a novelty in a league known for crowded backfields and conservative play-calling. Purdue immediately put up huge offensive numbers, breaking records and sending the Big Ten into a panic.
Defensive coordinators scrambled for a way to stop the spread; head coaches scrambled for a way to copy it.
"It was such a dramatic change," Purdue offensive coordinator Ed Zaunbrecher said. "At first, people thought, 'Aw, it'll never work because it's not normal for the Big Ten, with the weather and everything else.' But coach showed otherwise."
The last coach at the dais during Big Ten media days never needed to catch up with the spread. Like Tiller, he was ahead of the curve.
Rich Rodriguez sculpted his version of the spread at Tulane and Clemson before enjoying tremendous success with the system as West Virginia's head coach. The Mountaineers' rushing attack ranked in the top five nationally four times in Rodriguez's seven seasons, including each of the past three.

It will be interesting to see how people adapt. It'll be a very exciting offense.
--Michigan State coach Mark Dantonio
With Tiller set to exit the league after this season, leaving an imprint on Purdue and several other teams that now swear by the spread, another game-changing offensive mind steps in as Rodriguez takes over at Michigan.
"It will be interesting to see how people adapt," Michigan State coach Mark Dantonio said. "It'll be a very exciting offense."
Unlike the offense Tiller introduced, the framework of Rodriguez's scheme won't catch the league off guard.
"It's probably overrated, the so-called impact in the Big Ten," Rodriguez said of his system. "There's probably seven or eight [teams] that use it either exclusively or quite a bit, so the [perception] that us using the spread will be different in the Big Ten, I don't think it's true."
With Penn State crafting its own spread patent (the Spread HD) this fall, seven of the league's 11 teams run some version of the system. Every squad has defended against it.
Northwestern's offense might be the closest cousin of what Rodriguez runs.
Before the 2000 season, then-Wildcats coach Randy Walker and offensive coordinator Kevin Wilson visited both the St. Louis Rams and Clemson, where Rodriguez served as offensive coordinator. Northwestern switched to the spread that fall and ranked third nationally in total offense.
Indiana and Minnesota also have sprinkles of Rodriguez's scheme, and Illinois' read-option reeks of RichRod.
But to group Rodriguez's offense with the other spreads would be foolish. He has run the system longer than anyone, excluding Tiller, and his system has its nuances.
[+] Enlarge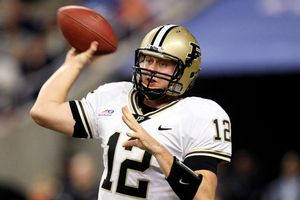 Tom Szczerbowski/US PresswireCurtis Painter is the latest in a long line of Purdue QBs that have run Joe Tiller's spread offense.
"In the offseason, we studied a lot of film on those guys, just to try to see what they do that's different from what the other teams in our conference do," Wisconsin defensive coordinator Dave Doeren said.
Syracuse co-defensive coordinator Derrick Jackson was introduced painfully to some of those differences last October when West Virginia visited the Carrier Dome and put up 55 points and 486 yards in thrashing the Orange.
Jackson also knows the climate in Rodriguez's new league, having coached Michigan State's defensive linemen in 2006.
"The biggest thing is the speed," Jackson said. "It's sometimes difficult to have your bigger-body defensive lineman on the field, because when you get those full-zone type schemes where the [offensive] linemen can really move and reach blocks, they'll really fatigue those guys. They do a nice job of complementing their stuff, whether they're spreading you out to some bubble passes, the screen game.
"They've got speed. You've got to be able to chase it and contain it."
The scheme forces defensive coordinators to formulate new ways to counteract the spread, whether it's adding an extra linebacker to the mix or increasing the rotation of linemen.
"If they get you out there and you're going through 8-, 10-play drives, you better either have guys in phenomenal condition or you better have some depth because they're going to tax you," Jackson said.
Rodriguez's system wasn't a total eye-opener for Jackson, who had seen shades of it in the Big Ten. Athletic quarterbacks like Indiana's Kellen Lewis and multi-position skill players like Illinois' Arrelious Benn -- who Jackson watched from afar last season -- fit the Rodriguez mold.
Jackson doesn't expect Big Ten coaches to take too long familiarizing themselves with Rodriguez's offense, especially without Pat White calling signals this season.
"It's not so much the scheme as it was the guys playing for [Rodriguez]," said Michigan State defensive coordinator Pat Narduzzi, who along with Dantonio faced West Virginia when they coached at Cincinnati. "I'd vote for Pat White for the Heisman right now. He would have been one of the best players, if not the best player, in the Big Ten last year."
Rodriguez's challenge this fall will be shaping the offense around quarterbacks (Steven Threet and Nick Sheridan) who aren't ideal fits for the system. But when he recruits the right pieces, a league widely criticized for a lack of speed could be in trouble.
The Big Ten's last offensive pioneer thinks the league is due for another shake-up.
"This is Year 44 and my last one, and I've seen it go in cycles," Tiller said. "I would suspect we're in that cycle once again. There probably will be a little something different."
Adam Rittenberg covers the Big Ten for ESPN.com. He can be reached at espnritt@gmail.com
College Football
ESPN.com Big Ten reporter.
Joined ESPN.com in 2008.
Graduate of Northwestern University.
SPONSORED HEADLINES
MORE COLLEGE FOOTBALL HEADLINES
MOST SENT STORIES ON ESPN.COM
2008 College Football Preview
The long wait for the start of the 2008 college football season is finally over. Get ready for the season with an in-depth look at the teams, trends, players and coaches. Index
Blog Network
Get the latest updates from your favorite conference and around the country.
ACC | Big 12 | Big East | Big Ten | Pac-10
SEC | Others | College Football Nation
National Features
• Maisel: Let the campaign '08 debate begin
• Bloggers: State of each conference
• Schlabach: Hot and not for 2008
• Maisel: Full speed ahead for offenses
• Maisel: Defending the fast-tempo spread
• Maisel: Nation's fastest teams
• Forde: SEC coaches in a league of their own
• Forde: Johnson stuck as SEC's roadie
• Schlabach: The nation's alpha-male coaches
• Schlabach: Coaches on the hot seat
• Maisel: Road left to travel for black coaches
• Schlabach: Critical mass await Ohio State
• Edwards: Are BCS voter tired of the Buckeyes?
• Edwards: Parity puts BCS at crossroads
• Feldman: Ten best-kept secrets
2008 Preseason All-America team
• Maisel: Preseason All-America team
What to watch
• Eighth annual Herbie Awards
• ESPN's experts' predictions
• Schlabach: Games to watch
• Schlabach: Intriguing games
• Bloggers: Preseason conference predictions
• Bloggers: Games to watch

Conference call
ACC
• Schlabach: Clemson craving title
• Dinich: In the Wake of success
• Dinich: Coast toast for Hokies?
• ACC needs Canes, Noles to win

Big Ten
• Rittenberg: Innovation not new to Big Ten
• Rittenberg: UM QBs adapt to offense
• Schlabach: Pryor's role with Ohio State

Big 12
• Maisel: Big 12 QBs face burden of proof
• Griffin: Where have the Big 12 runners gone?
• Griffin: Northern exposure
• Feldman: Is Crabtree the best college WR ever?

Big East
• Schlabach: Stewart's challenge at West Virginia
• Bennett: Knight moves focused on Teel

C-USA
• Tulsa building foundation for success
• Pirates sailing toward uncharted waters

Independents
• Watson: Are the Irish coming of age?
• Watson: Tenuta's tenacious D
• Maisel: Army exploring its options

MAC
• Watson: MAC QBs hope to share the spotlight
• Dinich: Golden touch working at Temple
• Watson: NIU's Kill found new perspective

Mountain West
• Watson: BYU-Utah going national?
• Watson: TCU looks to regroup

Pac-10
• Maisel: Son also rises at UCLA
• Miller: Stable is the USC Way
• Miller: Huskies counting on Locker

SEC
• Low: SEC's uncertain QB landscape
• Low: Tebow still learning
• Maisel: Richt knows expectations

Sun Belt
• Schlabach: Coach, QB to keep Owls soaring

Western Athletic
• Watson: Will tough schedule propel Fresno State?
• Watson: QB battle has Nevada thinking big

Rankings
• Georgia tops preseason power rankings
• Preseason Bottom 10: Lollapaloozers
• Conference preseason power rankings
• Bloggers: Ranking the coaches | Hot seat

Podcasts
• Podcast: Ivan, Mark discuss '08 season


• Podcast: Beano, Ivan talk coaches

SportsNation
• Chat wrap: Kicking off the season


• Rank 'em: ESPNU Fan Poll
• Rank 'em: How tough is each team's schedule?
Fantasy
• Predict the college football upsets each week.
Play College Pick 'Em
Nike Men's Michigan State Spartans Grey Football Practice Legend T-shirt Shop »