Commentary
They're not Pat White, but Michigan QBs believe in themselves
ANN ARBOR, Mich. -- Michigan quarterbacks Steven Threet and Nick Sheridan want to make something very clear, right from the start.
[+] Enlarge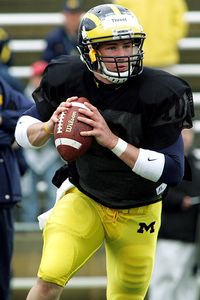 AP Photo/Tony DingAfter sitting out last season, Georgia Tech transfer Steven Threet is vying for the Michigan job.
You know the guy who wears No. 5, who buckles knees and wrong-foots linebackers at will, who makes defensive coordinators cry in the film room, who owns two conference Player of the Year awards and a host of other accolades and records, and who has rushed for nearly two miles in his career? Yeah, that guy.
He won't be wearing a winged helmet this fall.
"I'm not trying to be Pat White, and I'm sure Pat White's not trying to be Nick Sheridan or Steve Threet," Sheridan said. "We just go out there and be ourselves."
It's the prudent approach for Threet and Sheridan, one that the good athletes always follow. But will being "themselves" be enough to effectively pilot an offense that doesn't exactly fit their skills?
Michigan will find out this fall.
Threet and Sheridan are competing for the right to take the first snap of the Rich Rodriguez era, which dawns Aug. 30 against Utah. It appeared that Threet came out of spring practice as the front-runner, but Sheridan has since closed whatever gap existed between the two. Justin Feagin also should have a say in things, especially since his talent best suits Rodriguez's version of the spread offense, but the true freshman needs time to catch up.
Rodriguez said after Michigan's first preseason practice that the quarterback competition could stretch well into the season. He'll have to start someone against Utah, but it's a good bet that Threet, Sheridan and, at some point, Feagin, all will get a shot under center.

You're the leader of the offense. We're out there, we're calling plays. There is still a learning curve, but we're getting to the point where we're pretty comfortable.
--Michigan QB Steven Threet
"It is a competition," Threet said. "Coach has made that public that we're fighting every day."
After spending much of the summer working out together, Threet and Sheridan have been roommates throughout training camp. Their history stretches back even further, to Threet's freshman year of high school, when he faced Sheridan in baseball.
But they have taken very different routes to this point.
Threet was a sought-after prep quarterback from south Michigan who picked Georgia Tech over Wisconsin and headed to play for the Yellow Jackets in January 2007. Seven months later, he transferred to Michigan, largely because his primary recruiter, offensive coordinator Patrick Nix, had left for Miami.
"It's a road," Threet said, exhaling. "It's a long path to get here."
After sitting out last season, Threet's path once again reached a junction in November, when Michigan coach Lloyd Carr retired. In stepped Rodriguez and out went Ryan Mallett, who resembled Threet in both body type and playing style (Mallett transferred to Arkansas). But Threet wasn't going to follow Mallett out the door.
"My experience at Georgia Tech kind of helped me with that, to wait it out, not to be irrational about anything and let the system work," Threet said. "The coaches made it pretty obvious that you don't have to be the fastest guy on the team to be able to play quarterback in this offense. After a few spring practices, it was pretty obvious that any type of quarterback can fit this system."
If Threet seems like an unlikely candidate to become Michigan's starting quarterback, check out Sheridan's story.
After receiving no Division I scholarship offers, he made the team as a walk-on in 2006. Sheridan had grown up down the street from Michigan Stadium in Saline, and his father Bill coached defensive line and linebackers at Michigan from 2002-04 before moving on to the New York Giants.
[+] Enlarge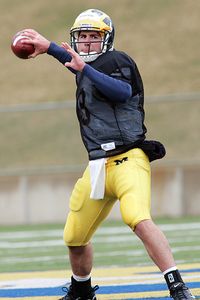 Icon SMINick Sheridan, who comes from a football family, is hoping to go from walk-on to starter.
The younger Sheridan seemed destined for clipboard duty, but he appeared in two games last fall and now finds himself in the mix for the top job. While Threet passes the eye test at 6-6 and 230 pounds, the 6-1 Sheridan relies on an advanced knowledge of the game after being around it through his dad.
Sheridan hopes his upbringing gives him an edge, but adds: "My dad doesn't throw any passes for me. I've got to go out there and do it on my own."
Threet's mental aptitude also should help him overcome potential physical limitations in running Rodriguez's system. He was the valedictorian of his class at Adrian (Mich.) High School and ran a version of the spread offense his senior year.
"He knows exactly what to expect," Rodriguez said of Threet. "Sure, we're going to run some of the same stuff we did [at West Virginia]. He won't be as explosive as Pat White, but who is? Steve's a smart guy and Nick's a smart guy and they're very, very competitive. So we'll have to have some packages and things that they'll do well."
Asked how confident he was that the spread would succeed at Michigan, Rodriguez smiled and said, "I'm pretty confident that I'll still be coaching here for a while."
"It's pretty flexible, and as a coach, we've got to be that way," he continued. "The biggest key is the players making plays and the execution of it. The scheme itself, the X's and O's, I've said it many times, it's overrated. It's the execution and it's the players. Our job is to put them in a spot where they can have success."
Michigan's summer conditioning program helped both Threet and Sheridan prepare for a faster-paced offense. Threet immediately noticed less lag time between plays when practices resumed.
Both players realize mistakes will be made this fall, but their leadership can't waver.
"It's just something we do," Threet said. "You're the leader of the offense. We're out there, we're calling plays. There is still a learning curve, but we're getting to the point where we're pretty comfortable."
Adam Rittenberg covers the Big Ten for ESPN.com. He can be reached at espnritt@gmail.com
College Football
ESPN.com Big Ten reporter.
Joined ESPN.com in 2008.
Graduate of Northwestern University.
2008 College Football Preview
The long wait for the start of the 2008 college football season is finally over. Get ready for the season with an in-depth look at the teams, trends, players and coaches. Index
Blog Network
Get the latest updates from your favorite conference and around the country.
ACC | Big 12 | Big East | Big Ten | Pac-10
SEC | Others | College Football Nation
National Features
• Maisel: Let the campaign '08 debate begin
• Bloggers: State of each conference
• Schlabach: Hot and not for 2008
• Maisel: Full speed ahead for offenses
• Maisel: Defending the fast-tempo spread
• Maisel: Nation's fastest teams
• Forde: SEC coaches in a league of their own
• Forde: Johnson stuck as SEC's roadie
• Schlabach: The nation's alpha-male coaches
• Schlabach: Coaches on the hot seat
• Maisel: Road left to travel for black coaches
• Schlabach: Critical mass await Ohio State
• Edwards: Are BCS voter tired of the Buckeyes?
• Edwards: Parity puts BCS at crossroads
• Feldman: Ten best-kept secrets
2008 Preseason All-America team
• Maisel: Preseason All-America team
What to watch
• Eighth annual Herbie Awards
• ESPN's experts' predictions
• Schlabach: Games to watch
• Schlabach: Intriguing games
• Bloggers: Preseason conference predictions
• Bloggers: Games to watch

Conference call
ACC
• Schlabach: Clemson craving title
• Dinich: In the Wake of success
• Dinich: Coast toast for Hokies?
• ACC needs Canes, Noles to win

Big Ten
• Rittenberg: Innovation not new to Big Ten
• Rittenberg: UM QBs adapt to offense
• Schlabach: Pryor's role with Ohio State

Big 12
• Maisel: Big 12 QBs face burden of proof
• Griffin: Where have the Big 12 runners gone?
• Griffin: Northern exposure
• Feldman: Is Crabtree the best college WR ever?

Big East
• Schlabach: Stewart's challenge at West Virginia
• Bennett: Knight moves focused on Teel

C-USA
• Tulsa building foundation for success
• Pirates sailing toward uncharted waters

Independents
• Watson: Are the Irish coming of age?
• Watson: Tenuta's tenacious D
• Maisel: Army exploring its options

MAC
• Watson: MAC QBs hope to share the spotlight
• Dinich: Golden touch working at Temple
• Watson: NIU's Kill found new perspective

Mountain West
• Watson: BYU-Utah going national?
• Watson: TCU looks to regroup

Pac-10
• Maisel: Son also rises at UCLA
• Miller: Stable is the USC Way
• Miller: Huskies counting on Locker

SEC
• Low: SEC's uncertain QB landscape
• Low: Tebow still learning
• Maisel: Richt knows expectations

Sun Belt
• Schlabach: Coach, QB to keep Owls soaring

Western Athletic
• Watson: Will tough schedule propel Fresno State?
• Watson: QB battle has Nevada thinking big

Rankings
• Georgia tops preseason power rankings
• Preseason Bottom 10: Lollapaloozers
• Conference preseason power rankings
• Bloggers: Ranking the coaches | Hot seat

Podcasts
• Podcast: Ivan, Mark discuss '08 season


• Podcast: Beano, Ivan talk coaches

SportsNation
• Chat wrap: Kicking off the season


• Rank 'em: ESPNU Fan Poll
• Rank 'em: How tough is each team's schedule?
Fantasy
• Predict the college football upsets each week.
Play College Pick 'Em