Commentary
After a record-setting season, Tulsa has eyes on bigger prize
Originally Published:
August 22, 2008
By
Graham Watson
| ESPN.com
No one is sick of hearing about the effect the loss of quarterback Paul Smith will have on Tulsa more than David Johnson.
After four years of being Smith's backup, Johnson has earned the fortunate and unfortunate distinction of succeeding the most accomplished quarterback in Tulsa history.
[+] Enlarge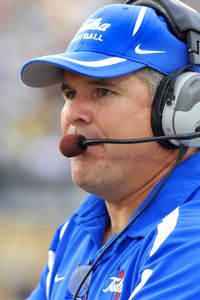 Al Messerschmidt/Getty ImagesTodd Graham's Tulsa team had the No. 1 offense in the country last season.
Smith set Conference USA single-season records for total offense (370.3), passing yards (5,065), total touchdowns (60 rushing/passing) and TD passes (47). He threw for more than 300 yards in every game last season and led the Golden Hurricane to its highest regular season win total (10) since 1991.
With Smith at the helm, Tulsa became the nation's best offense at 543.9 yards per game.
"Paul's a great player, and I learned a lot underneath him," Johnson said. "It seems like his name always comes up, but rightfully so because of what he did while he was here. The comparisons might go on all year -- it's hard to say. Obviously, I think those comparisons are always going to be there, but I've just got to go out, play my game and be who I am. And just try not to worry about that too much."
If there's one comparison that Johnson can embrace, it's the fact that Smith didn't burst onto the national scene until last season when Tulsa brought in co-offensive coordinator Gus Malzahn and revamped its offense.
Tulsa's no-huddle spread, which is balanced between the run and pass, is a combination of the offense Malzahn ran at Springdale (Ark.) High School, the offense head coach Todd Graham ran at Rice, and the offense both Graham and co-offensive coordinator Herb Hand helped build with Rich Rodriguez at West Virginia.
"What we do here offensively is not really a playbook we pulled out from Springdale High School or West Virginia or from Rice or wherever," Graham said. "We designed this offense to fit the skills and talents of the kids that are here. And I think Gus and Herb have done a good job of doing that, and that's what made us the No. 1 offense in the country last year."
The benefit for Johnson is that he won't be breaking in new skill players or a new line. With the exception of Smith and lineman Walter Boyd, all of the offense returns. That includes 1,000-yard receivers Trae Johnson, Charles Clay and Brennan Marion and 1,000-yard running back Tarrion Adams.
"We have, what I think is one of the top-five receiving corps in the country," Graham said. "When you run an offense that is the No. 1 offense in the country you can attract that kind of talent at running back, quarterback and wide receiver. Kids want to play here."
Although the offense appears to be pass-oriented because of Smith's gaudy numbers, Tulsa had just two more passing attempts than rushes last season. Adams led a group of four rushers who each had more than 200 yards, including receiver Clay and Smith, who led the team in rushing touchdowns with 13.
Rushing, Johnson said, is where he can separate himself from the legend of Smith. Johnson is more of dual-threat quarterback. He hasn't played enough college games to put up big rushing numbers, but Adams said Johnson isn't afraid to tuck the ball and run, which will keep defenses honest and open up more plays for both the passing and running game.
"Our run and our pass complement each other," Adams said. "In order to pass the way we pass, we have to run the ball to make people come down into the box, and once they come into the box we'll throw it over their heads. And once they try and cover the pass, that's when we start pounding the run game. They definitely complement each other."
It's difficult to believe that a team that established 29 school records, 15 Conference USA marks and four NCAA records last season can get better, but that's exactly what Graham is expecting from this year's squad.
With a season of "learning" under their belts last season, the Golden Hurricane should be more efficient and dynamic on offense. The offense's goal is to get 90 snaps a game, compared to the 70 or 75 most teams see on a regular basis. The offense is going to move quicker and it's going to stretch the field.
But Graham knows that despite a historical season, his team didn't reach its goal of winning a conference championship. So he's made that, and a BCS berth, the crux of the team's goals this season.
He even invited Boise State coach Chris Petersen and his staff to Tulsa so the Golden Hurricane coaching staff could learn what it needs to do to produce a consistent conference champion and a potential BCS bowl winner.
"It doesn't happen overnight, and this thing here at Tulsa hasn't happened overnight; it started five, six years ago," Graham said. "Our kids expect to win. Our kids are willing to work and they understand what a championship commitment is. I think it's very important that you have those kinds of goals. Why not? If coach Petersen at Boise State had never said, 'Hey, I want to be BCS bowl champions,' I guarantee they wouldn't have done it. I think coach [June] Jones would have probably told you the same thing at Hawaii.
"But is that easy? No. Have we done it? No. So we're surely not going to have anything to boast or brag about, but I'll tell you that's exactly what we're focused on trying to do."
Graham Watson covers college football for ESPN.com.
College Football
Watson joined ESPN.com in 2008 after four seasons covering the Missouri Tigers and the Big 12 Conference for the St. Louis Post-Dispatch. She also covered college football recruiting for the Dallas Morning News.
SPONSORED HEADLINES
MORE COLLEGE FOOTBALL HEADLINES
MOST SENT STORIES ON ESPN.COM
2008 College Football Preview
The long wait for the start of the 2008 college football season is finally over. Get ready for the season with an in-depth look at the teams, trends, players and coaches. Index
Blog Network
Get the latest updates from your favorite conference and around the country.
ACC | Big 12 | Big East | Big Ten | Pac-10
SEC | Others | College Football Nation
National Features
• Maisel: Let the campaign '08 debate begin
• Bloggers: State of each conference
• Schlabach: Hot and not for 2008
• Maisel: Full speed ahead for offenses
• Maisel: Defending the fast-tempo spread
• Maisel: Nation's fastest teams
• Forde: SEC coaches in a league of their own
• Forde: Johnson stuck as SEC's roadie
• Schlabach: The nation's alpha-male coaches
• Schlabach: Coaches on the hot seat
• Maisel: Road left to travel for black coaches
• Schlabach: Critical mass await Ohio State
• Edwards: Are BCS voter tired of the Buckeyes?
• Edwards: Parity puts BCS at crossroads
• Feldman: Ten best-kept secrets
2008 Preseason All-America team
• Maisel: Preseason All-America team
What to watch
• Eighth annual Herbie Awards
• ESPN's experts' predictions
• Schlabach: Games to watch
• Schlabach: Intriguing games
• Bloggers: Preseason conference predictions
• Bloggers: Games to watch

Conference call
ACC
• Schlabach: Clemson craving title
• Dinich: In the Wake of success
• Dinich: Coast toast for Hokies?
• ACC needs Canes, Noles to win

Big Ten
• Rittenberg: Innovation not new to Big Ten
• Rittenberg: UM QBs adapt to offense
• Schlabach: Pryor's role with Ohio State

Big 12
• Maisel: Big 12 QBs face burden of proof
• Griffin: Where have the Big 12 runners gone?
• Griffin: Northern exposure
• Feldman: Is Crabtree the best college WR ever?

Big East
• Schlabach: Stewart's challenge at West Virginia
• Bennett: Knight moves focused on Teel

C-USA
• Tulsa building foundation for success
• Pirates sailing toward uncharted waters

Independents
• Watson: Are the Irish coming of age?
• Watson: Tenuta's tenacious D
• Maisel: Army exploring its options

MAC
• Watson: MAC QBs hope to share the spotlight
• Dinich: Golden touch working at Temple
• Watson: NIU's Kill found new perspective

Mountain West
• Watson: BYU-Utah going national?
• Watson: TCU looks to regroup

Pac-10
• Maisel: Son also rises at UCLA
• Miller: Stable is the USC Way
• Miller: Huskies counting on Locker

SEC
• Low: SEC's uncertain QB landscape
• Low: Tebow still learning
• Maisel: Richt knows expectations

Sun Belt
• Schlabach: Coach, QB to keep Owls soaring

Western Athletic
• Watson: Will tough schedule propel Fresno State?
• Watson: QB battle has Nevada thinking big

Rankings
• Georgia tops preseason power rankings
• Preseason Bottom 10: Lollapaloozers
• Conference preseason power rankings
• Bloggers: Ranking the coaches | Hot seat

Podcasts
• Podcast: Ivan, Mark discuss '08 season


• Podcast: Beano, Ivan talk coaches

SportsNation
• Chat wrap: Kicking off the season


• Rank 'em: ESPNU Fan Poll
• Rank 'em: How tough is each team's schedule?
Fantasy
• Predict the college football upsets each week.
Play College Pick 'Em