Commentary
What's hot (and not) for 2010
A relentless heat wave engulfed much of the country for most of the summer. From Florida to New York to Washington, it was downright hot.
But it will be even hotter for some coaches, players and programs in college football this season.
Here's a look at what's hot (and not) in college football heading into the 2010 season:
WHAT'S HOT AND NOT FOR THE 2010 COLLEGE FOOTBALL SEASON
| HOT | NOT |
| --- | --- |
| 1. Expansion: Conference realignment was the summer story. When the dust finally settled, Nebraska joined the Big Ten, Colorado and Utah headed to the Pac-10 and Boise State left the WAC for the MWC. The Big 12 will have 10 teams in 2011; the Big Ten will have 12. Makes sense, huh? | 1. Contraction: Without the Broncos, who have finished undefeated and played in two BCS bowl games during the past four seasons, the WAC will become rather anonymous. Nevada has played good football, but Fresno State and Hawaii have become distant memories. |
| 2. 3-4 defense: Because of defending BCS national champion Alabama's success running the 3-4 defense, other big-name schools are switching to the scheme, such as Georgia, Georgia Tech, Houston, Notre Dame and Stanford. The objective: harass the opposing quarterback on every play. | 2. Washington State's defense: The Cougars ranked dead last in total defense among FBS teams last season, allowing 6,144 yards in 12 games, which equals nearly 3½ miles. The Cougars allowed 30 points or more in nine games, which is a big reason they finished 1-11 in 2009. |
| 3. Saban coaching tree: Teams aren't just trying to mimic Bama coach Nick Saban's D. They're also hiring his former assistants. Jimbo Fisher takes over at Florida State. Derek Dooley is the new man at Tennessee. Will Muschamp is the coach-in-waiting at Texas, and it won't be long before Tide D-coordinator Kirby Smart has his own team. | 3. No Bowdens: For the first time since 1969, there won't be a Bowden as a head coach at an FBS school. Florida State pushed Bobby Bowden out the door, and son Tommy will enjoy his second season in retirement. Son Terry is trying to make his way back as he begins his second season at Division II North Alabama. |
| 4. Tyrod: If Hokies QB Tyrod Taylor improves as a passer, Virginia Tech might be a legit threat for a BCS national title. Taylor and running backs Darren Evans and Ryan Williams form one of the country's best backfields, and the Hokies are always stout on defense and special teams. | 4. RichRod: Rich Rodriguez enters the 2010 season firmly on the hot seat after an 8-16 record in his first two seasons as Michigan's coach. Worse, Michigan and West Virginia, his former school, are under NCAA investigation for violations allegedly committed under his watch. |
| 5. Kickoff games: The 2010 season opens with a bang with LSU and North Carolina playing in the Chick-fil-A Kickoff Game in Atlanta, Oregon State facing TCU in the 2010 Cowboys Classic in Arlington, Texas, and Virginia Tech and Boise State playing Labor Day night in Landover, Md. | 5. USC's postseason: The Trojans will be spending the postseason at home after the NCAA placed them on four years' probation, including a two-year bowl ban. The penalties are the result of the NCAA's four-year investigation into former Trojans star Reggie Bush and his family taking improper benefits. The Trojans have appealed the ruling. |
| 6. Week 2 games: Grab the remote. The second Saturday of the season offers the best lineup of games. Miami travels to Ohio State. Penn State visits Alabama. Florida State heads west to Oklahoma. Michigan travels to Notre Dame. Oregon heads east to Tennessee. It's must-see TV. | 6. Season openers: Once again, most of the sport's heavyweights will open the season against cream puffs. Penn State hosts Youngstown State. FSU plays Samford. Georgia Tech plays South Carolina State. Miami opens against Florida A&M. Thank goodness for the "Jersey Shore" marathon. |
| 7. African-American coaches: Minority candidates grabbed many of the sport's best open jobs: Turner Gill (Kansas), Mike London (Virginia), Ruffin McNeill (East Carolina), Joker Phillips (Kentucky), Larry Porter (Memphis), Charlie Strong (Louisville) and Willie Taggart (Western Kentucky). The hirings bring the total of African-American head coaches to 13. | 7. Coaches on hot seat: These coaches probably need to win big to keep their jobs beyond this season: Minnesota's Tim Brewster, North Texas' Todd Dodge, Maryland's Ralph Friedgen, Colorado's Dan Hawkins, Hawaii's Greg McMackin, Michigan's Rich Rodriguez, Washington State's Paul Wulff and Illinois' Ron Zook. Expect some not to survive past 2010. |
| 8. Mark Herzlich's return: The Boston College senior was one of college football's most feared linebackers in 2008. The 2008 ACC Defensive Player of the Year missed all of last season while battling Ewing's sarcoma, a rare form of bone cancer. Doctors told Herzlich he would never run again. We're betting he's even better than before. | 8. Big-name exits: Here are a few of the guys we'll really miss on Saturdays: Oklahoma quarterback Sam Bradford, Alabama linebacker Rolando McClain, Texas quarterback Colt McCoy, Clemson running back C.J. Spiller, Nebraska defensive tackle Ndamukong Suh and Florida quarterback Tim Tebow. |
| 9. Small (running backs): Many of the country's best runners are small in stature but obviously big in heart. Oregon State's Jacquizz Rodgers, Oregon's LaMichael James, West Virginia's Noel Devine and Pittsburgh's Dion Lewis would each have problems starting at 2-guard in basketball. | 9. Big (Ten bashing): The conference everyone loved to beat up during the past five seasons stood its ground during 2009 bowl season. Ohio State beat Oregon in the Rose Bowl. Iowa took out Georgia Tech in the Orange. Penn State beat LSU in the Capital One. Wisconsin defeated Miami in the Champs Sports. |
| 10. Florida vs. Alabama: The Gators and Crimson Tide played for the SEC championship in each of the past two seasons, with the winner moving on to win a BCS title. Fans might get a double dip of this heated rivalry this season. Florida plays at Alabama on Oct. 2, which might be a prelude to the Dec. 4 SEC championship game in Atlanta. | 10. Kentucky vs. Tennessee: The Vols have defeated the Cats in 25 consecutive seasons. UT won 30-24 in overtime last season to extend Kentucky's misery. In the history of college football, only 10 series have experienced a win streak longer than 24 games. The Wildcats will try to end their futility in Knoxville on Nov. 27. |
| 11. Transferring in: Keep an eye on these transfers this coming season: receiver Vidal Hazelton (USC to Cincinnati), quarterback Robert Marve (Miami to Purdue), running back Sam McGuffie (Michigan to Rice), quarterback Cameron Newton (Florida to Auburn) and quarterback Steven Threet (Michigan to Arizona State). | 11. Transferring out: Oregon might have been a BCS title favorite if QB Jeremiah Masoli hadn't been dismissed from the team. Masoli was suspended for the entire 2010 season after pleading guilty to theft of a laptop; he was dismissed altogether after being cited on traffic and marijuana charges. Masoli has enrolled at Ole Miss, where he'll be eligible immediately. |
| 12. SEC: Teams from the conference have won each of the past four BCS national championships, and defending champ Alabama is a popular favorite to win a second straight title in 2010. | 12. ACC: The league is going to be better, but it won't be great until Florida State and Miami return to prominence. The ACC still hasn't had two of its teams play in BCS bowl games in the same season. |
| 13. Football in Chicago: Illinois and Northwestern will play at Chicago's Wrigley Field on Nov. 20, the first time football will be played at the Cubs' home stadium since the Bears played there in 1970. A college football game hasn't been played in front of the Wrigley ivy since 1938. | 13. Football in Champaign: Has a football program ever accomplished less after playing in the Rose Bowl? Since losing to USC 49-17 in the 2008 Rose Bowl, the Illini won eight games the past two seasons combined. They're picked to finish near the bottom of the Big Ten in 2010. |
| 14. Texas vs. Nebraska: The Longhorns travel to Nebraska on Oct. 16 in what might be the most anticipated game of the season. The Cornhuskers are still chapped about the way they lost to UT in the Big 12 championship game last season. The Cornhuskers would like nothing more than to end their stay in the Big 12 with a victory over Texas, which they haven't defeated in the regular season since 1960. | 14. Michigan vs. Ohio State: It wasn't too long ago when "The Game" was called the "Game of the Century." The Buckeyes defeated the Wolverines 42-39 in 2006 to earn a trip to the BCS National Championship Game. Since then, the "game" has been a laugher. Ohio State, which has won six in a row (and eight of nine) over its rival, has claimed the past three contests by a combined score of 77-20. |
| 15. Contact via Twitter: Players love it. Most coaches hate it. From 80-year-old Bobby Bowden to Terrelle Pryor, college football figures are all over Twitter. Boise State's Chris Petersen and New Mexico State's DeWayne Walker have banned their players from using the medium. Other coaches have embraced it to sell their programs. | 15. Contact with agents: Saban and Florida's Urban Meyer have declared war on sports agents, who have caused NCAA problems at Alabama, Clemson, Georgia, North Carolina and South Carolina this summer. Saban banned agents from attending preseason camps; Meyer kicked everyone but his players and staff out of practice. |
| 16. JoePa's eyes: Joe Paterno, 83, who is set to begin his 45th season as Penn State's coach, underwent eye surgery to correct his vision during the offseason. Fortunately, he hasn't completely ditched his trademark Coke-bottle glasses. | 16. Eye-black messages: Reggie Bush and Tim Tebow, two Heisman Trophy winners, highlighted the trend of writing messages in the eye black under their eyes. The NCAA banned such messages during the offseason. |
| 17. Golf games: Here are a few of the recently retired or unemployed coaches improving their golf games in 2010: Kentucky's Rich Brooks, San Jose State's Dick Tomey, Vanderbilt's Bobby Johnson, Texas Tech's Mike Leach, Kansas' Mark Mangino and USF's Jim Leavitt. | 17. Wedges: Following the NFL's lead, the NCAA banned wedge blocks on kickoff returns. The new rule says that if a receiving team has more than two players standing within 2 yards of each other, shoulder to shoulder, it will receive a 15-yard penalty. |
| 18. Big Apple/Big D: For the first time since 1962, there will be a college bowl game played in New York when the inaugural New Era Pinstripe Bowl kicks off at Yankee Stadium on Dec. 30. It will pit teams from the Big East and Big 12 in the Bronx. The Dallas Football Classic also will debut at the Cotton Bowl on Dec. 30, bringing the bowl total to 35 games. | 18. International trips: Players from the Big East and MAC conferences will no longer need their passports, as the International Bowl folded in March after failing to renew its contract with the Big East. The game, which was played at Toronto's Rogers Centre, drew just more than 22,000 fans to South Florida's 27-3 win over Northern Illinois on Jan. 2. |
| 19. Triple option: Georgia Tech's Paul Johnson used his trademark triple-option spread offense to lead the Yellow Jackets to an ACC championship in 2009. Navy, his former school, used the offense to win 10 games last season. | 19. Triple threat: Miami (Ohio) is a threat to turn the ball over three times a game. The RedHawks had 36 turnovers in 12 games last season, the highest total among FBS schools. No wonder they finished 1-11 in coach Mike Haywood's first season. |
| 20. Stadium expansion: Michigan's Big House expanded capacity to more than 108,000 seats and added 82 suites. Alabama's Bryant-Denny Stadium also grew to more than 101,800 seats. Expansion projects also increased stadiums at Kansas, East Carolina, Louisville and Texas Tech. | 20. Eastern Michigan tickets: OK, we realize there wasn't a lot to cheer at Eastern Michigan in 2009. The Eagles finished 0-12 in coach Ron English's first season. But EMU averaged only 5,016 fans at five home games last season. Rynearson Stadium has a seating capacity of more than 30,000. |
Mark Schlabach covers college football and men's college basketball for ESPN.com. You can contact him at schlabachma@yahoo.com.
College Football and Basketball
College football writer for ESPN.com
Author of seven books on college football
Formerly at the Washington Post and the Atlanta Journal-Constitution
SPONSORED HEADLINES
MORE COLLEGE FOOTBALL HEADLINES
MOST SENT STORIES ON ESPN.COM
2010 SEASON PREVIEW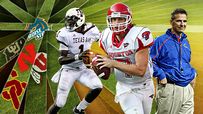 Will the SEC stranglehold on the title continue? Is this the year a BCS buster breaks through to the title game? What new stars will emerge? ESPN.com will answer all of those 2010 questions and more as we move toward the season's kickoff.
Preview home »
Stories
Roaring Twenties: Lists of 20 for '10
Bloggers
Insider
Video