7:30 PM ET, November 21, 2002
MIAMI (AP) -- Willis McGahee dived into the end zone, jumped to his feet and placed his fingers in the shape of a diamond -- a pop-culture symbol that represents a dynasty.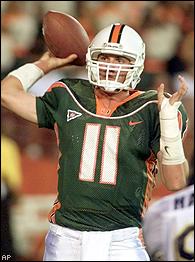 Ken Dorsey says Miami's goal of a national title is in sight.
The gesture might have been appropriate for No. 1 Miami, but it definitely was premature -- for the game and the season.
McGahee ran 19 times for 159 yards and scored two touchdowns as the Hurricanes overcame another slow start and a frantic finish to earn a 28-21 win over Pittsburgh (No. 19 ESPN/USA Today, No. 17 AP) on Thursday night at the Orange Bowl.
In a nationally televised game that gave Miami (10-0, 5-0 Big East) a chance to showcase Heisman Trophy teammates Ken Dorsey and McGahee, the sophomore running back had the majority of the highlights.
"McGahee was great. He was the key guy in this game,'' said coach Walt Harris, whose Panthers (8-3, 5-1) lost for just the third time in 17 games and had their conference winning streak snapped at nine games.
The defending national champions extended their nation-best winning streak to 32 games, their Big East-record streak to 22 games and moved two victories away from a berth in the Jan. 3 Tostitos Fiesta Bowl. They finish the season at Syracuse and at home against struggling Virginia Tech.
"Our goal's in sight, but no team's going to give it to us,'' Dorsey said. "We proved that last year against Boston College and Virginia Tech. No team is going to just hand it to us.''
The Hurricanes also took over sole possession of first place in the Big East. But Pittsburgh, behind pesky and resilient quarterback Rod Rutherford, made it difficult.
After falling behind 28-14, the Panthers had a chance to tie in the final minutes. Rutherford scored on a 3-yard run with 4:37 to play, cutting the deficit to a touchdown. The Hurricanes had to punt, giving the Panthers the ball with 2:12 left.
They drove to the Miami 25, and Rutherford misfired on two consecutive passes. Then he connected with Yogi Roth for a 5-yard gain to set up a fourth-and-5 from the 20. Roth was wide open again, this time on a slant pass at the goal line, but Rutherford's pass sailed past his outstretched arms and through the end zone.
Meltdown avoided.
"We gave a championship-type effort, and we were very close to getting it done,'' Harris said. "It was a tough game to lose.''
Miami's defense gave up 341 yards but left Pitt battered -- literally. Receiver Larry Fitzgerald left the game with a bloody nose and a swollen face, and receiver Roosevelt Bynes left the game after a crushing hit in the fourth quarter.
Rutherford was sacked four times, all in the first half, but he continued to keep the Hurricanes off-balance with a good mix of running and passing. He finished with 68 yards rushing and completed 17 of 38 passes for 150 yards and two touchdowns.
It just wasn't enough.
"He hung in there, made some good throws down the stretch and gave us a chance to win the game,'' Harris said.
Dorsey, wearing a soft cast on his left wrist, struggled in the first half. He missed receivers and was 5-of-15 passing for 13 yards with an interception that led to Pitt's first touchdown. He bounced back in the second half, though, and threw two perfect fade passes to Andre Johnson -- one for a touchdown and another that led to a score.
Dorsey finished 14-of-26 for 163 yards. He was 3-for-3 for 58 yards on Miami's first drive of the second half, including a 30-yard pass to Johnson that helped the 'Canes retake the lead 21-14. Miami converted its first third-down play of the night on the drive.
The Panthers took advantage of great field position to score their touchdowns. They intercepted a pass from Dorsey in the first quarter and had the ball at the Miami 34. Five plays later, including a 16-yard run by Rutherford, they tied the game at 7.
Rutherford threw a perfect fade pass to Larry Fitzgerald in the corner to beat Kelly Jennings for a 5-yard score.
Late in the second quarter, Pitt partially blocked Freddie Capshaw's punt and got the ball at the Miami 30. Rutherford scrambled for 15, then 10 yards to set up a first-and-goal at the 4. He then drilled a 4-yard slant pass to Roosevelt Bynes, slipping it past safety Maurice Sikes and in front of Jennings for the score and a 14-7 lead.
The Hurricanes found themselves trailing again -- something they have grown accustomed to this season. But they seem to play better when cornered.
On their first play after Pitt's touchdown, McGahee ran left, turned upfield, broke through two tacklers and sprinted 69 yards for the tying score.
The run put McGahee over 100 yards for the eighth time, tying the single-season record held by Ottis Anderson (1978) and Clinton Portis (2001). His two TD runs also gave him 19 this season, breaking the previous team mark of 17 set by Edgerrin James in 1998.