2:00 PM ET, November 23, 2002
Dowdy-Ficklen Stadium, GREENVILLE, NC
GREENVILLE, N.C. (AP) -- With the offense struggling all day, it was up to East Carolina's 106th-ranked defense to challenge No. 22 Texas Christian.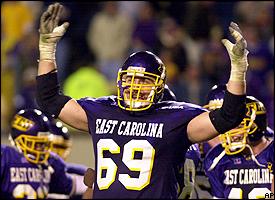 East Carolina's Brian Rimpf celebrates an upset win over Texas Christian during the closing seconds Saturday.
Travis Heath made the defining play, returning a fumble 81 yards for a touchdown as the Pirates rallied from an 11-point deficit to upset the Horned Frogs 31-28 Saturday.
"That was a superior effort on the defensive side of the ball, absolutely superior,'' East Carolina coach Steve Logan said. "One of the best I've seen in my years here.''
Although East Carolina gave up 445 yards and had five turnovers, the Pirates forced seven turnovers.
"We didn't get going at all,'' Logan said of his error-prone offense. "Their defense is No. 1 in the nation for a good reason. They're way good, and they whipped us.''
TCU had a chance to tie it, but Nick Browne's 40-yard field-goal attempt with 25 seconds to play went wide left.
The Pirates (4-6, 4-2 C-USA) broke the Horned Frogs' eight-game winning streak and further scrambled the Conference USA title race. East Carolina had their first victory over a ranked team since beating Miami in 1999.
The Pirates need victories against Southern Mississippi and Cincinnati to become eligible for a bowl.
TCU (8-2, 5-2 C-USA) hoped to clinch a share of the league title and secure a berth in one of the conference's five bowl tie-ins. TCU might still go to a bowl, it might not be the Liberty Bowl, which takes the conference champion.
"We had our chance to clinch, and we didn't,'' TCU coach Gary Patterson said. "As bad as we played and with seven turnovers, we still had a chance to kick a field goal to tie. But our guys didn't quit. ECU is 4-0 when they win the turnover battle. You can't do that here and win.''
Lonta Hobbs ran for 158 yards and two touchdowns, and he also scored on a 3-yard pass from Sean Stilley in the third quarter to give TCU a 28-17 lead. But the Pirates crept back behind field goals by Kevin Miller from 44 and 32 yards to make it 28-23 with 11:06 to play.
TCU couldn't keep the lead. On second-and-6 from the East Carolina 19, Ricky Madison tried to outrun Heath to the left boundary. Instead, Heath tied him up, took the football away and ran 81 yards for the game-winning score.
"The first thing I was thinking about was don't lose (containment),'' Heath said. "The second this is, I saw the ball, and I was just going to work on the strip. I didn't think it was going to be like it was. I kept my balance and went back up the sideline.''
Paul Troth threw to Art Brown for the 2-point conversion and a three-point lead.
The Pirates tried to ice it on a fourth-and-1 at the TCU 10, but they failed to convert. Stilley led TCU down to the East Carolina 23, but Browne missed the tying field goal.
"I thought for the most part, we played well,'' Patterson said. "We had some big stops when we needed it, like the fourth down at the end of the game to give us a chance.''
TCU took its first lead when Hobbs ran 52 yards down the left sideline to make it 7-0. East Carolina answered when Troth threw a 19-yard scoring pass to Richard Alston. Troth went 10-of-31 for 158 yards with four interceptions.
Hobbs scored on an 8-yard run to break the tie, but the Pirates closed to 14-10 when Miller kicked a 44-yard field goal just before halftime.