7:00 PM ET, September 20, 2003
Glass Bowl, TOLEDO, OH
TOLEDO, Ohio (AP) -- Pittsburgh heard all week about how dangerous Toledo could be. The Panthers didn't get the message until it was too late.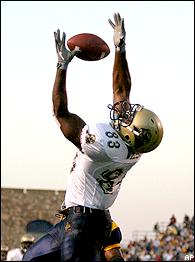 Pitt tight end Kris Wilson catches a TD pass.
Bruce Gradkowski threw for 461 yards and three touchdowns for the Rockets, the final score coming with just 43 seconds left as Toledo stunned Pitt 35-31 (No. 11 ESPN/USA Today, No. 9 AP) on Saturday night.
Gradkowski lofted the ball into right corner of the end zone and Lance Moore made a diving catch, just dragging his feet in bounds. The pass capped a 15-play, 83 yard drive that began with 4:36 left.
Pitt's defense was no match for Toledo's spread offense that kept the Panthers (2-1) off-balance most of the night.
"I don't think they've shown that much firepower as they did today," Pitt coach Walt Harris said. "They fought their way back from 10 points down. They never gave up."
Gradkowski was overwhelmed afterward.
"I'm so pumped about this team that words can't express what I feel right now," he said.
Gradkowski, a sophomore from Pittsburgh in only his fourth start, calmly directed the Rockets (3-1) down the field on the final drive.
The key play came on fourth-and-1. He found tight end Andrew Clarke along the sideline for a 13-yard pickup.
Gradkowski relied on short passes as Rockets then chipped away at the Panthers. They converted three times on third down to keep the drive alive.
Pitt had one final shot at the end zone, but Rod Rutherford's pass was batted down in the end zone, setting off a wild celebration on the field.
Toledo coach Tom Amstutz called it one of the biggest victories in school history.
"It's a wonderful feeling," he said. "I'm a little numb right now."
The Panthers led 31-21 early in the fourth quarter and seemed to be in control.
But Gradkowski, who finished 49-of-62 for 461 yards, led the Rockets on a 98-yard drive -- the big play coming on third down at midfield when he found Steve Odom for a 31-yard gain.
That set up Trinity Dawson's 2-yard leap into the end zone that cut Pitt's lead to 31-28 with 6:45 remaining.
Neither team could establish its running game, forcing the quarterbacks to take over. And both were up to the task.
Rutherford picked up apart Toledo's defense, spreading the ball among all his receivers. He finished with 315 yards passing and four touchdowns, but he also had two interceptions in the second half that kept Toledo in the game.
Harris blamed the two interceptions on himself.
"We got greedy," he said. "Part of it was my fault."
Pitt all but abandoned its running game on a third quarter drive that started when Larry Fitzgerald made a leaping 36-yard catch with two defenders hanging on him.
Six plays later, Rutherford hit tight end Kris Wilson for a 5-yard touchdown -- his third scoring catch of the night that put Pitt ahead 31-21.
Fitzgerald, one of the nation's best receivers, finished with 201 yards receiving but was held to just one touchdown.
Wilson, often overshadowed by Fitzgerald in Pitt's pass offense, made a pair of nifty catches for touchdowns in the first half.
He leaped above Toledo's Patrick Body on a 20-yard scoring catch for the Panthers' first TD and made a sliding catch in the back of the end zone that gave Pitt a 17-7 lead with 5:02 left in the first half.
It looked like Pitt was ready to take control, but Toledo answered in just four plays.
Gradkowski hit Moore on a short curl pass over the middle and Pitt defensive back Keon Jackson slipped trying to make the tackle, allowing Moore to break free untouched for a 53-yard touchdown.
Moore ended up with 15 receptions for 162 yards.
Team Stat Comparison
| | PITT | TOL |
| --- | --- | --- |
| 1st Downs | 21 | 33 |
| Total Yards | 389 | 551 |
| Passing | 315 | 461 |
| Rushing | 74 | 90 |
| Penalties | 8-40 | 5-40 |
| 3rd Down Conversions | 5-12 | 7-16 |
| 4th Down Conversions | 1-1 | 2-2 |
| Turnovers | 2 | 2 |
| Possession | 28:28 | 31:32 |
Scoring Summary
FIRST QUARTER
PITT
TOL
TD
3:37
KRIS WILSON 20 YD PASS FROM ROD RUTHERFORD (DAVID ABDUL KICK)

Drive info: 3 plays, 85 yards.

7
0
TD
0:07
TRINITY DAWSON 4 YD RUN (JASON ROBBINS KICK)

Drive info: 9 plays, 80 yards.

7
7
SECOND QUARTER
PITT
TOL
FG
9:42
DAVID ABDUL 29 YD FG

Drive info: 11 plays, 68 yards.

10
7
TD
6:14
KRIS WILSON 5 YD PASS FROM ROD RUTHERFORD (DAVID ABDUL KICK)

Drive info: 3 plays, 7 yards.

17
7
TD
5:02
LANCE MOORE 53 YD PASS FROM BRUCE GRADKOWSKI (JASON ROBBINS KICK)

Drive info: 4 plays, 80 yards.

17
14
TD
1:40
LARRY FITZGERALD 9 YD PASS FROM ROD RUTHERFORD (DAVID ABDUL KICK)

Drive info: 9 plays, 80 yards.

24
14
THIRD QUARTER
PITT
TOL
TD
10:35
TRINITY DAWSON 11 YD PASS FROM BRUCE GRADKOWSKI (JASON ROBBINS KICK)

Drive info: 14 plays, 82 yards.

24
21
TD
2:43
KRIS WILSON 5 YD PASS FROM ROD RUTHERFORD (DAVID ABDUL KICK)

Drive info: 7 plays, 70 yards.

31
21
FOURTH QUARTER
PITT
TOL
TD
6:45
TRINITY DAWSON 2 YD RUN (JASON ROBBINS KICK)

Drive info: 12 plays, 98 yards.

31
28
TD
0:43
LANCE MOORE 9 YD PASS FROM BRUCE GRADKOWSKI (JASON ROBBINS KICK)

Drive info: 15 plays, 83 yards.

31
35