1:30 PM ET, October 4, 2003
LANDOVER, Md. (AP) -- It was a payback six years in the making.
And now, after shocking previously unbeaten Air Force 28-25 Saturday, resurgent Navy is poised to win the coveted Commander-In-Chief's Trophy for the first time in 22 years.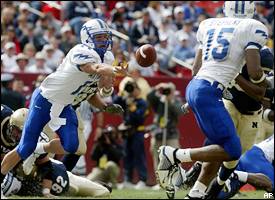 Navy pitched Air force QB Chance Harridge and RB Darnell Stephens overboard.
Kyle Eckel ran for a career-high 176 yards and a touchdown, and Craig Candeto accounted for two scores as the Midshipmen thrilled the crowd of 30,623 at FedEx Field.
Navy (3-2) had lost six straight to the Falcons (5-1), including a 48-7 rout last season.
"After last year's game, they said they wanted to send us a message," Navy coach Paul Johnson said. "Got it. Back at 'em."
The victory put the Midshipmen in excellent position to win the Commander-In-Chief's Trophy, awarded to the team with the best record in games between the three major service academies. Navy can collect the trophy for the first time since 1981 by beating Army on Dec. 6.
"That trophy means everything to our team," Eckel said. "It would be huge."
Said Johnson: "We have a goal to try and win the trophy, and now we can play for it. This is not a season-ender; it just puts you in position."
Air Force (No. 25 ESPN/USA Today) has captured the award every year since 1996, winning 12 straight games against its two biggest rivals before Saturday. But on this day, Eckel was just too much to handle.
"Their fullback game was devastating, and we just couldn't stop them," Falcons coach Fisher DeBerry said. "They beat us at our own game."
The teams entered ranked 1-2 in the nation in rushing. Navy, which started No. 1, finished with 294 yards on the ground compared with 275 for Air Force.
The Midshipmen never trailed after scoring two touchdowns in a 48-second span of the second quarter to take a 14-3 lead.
"If you can get up big early, that gives you confidence," Candeto said. "It did today."
Navy went up 21-10 by moving 82 yards in 14 plays on the opening possession of the second half.
"The story of the game was the start of the second half," DeBerry said. "We had to stop them, and they drove the length of the field."
The Midshipmen converted three third-down plays before Tony Lane caught a 10-yard touchdown pass -- Candeto's first completion of the day.
Candeto rushed for 65 yards, and the 28 points were the most by Navy against Air Force since 1993.
Air Force got to 21-18 when Brett Walker recovered a fumble by Falcons quarterback Chance Harridge in the end zone with 14:09 remaining and Joe Schieffer ran in the two-point conversion.
Navy answered with a 13-play, 71-yard drive in which Eckel gained 55 yards on eight carries. The junior fullback scored from the 4 on a fourth-and-1 giving Navy a 10-point cushion with 7:35 left.
Eckel carried 33 times, also a career high.
Harridge scored from the 1 with 20 seconds remaining to get the Falcons to 28-25, but Navy recovered the onside kick.
Air Force took the opening kickoff and moved 55 yards in 13 plays before being stopped on downs at the Navy 20. After forcing a punt the Falcons again held the ball for 13 plays, this time getting a 26-yard field goal by Joey Ashcroft.
The Midshipmen scored twice in rapid-fire fashion to go up by 11.
First, Navy put together a 15-play march that featured 14 runs -- nine by Eckel and five by Candeto, who bulled into the end zone from the 2.
After the kickoff, Shalimar Brazier picked off a Harridge overthrow and returned it 28 yards to the Air Force 4, setting up a 3-yard TD run by Michael Brimage.
The Falcons responded with a 1-yard, fourth-down touchdown run by Harridge, and Ashcroft missed a 37-yard field goal in the final minute of the half.