2:30 PM ET, October 18, 2003
Jordan-Hare Stadium, AUBURN, AL
AUBURN, Ala. (AP) -- Carnell Williams' first touchdown was probably his best, a tackle-breaking, 72-yarder in the opening minutes.
Williams added five more TDs and broke the school record as Auburn (No. 25 ESPN/USA Today, No. 19 AP) beat Mississippi State 45-13 on Saturday.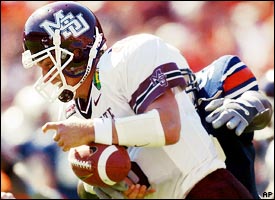 AP Photo
Mississippi State and Kevin Fant might have had a chance if Carnell Williams hadn't kept getting the ball.
"That long run was about as pretty as they get," Auburn coach Tommy Tuberville said.
Williams had five touchdowns in the first half in a scoring spree even Auburn's most famous back, Bo Jackson -- watching from a luxury suite -- never managed.
"That's the most I've ever scored," said Williams, who broke Joe Cribbs' 25-year-old school record and gained 161 yards despite carrying only twice in the second half. Williams scored his six TDs on just 15 carries.
Brandon Jacobs carried 31 times for a career-high 182 yards for the Tigers (5-2, 4-0 SEC), who have won five straight in their drive for the SEC West title.
The blowout came a day after Mississippi State coach Jackie Sherrill announced he would retire following the season, his 13th with the Bulldogs (2-5, 1-2), and emphasized just how far the program has fallen in recent years.
Sherrill declined to discuss his decision to retire, but wasn't nearly so reticent about the Tigers.
"We felt Auburn may be the best team we've seen this year," he said. "They dominated us on both sides of the ball right off the bat. They attacked us at all angles and we didn't do a good job of tackling."
Mississippi State has lost 10 straight SEC road games and trailed 38-7 by halftime, unable to even slow Williams and Jacobs or sustain anything offensively.
Tuberville and Sherrill developed a rivalry during the Auburn coach's days at Mississippi. They only spoke briefly after the game.
"Obviously he decided he'd had enough," Tuberville said. "That's about all I can say."
Williams broke the record with a 6-yarder with 3:01 left in the third after Jacobs did most of the work moving downfield.
He was only the third player in SEC history to score six touchdowns, joining Madre Hill of Arkansas and Mississippi's Showboat Boykin, the latter holding the league mark with seven against Mississippi State in 1951.
Auburn rushed for 405 yards on 56 carries, the most since the Tigers gained 413 against Florida State in 1985. The Tigers had 410 total yards before halftime.
"We've just got this vibe going, that we're going to go out Saturday and get it done," Williams said.
He got it going with a dazzling 72-yarder early, bowling over linebacker Clarence McDougal downfield and winning a footrace for the end zone.
"Those guys up front, they just came off the ball," said Williams, who had four-touchdown days in high school and junior high. "They got me to the second defender, and it's always my job to make that guy miss or run over him."
Williams also scored on runs of 3, 22, 17 and 2 yards in the first 18 minutes and had 154 yards.
It was the first time the Tigers have had two 100-yard rushers since 1995, when Stephen Davis and Eric Hines-Tucker did it against Northeast Louisiana. Jacobs, a junior college transfer, was subbing for injured second-teamer Ronnie Brown.
The Bulldogs got Nick Turner's 77-yard TD run in the first quarter, but little else in the first half. Fant, the league's No. 2 passer, was 8-of-22 for 73 yards with an interception.
"They knocked me dizzy," Fant said. "They are a great, big, hard-hitting team."
The Tigers started racking up the big plays early, getting three of 30 or more in the first quarter.
Williams has gained 517 yards in the past three games and could claim his third straight SEC offensive player of the week honor.
"Auburn's offensive line beat our defensive line badly," Bulldogs linebacker T.J. Mawhinney said. "They dominated us from the start of the game to the finish."
Team Stat Comparison
| | MSST | AUB |
| --- | --- | --- |
| 1st Downs | 15 | 25 |
| Total Yards | 294 | 553 |
| Passing | 192 | 148 |
| Rushing | 102 | 405 |
| Penalties | 9-58 | 7-65 |
| 3rd Down Conversions | 1-12 | 8-14 |
| 4th Down Conversions | 0-1 | 1-1 |
| Turnovers | 3 | 2 |
| Possession | 26:23 | 33:37 |
Scoring Summary
FIRST QUARTER
MSST
AUB
TD
10:39
CARNELL WILLIAMS 72 YD RUN (JOHN VAUGHN KICK)

Drive info: 2 plays, 88 yards.

0
7
TD
8:09
CARNELL WILLIAMS 3 YD RUN (JOHN VAUGHN KICK)

Drive info: 3 plays, 47 yards.

0
14
TD
7:18
NICK TURNER 77 YD RUN (BRENT SMITH KICK)

Drive info: 2 plays, 92 yards.

7
14
SECOND QUARTER
MSST
AUB
TD
14:39
CARNELL WILLIAMS 22 YD RUN (PHILIP YOST KICK)

Drive info: 6 plays, 57 yards.

7
21
TD
12:33
CARNELL WILLIAMS 17 YD RUN (PHILIP YOST KICK)

Drive info: 4 plays, 36 yards.

7
28
TD
4:05
CARNELL WILLIAMS 2 YD RUN (PHILIP YOST KICK)

Drive info: 11 plays, 58 yards.

7
35
FG
0:00
PHILIP YOST 42 YD FG

Drive info: 4 plays, 49 yards.

7
38
THIRD QUARTER
MSST
AUB
TD
3:01
CARNELL WILLIAMS 6 YD RUN (PHILIP YOST KICK)

Drive info: 5 plays, 31 yards.

7
45
FOURTH QUARTER
MSST
AUB
TD
8:15
JUSTIN JENKINS 18 YD PASS FROM KYLE YORK (FAILED 2PT PASS)

Drive info: 5 plays, 73 yards.

13
45