10:15 PM ET, November 16, 2013
Bronco Stadium, Boise, ID
Top Performers
Passing: G. Hedrick (BSU) - 265 YDS, 3 TD, 1 INT
Rushing: J. Ajayi (BSU) - 11 CAR, 70 YDS, 3 TD
Receiving: M. Miller (BSU) - 7 REC, 143 YDS, 3 TD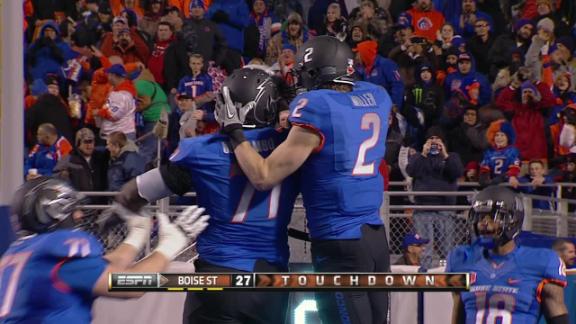 Mat Miller Makes Juggling 45-yd TD Catch
Grant Hedrick pass complete to Matt Miller for 48 yards for a TOUCHDOWN, WYOMING penalty Pass Interference declined.
Mat Miller Makes Juggling 45-yd TD Catch
VIDEO PLAYLIST
BOISE, Idaho -- Jay Ajayi rushed for three touchdowns and quarterback Grant Hedrick threw for three more scores as Boise State rolled to a 48-7 victory over Wyoming Saturday night, the Broncos seventh straight victory over the Cowboys.
The Broncos put the game away early and scored 48 unanswered points after the Cowboys took an early 7-0 lead on their second possession of the game.
Ajayi rushed for 70 yards on 11 carries and scored on runs of 22, 12 and 2 yards, and freshman running back Devan Demas led the team with 73 yards rushing on 12 carries.
Hedrick, who is 3-1 since taking over after starter Joe Southwick injured an ankle a month ago, completed 27 of 36 passes for 265 yards before leaving late in the third quarter. All three of his TD tosses went to receiver Matt Miller, the first a 14-yarder that put Boise State up 14-7 late in the first quarter.
Then early in the second quarter, Hedrick fired a 48-yard pass to Miller, who outmuscled the defender near the goal line and walked into the end zone. The duo connected again on a 5-yard scoring toss that put the Broncos up 45-7 with 1:46 left in the third quarter.
Miller finished with seven catches for 143 yards, and Shane Williams-Rhodes had 11 catches for 79 yards to lead a Broncos offense that rolled up 524 total yards on offense.
After scoring early, Wyoming (4-6, 2-4) struggled to move the ball consistently against the Broncos defense and have now lost five of their last six games. Wyoming came into the game with one of the nation's most productive offenses, putting up an average of 491.8 yards and 33.6 points per game.
But for the second straight week, the offense did little to help a defense that gave up 48 points a week ago to Fresno State.
Quarterback Brett Smith was 27 of 39 for 207 yards and one touchdown. But Smith also threw two costly interceptions, was sacked three times and under pressure most of the game. The Cowboys also lost two fumbles and were held to just 265 total yards on offense.
Wyoming got the game's first break when defensive end Eddie Yarbrough stripped the ball from Hedrick near midfield and Patrick Mertens fell on the ball at the Boise State 46-yard line. Smith, with the help of a roughing penalty, moved the Cowboys into the red zone then fired a 19-yard TD pass to a wide open Robert Herron, putting Wyoming up 7-0 early.
Then Boise State's offense got on track.
On their third possession of the game, Hedrick, starting at the Boise State 45-yard-line, quickly moved the offense down the field, completing three straight passes to Rhodes to get to the Wyoming 22-yard-line. Ajayi then faked a reverse to Rhodes and ran around end 22 yards untouched for the tying score.
The Broncos then scored on their next three possessions to take a 28-7 lead into the half.
Boise State also got a pair of field goals from Dan Goodale. His 47-yarder in the third quarter that put the Broncos up 31-7 was the longest since Kyle Brotzman hit from 50 yards Nov. 19, 2010, against Fresno State.
Team Stat Comparison
| | WYO | BSU |
| --- | --- | --- |
| 1st Downs | 17 | 28 |
| Total Yards | 265 | 524 |
| Passing | 210 | 283 |
| Rushing | 55 | 241 |
| Penalties | 4-32 | 6-63 |
| 3rd Down Conversions | 5-15 | 9-19 |
| 4th Down Conversions | 0-3 | 1-1 |
| Turnovers | 4 | 3 |
| Possession | 25:47 | 34:13 |
Scoring Summary
FIRST QUARTER
WYO
BSU
TD
11:01
Robert Herron 19 Yd Pass From Brett Smith (Stuart Williams Kick)
7
0
TD
06:09
Jay Ajayi 22 Yd Run (Dan Goodale Kick)
7
7
TD
00:49
Matt Miller 14 Yd Pass From Grant Hedrick (Dan Goodale Kick)
7
14
SECOND QUARTER
WYO
BSU
TD
14:51
Jay Ajayi 12 Yd Run (Dan Goodale Kick)
7
21
TD
10:14
Matt Miller 48 Yd Pass From Grant Hedrick (Dan Goodale Kick)
7
28
THIRD QUARTER
WYO
BSU
FG
12:23
Dan Goodale 47 Yd
7
31
TD
11:59
Jay Ajayi 2 Yd Run (Dan Goodale Kick)
7
38
TD
04:24
Matt Miller 5 Yd Pass From Grant Hedrick (Dan Goodale Kick)
7
45
FOURTH QUARTER
WYO
BSU
FG
04:17
Dan Goodale 35 Yd
7
48