8:30 PM ET, January 2, 2014
Mercedes-Benz Superdome, New Orleans, LA
Trevor Knight throws for 4 TDs as Sooners upend Bama in Sugar Bowl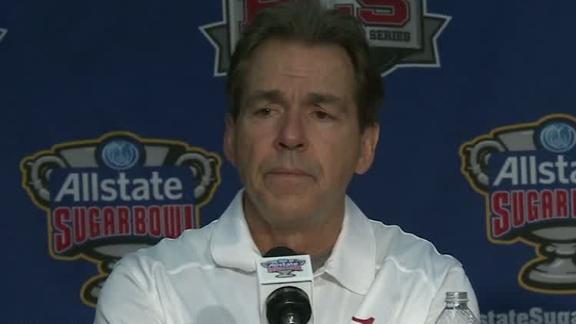 Nick Saban Talks Bowl Loss
Alabama coach Nick Saban comments on his team's 45-31 loss to Oklahoma in the Sugar Bowl.
Nick Saban Talks Bowl Loss
VIDEO PLAYLIST
NEW ORLEANS -- Hello, Trevor. Farewell, AJ.
Trevor Knight's final start as a freshman sent Oklahoma's expectations soaring into 2014 while bringing a sour end to AJ McCarron's otherwise-charmed Alabama career.
Knight completed a Sugar Bowl-record 32 passes for 348 yards and four touchdowns, and No. 11 Oklahoma took down the third-ranked Crimson Tide 45-31 on Thursday night.
More from ESPN.com

With a dominant win over Alabama, Oklahoma and its young quarterback proved the Sooners are back and here to stay, Jake Trotter writes. Blog
---

It wasn't a matter of Bama not being motivated, and it wasn't for lack of talent. Alabama was just outdone at its own game, Edward Aschoff writes. Blog
• Grantland: Saban's worst nightmare • Stats & Info: Sooners score big upset • Recruit & return: Bama

| OU


• Sugar Bowl Index
"It's huge for our program, to get a win like this after no one gave us a chance all year," Knight said. "We've got to ride this into next year. We can't settle with this. ... We want the big one."
Oklahoma coach Bob Stoops had declined to announce a starting quarterback before the Allstate Sugar Bowl, and when Knight took the field on the Sooners' first possession, Alabama's defenders couldn't have anticipated what was in store.
Knight's completion percentage entering the game was 52.2. He had completed 47 passes all season before a breakout performance in which two of his TDs went for more than 40 yards.
Oklahoma (11-2) needed him to play that well in the 80th Sugar Bowl, the first in which the quarterbacks for both teams threw for more than 300 yards.
The victory was a sweet one for Stoops, who last offseason called talk about the Southeastern Conference being the best league in college football "propaganda."
"I have the utmost respect for Alabama, and I think this shows that obviously we can play with anybody," Stoops said. "So, enough of that. And I just watched them go through their entire conference and play pretty well. I'm not pointing any fingers. But I think sometimes the comparisons aren't necessarily very true."
His Big 12 team vanquished an Alabama squad that had been ranked No. 1 much of the past three seasons, winning the previous two national titles before its shot at a third straight was derailed by rival Auburn on the last play of the Iron Bowl in late November.
Coach Nick Saban didn't buy the notion that his team, favored by 16 points, was too deflated from its loss to Auburn to play up to its standard.
"I actually thought that the players responded in practice pretty well for this game," Saban said. "We put over 500 yards of offense up. Somebody had to do something right. I don't think that we played as well on defense as we're capable of or should have."
Stoops vs. SEC
Oklahoma coach Bob Stoops hasn't always had as much success against the SEC as he did Thursday night. Here's the Sooners' record in bowl games against SEC opponents during his tenure:
Opponent
Result
2014 Sugar Bowl
Alabama
W by 14
2013 Cotton Bowl
Texas A&M
L by 28
2009 BCS Championship*
Florida
L by 10
2004 Sugar Bowl*
LSU
L by 7
2002 Cotton Bowl
Arkansas
W by 7
1999 Independence Bowl
Ole Miss
L by 2
*National championship games; Oklahoma was ranked No. 1 in both
-- Source: ESPN Stats & Information
McCarron passed for 387 yards and two TDs, but his two interceptions set up Oklahoma TDs, and his fumble, returned for a score in the final minute, sealed Alabama's first two-game skid since its Sugar Bowl loss to Utah in January 2009.
"Put it all on me. I had two turnovers, (Oklahoma) ended up scoring 14 points and we lost by 14," said McCarron, who won 36 of his first 38 games before losing his last two. "It's football. It happens. I wish it wouldn't have happened, but I'll definitely take the loss and definitely take the blame, because a lot of it is probably my fault."
Freshman Derrick Henry's 43-yard run in the third quarter pulled Alabama to 31-24, and the Crimson Tide (11-2) forced four punts while giving up only one first down in the third quarter. But Alabama was unable to add another score before the Sooners started moving the ball again.
Knight lofted a perfect pass to Lacoltan Bester for a 34-yard gain to the Alabama 9. Shortly after, Knight rolled left all the way to the sideline before rifling a touchdown strike to Sterling Shepard, making it a two-touchdown game again with 10:44 left.
"The game has started to slow down for him where he's really starting to feel comfortable in what he can do," Stoops said of Knight.
Henry, a 6-foot-3, 238-pound true freshman, pulled Alabama within a score once more when he turned his first career reception into a tackle-shedding, 61-yard TD with 6:22 to go.
But Oklahoma was able to burn several minutes off the clock, and then the Sooners registered their seventh sack when Eric Striker stripped McCarron, and Geneo Grissom returned the ball 8 yards for a score.
Both teams entered the game with defenses ranked in the top 15 nationally, but quarterback play dominated a first half highlighted by five passing plays of 43 yards or longer, three of which went for scores.
Alabama took the opening kickoff and scored in four plays. McCarron hit Amari Cooper for 15 and 53 yards, and T.J. Yeldon ran it in from the 1.
SportsNation: AJ McCarron's NFL future?

AJ McCarron is done as Alabama's QB. Where should he be drafted? What type of NFL player will he be? Vote! »
Knight's first series ended when Alabama's Landon Collins made a diving interception of a tipped pass, but Oklahoma got it right back when Gabe Lynn picked off McCarron's pass on the next play. One play later, Knight found Bester down the right sideline for a 45-yard score.
The Sooners took their first lead when Knight found Jalen Saunders, who reached the ball across the goal line as he was being brought down.
"It's all about just getting in that rhythm, hitting a few shots early," Knight said. "The more snaps you get, the more comfortable you are."
McCarron's pinpoint pass over the middle to DeAndrew White for a 67-yard TD restored Alabama's lead early in the second quarter.
The Sooners tied it at 17 on Michael Hunnicutt's 47-yard field goal, then cashed in on two more turnovers.
Alabama appeared on the verge of a go-ahead score when Yeldon fumbled on the 8. The Sooners then reached midfield, where they converted a fourth-and-1. On the next play, Knight hit Saunders in stride down the right sideline for a 43-yard score.
McCarron's second interception, snagged by Zack Sanchez and returned to the 13, set up Shepard's 13-yard TD around the right end.
Photo Wire
NEW ORLEANS, LA - JANUARY 02: Head coach Nick Saban of the Alabama Crimson Tide arrives at the stadium before...
(Photo by Streeter Lecka/Getty Images)
Bowl Overview
It was over when... Trailing by a touchdown with less than a minute to play, AJ McCarron was hit and fumbled. Oklahoma recovered it and took it into the end zone.
Gameball goes to... Trevor Knight. In his fifth career start and against one of the nation's best defenses, Knight completed 32 of 44 passes for 348 yards and four TDs.
Stat of the game... 31. Alabama had given up 31 points over an entire game just seven times under coach Nick Saban before this Sugar Bowl. OU had 31 in the first half.
Team Stat Comparison
| | OKLA | ALA |
| --- | --- | --- |
| 1st Downs | 24 | 20 |
| Total Yards | 429 | 516 |
| Passing | 348 | 387 |
| Rushing | 81 | 129 |
| Penalties | 11-95 | 6-45 |
| 3rd Down Conversions | 7-15 | 6-12 |
| 4th Down Conversions | 1-1 | 0-0 |
| Turnovers | 1 | 5 |
| Possession | 30:55 | 29:05 |
Scoring Summary
FIRST QUARTER
OKLA
ALA
TD
13:11
T.J. Yeldon 1 Yd Run (Cade Foster Kick)
0
7
TD
09:43
Lacoltan Bester 45 Yd Pass From Trevor Knight (Michael Hunnicutt Kick)
7
7
FG
07:02
Cade Foster 27 Yd
7
10
TD
01:53
Jalen Saunders 8 Yd Pass From Trevor Knight (Michael Hunnicutt Kick)
14
10
SECOND QUARTER
OKLA
ALA
TD
14:03
DeAndrew White 67 Yd Pass From AJ McCarron (Cade Foster Kick)
14
17
FG
11:45
Michael Hunnicutt 47 Yd
17
17
TD
02:59
Jalen Saunders 43 Yd Pass From Trevor Knight (Michael Hunnicutt Kick)
24
17
TD
01:05
Sterling Shepard 13 Yd Run (Michael Hunnicutt Kick)
31
17
THIRD QUARTER
OKLA
ALA
TD
08:49
Derrick Henry 43 Yd Run (Cade Foster Kick)
31
24
FOURTH QUARTER
OKLA
ALA
TD
10:44
Sterling Shepard 9 Yd Pass From Trevor Knight (Michael Hunnicutt Kick)
38
24
TD
06:22
Derrick Henry 61 Yd Pass From AJ McCarron (Cade Foster Kick)
38
31
TD
00:47
Geneo Grissom 8 Yd Fumble Return (Michael Hunnicutt Kick)
45
31
Research Notes
* Alabama allowed 31 1st-half points to Oklahoma, by far the most allowed under Nick Saban. The previous high was 21 points which the Tide allowed to South Carolina in 2010 and to Utah in the 2009 Sugar Bowl (2008 season)
[+]
The last time Alabama allowed a team to score on 5 consecutive drives IN REGULATION was Oct. 4, 2003, in a loss at No. 11 Georgia. That was the year Nick Saban won his first national championship... As the head coach of LSU.
ESPN Stats & Information