Determining top eight seeds toughest decision in years
Updated:
March 8, 2006, 12:24 AM ET
By
Charlie Creme
| Special to ESPN.com
Editor's note: Charlie Creme will project the 2006 NCAA Tournament bracket all week long into Selection Monday on March 13. Click here for this month's field of 64 Women's Bracketology and Charlie's team-by-team analysis. This projection includes games through March 5.
By the time we've reached this point in the bracketology calendar in recent years, the top teams have separated themselves, the No. 1 seeds are fairly clear and the tougher decisions are toward the middle and bottom of the draw. Even last season, when there was some debate between Michigan State, North Carolina and Stanford for the third and fourth positions on the S-curve, it was just that -- three teams vying for two spots and one decision to make.
But 2006 is different.
Now it's eight teams for seven spots with the separation as thin as lunch meat. In fact, let's use that analogy.
Imagine yourself making a huge sandwich before sitting down to watch more of Championship Week. You pile on the meat, the cheese, the vegetables, the condiments. When the deli masterpiece is done, it stands tall and each layer is easily discernible to the eye. That's what women's basketball usually looks like heading into the final week before the NCAA Tournament field is announced.
In order to actually eat that sandwich, it somehow has to get smaller without taking anything out. So you place your hand on that top piece of bread and push, smushing everything together. Now you can't tell where the ham ends and the turkey starts. That's what the top of the draw looks like this season -- all crunched together. It's hard to tell where Tennessee starts and Oklahoma ends.
It's going to make for a difficult weekend for the selection committee.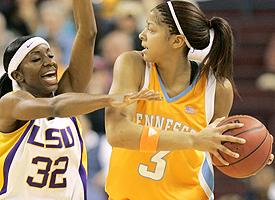 AP Photo/Danny JohnstonSunday's SEC title-game win by Tennessee and Candace Parker might be enough to push the Lady Vols back to a No. 1 seed.
To simplify this as much as possible, let's go with the two parts that are certain: North Carolina is unquestionably the top team on the board and will stay that way; and, as I've written previously, nine teams are separate from the rest.
Here's the S-curve as I see it:
North Carolina
LSU
Duke
Tennessee
Maryland
Rutgers
Ohio State
Connecticut
Oklahoma
So now let's answer some of the "why's?"
Why is Tennessee back to being a No. 1 seed?
The Lady Vols' credentials (nine Top-25 wins, 17 Top-50 wins, No. 2 RPI, No. 1 SOS, 10-2 road record) are top-seed worthy. The doubt surrounded whether they could still play up to that level after losing two point guards (the Florida loss really raised that doubt). Winning the SEC Tournament title and beating two Top-15 RPI opponents in the process answered that question with a resounding yes. Yet, that's how close this really is. One more bucket by LSU (which lost 63-62) on Sunday and things could be different.
Why did Maryland drop?
The Terps didn't drop so much as Tennessee's SEC title vaulted the Lady Vols past Maryland, which had an impressive weekend. It just wasn't as impressive. Movement down a seed line from week to week in bracketology isn't always an indictment of the team that is lower. It might just be that another team did something better. This happens with every new bracket. But the math says there can only be four of each seed, so ultimately someone loses out, which brings us to …
Why is Oklahoma, unbeaten in the Big 12, only a No. 3-seed?
Because of that same simple math, someone has to be No. 3 -- and this season, that's unfortunate. Oklahoma, Ohio State, Rutgers and UConn are all very close. The Sooners, Buckeyes and Scarlet Knights all have five wins against the RPI Top-25, all played tough schedules and all are on big winning streaks. Among the four, the Huskies still have the highest RPI, the best SOS and the most Top-50 wins. So … why OU? The Sooners lose out in this résumé contest because they have the most road losses in the group and are the only team to lose to an opponent outside of the Top 100. That 86-75 loss at Illinois on Dec. 18 might be what keeps Oklahoma from a top-two seed. It sounds small and nitpicky, but some distinction has to be made. There can only be four No. 2s.
While the race for the top eight seeds will remain very tight, I don't think this will change much in a week because of the way the schedule was designed. The teams currently on the top line of my S-curve have completed their seasons, so they can't fall back. Certainly, a Big East, Big Ten and Big 12 championship bolsters Rutgers or UConn, Ohio State and Oklahoma, but in this case, it likely won't be enough to change the No. 1s. Movement within the two-seeds is quite possible, however, with perhaps someone else besides OU ultimately being the one club left out and pushed to the No. 3-seed line.
That's a decision I'll tackle the rest of the week and the committee will have on its plate all weekend.
Charlie Creme can be reached at cwcreme@yahoo.com.
Women's College Basketball
Charlie Creme projects the women's NCAA tournament bracket for ESPN.com.
MORE WOMEN'S BASKETBALL HEADLINES
MOST SENT STORIES ON ESPN.COM