Commentary
Seven who could challenge UConn
Originally Published:
March 5, 2009
By
Charlie Creme
| Special to ESPN.com
So if no one has been able to beat Connecticut this season, it got us wondering: What combination of players or teams might be able to put up a great fight against the Huskies, whose narrowest victories this season are a pair of 10-point wins.
[+] Enlarge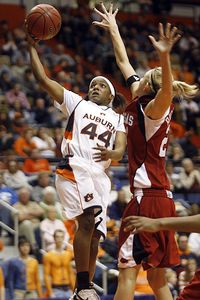 John Reed/US PresswireThe way Auburn's Whitney Boddie takes care of the ball makes her the best point guard to take on UConn.
A look at who might handle the Huskies:
Team competition
Auburn backcourt: Whitney Boddie, DeWanna Bonner and Alli Smalley. This group has been the key to Nell Fortner's bringing the Tigers back to prominence. With two seniors and a sophomore with 46 starts, they are experienced and know what success feels like.
Any team that is going to beat UConn needs to take care of the basketball against the Huskies' under-discussed defense, and Boddie is as efficient (2.5 assists per turnover) as they come. Bonner, who is officially listed as a guard, is 6-foot-4 and simply one of the nation's best players, someone talented and versatile enough to command UConn's attention at all times. Smalley is the shooter and a great threat to keep the Huskies' defense off the …
… Stanford frontcourt: Jayne Appel, Kayla Pedersen and Jillian Harmon. Having beaten UConn in last season's national semifinals, this might be the one collection of players not completely intimated by the Huskies' dominance. And at 6-4, 6-4 and 6-1, the Cardinal frontcourt also has the size to make things difficult on the interior for any opponent, Connecticut included.
Appel might be the only big in the country who can go toe-to-toe with Tina Charles on both ends of the floor. Some nights, Appel is even the better player. That alone might give this collection a fighter's chance.
Individual components
Point guard, Whitney Boddie, Auburn: The senior takes care of the ball, which is a must against UConn's athleticism.
HOW TO BEAT UCONN

Since no one has been able to beat UConn this season, it made us wonder: What combo of players or teams might top the Huskies?
• Charlie Creme »
• Graham Hays »
• Mechelle Voepel »
Shooting guard, Kristi Toliver, Maryland: The senior shifts over to the 2-guard spot where she began her career. No other guard in the country has her moxie and swagger. She has been in as many big games as any member of the Huskies and won't be in awe. Plus, on any given night, Toliver can outgun anyone, even UConn.
Small forward, Alysha Clark, Middle Tennessee: A small forward who can score consistently from the low post could give UConn problems. In the Big East, the Huskies haven't seen the quickness in the low block that Clark brings. Clark gets the nod for her prolific scoring (nation-best 26.1 ppg) and the unique nature in which she does it.
Power forward, Jayne Appel, Stanford: The 6-4 Appel knows the drill against the Huskies. With the win over UConn in last spring's Final Four under her belt, the junior wouldn't be intimidated. Plus, with Appel on the floor, it's one of the few times when Charles isn't automatically the best big.
Center, Allyssa DeHaan, Michigan State: Perhaps no player in the country has the ability to change the game the way 6-9 DeHaan can. Sure, she has flaws in her game, but with this talent around her, DeHaan's only duty would be to protect the rim. She could be a great source of frustration for the Huskies' frontcourt, and her presence would let Appel really go to work on the glass.
Bench, Jantel Lavender, Ohio State: DeHaan would have limited minutes, and Lavender provides a different game and look in the post, as well as a more physical presence.
Bench, Jareica Hughes, UTEP: Her quickness could really help change the pace, although only in spurts. Trying to run with UConn consistently is asking for trouble.
Charlie Creme can be reached at cwcreme@yahoo.com.
Women's College Basketball
Charlie Creme projects the women's NCAA Tournament bracket for ESPN.com.
SPONSORED HEADLINES
MORE WOMEN'S BASKETBALL HEADLINES
MOST SENT STORIES ON ESPN.COM