Commentary
Bracket close to taking final shape
Even last few spots on the bubble are becoming clear
Originally Published:
March 8, 2010
By
Charlie Creme
| Special to ESPN.com
Selection Monday is a week away. Some areas of the bracket are locked down. Others need only one more nail. Just a few others are merely being held in place by our free hand while we look around for the hammer. Any sudden movements, and a team can free itself and shift or fall before it can be secured. That's the nature of college basketball in March, at least from a woodworking perspective.
[+] Enlarge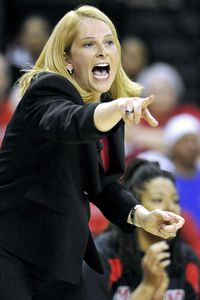 AP Photo/Gail BurtonBrenda Frese and Maryland likely won't receive an at-large NCAA tournament bid.
Carpentry analogies aside, changes will still happen, but much more appears secure at this point than normal. So what's set and what will move?
No. 1 seeds
Lock these up and throw away the key. Use permanent marker on your bracket. Nothing will change on the top line, which has Connecticut, Tennessee, Nebraska and Stanford as 1-seeds. Even the Huskers or Cardinal losing in the first game of their league tournament wouldn't knock it from the top-seed perch. Remember, there can be only four of these, and none of the aforementioned teams is going anywhere, so the race for the No. 1 seeds is done.
No. 2 seeds
These are a little more fluid. Mark down Duke and Notre Dame. The Blue Devils are two-time winners in the ACC. Even if the Irish lose their next game, it will be to UConn. That's three of their five losses to a team that might never lose this season. Notre Dame's other two losses occurred without one of its best players, Lindsay Schrader.
Ohio State, after its doubleheader of Big Ten hardware, is only slightly more vulnerable. Its résumé is more than sufficient, but neither its losses nor its wins were quite as impressive as those of Notre Dame or Duke. Yet it would take both West Virginia stunning UConn to win the Big East title and either Texas A&M or Oklahoma winning the Big 12 tournament to knock the Buckeyes from a 2-seed. That's because Xavier is the No. 2 hanging by a thread.
The Musketeers haven't lost in the Atlantic 10 but haven't played their best down the stretch. It won't take as much to bump them. Even with an A-10 tournament championship, Xavier could be supplanted by West Virginia (as long as Connecticut doesn't leave tire tracks on the Mountaineers' backs should the two meet in Tuesday's Big East final) or either of those Big 12 clubs if they reach the finals of their conference tournament, which opens Thursday.
One more note on Ohio State. Remember, thinking that the Buckeyes don't look like they are ready for March or feeling like they won't do well in the NCAA tournament is not criteria for their seed. That's based on what they've done. And this season, they've likely done enough to be a No. 2.
BRACKETOLOGY
Charlie Creme's most recent field of 64, through games as of Sunday night, includes eight teams from the Big East and seven apiece from the ACC and Big 12. The No. 1 seeds are Baylor, Connecticut, Duke and Tennessee. Bracketology
Bubble
The weakness of the back end of the at-large pool has been well documented in this space and elsewhere. Interestingly, though, the last few spots look pretty clear at this point. Michigan is the last team in. Everyone else on the "last four in" list -- Iowa, Rutgers and Vermont -- has done something in the past week to make a stronger case. The Hawkeyes and Catamounts reached conference tournament finals. Rutgers upset Georgetown to reach Monday's Big East semifinals. That's playing your way in. Michigan looks to be the only tenuous pick in the bunch. Then again, look at what else is left:
• Boston College: The Eagles do have eight top-50 wins, and that could be reason enough to pick them over Michigan. But it's difficult to get past the three bad losses and 17-15 record. Not since NC State in 2004 has a team merely two games above .500 received an at-large bid. Still, BC is a close call up against the Wolverines. The difference is Michigan has a win over the Eagles.
• Texas Tech: You just can't lose to a sub-100 RPI opponent (Missouri) when fighting for a spot in the field. That weekend loss killed the Lady Raiders. A big run in the Big 12 tournament could resurrect Tech, but it would have to be big, as in beating Nebraska in the quarterfinals.
• Maryland: The Terps just don't have a résumé of quality wins and can no longer help themselves.
• Syracuse: The Orange really aren't close, but that just illustrates how thin the back of the line is. Syracuse is listed as four spots from the tournament but can't really be seriously considered. Perhaps a better showing against UConn on Sunday would have helped the cause, but the Orange weren't competitive for even a second.
San Diego State and Arizona State have the opportunity to win some more games, but the two have a combined one top-50 win.
Where the bubble gets interesting this season is in the mid-major tournaments. The Mountain West provides the typical bid-stealing opportunity if someone other than TCU wins it, so Iowa, Michigan, Boston College and Texas Tech will be rooting for the Lady Frogs to prevail.
But flip it around in the CAA and Sun Belt. Usually, the mid-majors steal bids, but this season in those two leagues, they could give bids back. Right now, Old Dominion and Arkansas-Little Rock are in because they are the top seeds in their leagues, with James Madison and Middle Tennessee taking up two at-large slots. However, neither the Trojans nor Lady Monarchs really have the credentials to earn at-large bids themselves. So, if JMU and MTSU turn out to be tournament champs, ODU and UALR are off to the WNIT, and two more at-larges are on the table.
The mid-majors giving back bids? An interesting twist, eh?
Parting shots
Finally, here are some other thoughts to ponder in these final seven days:
• How will the committee view the Baylor games missed by Brittney Griner and, perhaps more importantly, by Melissa Jones, who has missed a lot of time but is expected back by the NCAA tournament?
• How will the geographies be juggled when there is such sparse representation of Pacific and Mountain time zone teams, but four sub-regionals that will be in Pacific time zone cities when the tournament begins (Tempe goes from Mountain to Pacific next weekend)?
• Keep in mind, someone has to play UConn. Nothing will be manipulated, and no conspiracy theories exist. The committee puts the bracket together with the utmost integrity, following all of the predetermined rules and procedures. Whoever gets placed close to the Huskies will understandably be unhappy, but that doesn't make it unfair.
Charlie Creme can be reached at cwcreme@yahoo.com. Follow him on Twitter.
Women's College Basketball
Charlie Creme projects the women's NCAA Tournament bracket for ESPN.com.
SPONSORED HEADLINES
MORE WOMEN'S BASKETBALL HEADLINES
MOST SENT STORIES ON ESPN.COM