When going gets tough, Duke defense delivers
Updated:
January 24, 2007, 7:11 PM ET
By
Graham Hays
| ESPN.com
KNOXVILLE, Tenn. -- Perfection is nice, but it doesn't leave much margin for error.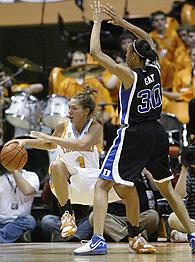 AP Photo/Wade PayneCarrem Gay stopped Sidney Spencer on this play, and her defense overall, particularly on Candace Parker, helped key Duke's 20th win.
Duke played nearly flawless basketball for the first five minutes of Monday's showdown against Tennessee, but the nation's top-ranked team took care of business in its toughest road game to date by backing up that brief display with 35 more minutes of stifling defense to hold on for a 74-70 win.
With the echoes still ringing in the rafters of Thompson-Boling Arena from the pyrotechnics and stereo blasts that greeted the Lady Vols when they took the floor in a lavish pregame celebration, the Blue Devils caught fire and jumped out to a 19-0 lead.
"Not in my coaching career," Tennessee coach Pat Summitt replied when asked if one of her teams had ever faced such an early onslaught. "I hope it's the only one."
As is often the case, the aesthetically pleasing aspects of Duke's game showed up above the surface; they showed up in that opening run and on the scoreboard.
The Blue Devils scored at least 70 points for the 19th time in 22 games this season and became just the fourth team to reach that point plateau against Tennessee. Abby Waner and Lindsay Harding each topped 20 points (Harding had 21 points and Waner led all scorers with 24 -- topping the 20-point mark against a ranked team for the third straight game), a feat only eight opposing players had managed in Tennessee's first 18 games.
But as good as the Blue Devils sometimes look on the stat sheet, they aren't built to outscore teams. Like the action underwater in water polo or backstage at a beauty pageant, the decisive blows in Monday's game were ultimately struck in the less glamorous surroundings of the defensive end. Success on defense not only enabled the Blue Devils to contain Candace Parker; it allowed them to overcome one of the worst exhibitions of blocking out in recent memory.
From the opening tip, the plan appeared to focus on denying Tennessee transition opportunities and disrupting the Lady Vols' continuity in the half-court offense. All of which doesn't sound too cutting edge until you take into account that it means stopping Parker with little more than proper fundamentals.
"We were just changing up our defenses, giving them different looks," coach Gail Goestenkors said. "I thought Carrem Gay did a good job on [Parker] initially, and then Alison Bales was giving her help as well."
Gay was at her best in the first half, sometimes checking Parker by herself when the Blue Devils went to man-to-man defense but always lurking in the background as Tennessee's star tried to get going. Whether it was anticipating Parker's intentions and sliding to a spot a half-step ahead of her or simply getting a long arm in her face on a shot, the sophomore was the salt in the very visible wound on the scoreboard.
"We know that she's their go-to player, so once we get her out of her game, the rest of the team will follow," Gay said. "That was just our game plan, and we tried to stick to it as best we possibly could."
For Gay, it was an opportunity to make the kind of impact on the court that still eludes her on the offensive end. At a practice earlier in the week, Goestenkors loudly implored the soft-spoken underclassman to speak up assertively on offense and demand the ball when she finds herself open down low. But there are no such qualms on defense.
"I take a lot of pride in my defense, and that's where my comfort zone is right now," Gay said. "I'm just getting more confidence on offense, and I'm just being aggressive."
The offense will come (she scored just two points in 27 minutes), but the defense already gives the Blue Devils a replacement -- and in truth, an upgrade -- over what they lost in the knee injuries that continue to sideline Chante Black. Along with fellow freshman Joy Cheek, it provides a defensive versatility against athletic posts that the team didn't always have last season.
The kind of versatility Duke had to have in order to weather the physical punishment Tennessee unleashed with a lineup of Parker, Nicky Anosike, Alexis Hornbuckle, Sidney Spencer and Alex Fuller (the 5-foot-11 Hornbuckle is the only one shorter than 6-3) in the early stages of Monday's eventual rally.
And make no mistake, Tennessee did rally. Fueled by offensive rebounds and 3-pointers, the Lady Vols erased the deficit in the second half. A team that entered the game shooting 39.9 percent from behind the arc (a figure that drops to 35 percent if you take out Spencer's outside touch) and outrebounding opponents by a modest four boards per game applied its considerable talent to both pursuits. In the second half alone, Tennessee hit eight 3-pointers and collected 14 offensive rebounds.
With a crowd of 21,118 roaring its support at every offensive rebound and screaming bloody murder at every perceived slight by the officials, it was the kind of display that could have unnerved just about any visitor.
But for as much as Duke struggled to find a flow on offense in the second half, relying more on the individual brilliance of Harding and bailout shooting of Wanisha Smith, Goestenkors' team never panicked. Because no matter the result on the offensive end, the Blue Devils knew their strength was at the other end.
"Defense is a big thing for us," Gay said. "We just know that once we make stops then we'll just come back and try our best on offense, run our sets and make reads from there."
In the end, it was Summitt, in talking about her own team, who best summed up the night for the team that had just handed her Lady Vols their second loss of the season.
"You have to have real good defense when you don't shoot well from the line, you don't shoot well from three positions on the floor," Summitt said of her team. "And our defense obviously didn't have that much influence."
You also have to have a real good defense to win when you allow 27 offensive rebounds and watch an opponent catch fire and knock down exactly the kind of long-distance shots you would prefer they take.
Duke offered a glimpse of perfection in the first five minutes of Monday's game, but it beat Tennessee with something far more reliable and far less flashy. It won with defense.
Graham Hays is a regular contributor to ESPN.com's women's basketball coverage. E-mail him at Graham.Hays@espn3.com.
espnW.com
Graham Hays covers college sports for espnW, including softball and soccer. Hays began with ESPN in 1999.
MOST SENT STORIES ON ESPN.COM
STORIES FROM HUFFINGTON POST