Rutgers making music again as freshmen adjust
Updated:
February 7, 2007, 8:56 PM ET
By
Graham Hays
| ESPN.com
STORRS, Conn. -- It don't mean a thing if it ain't got that swing.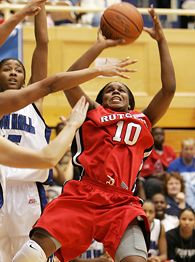 Richard Schultz/WireImage.comAfter a 5-5 start, freshman Epiphanny Prince and Rutgers (14-7) rebounded to win nine of their next 10 games.
A music major who plays four instruments and cites famed producer Quincy Jones as her biggest musical inspiration, Essence Carson would have little difficulty identifying this line as the title of one of Duke Ellington's most famous compositions. As a junior starting for the Rutgers women's basketball team, she's part of a young roster striving to match that sentiment on the court.
Defense has long been the bass line of C. Vivian Stringer's basketball orchestration. For all the individual talent passing through Piscataway, N.J., over the years, the lasting image of Rutgers basketball might be five players making life miserable for opponents throughout most if not all of the 30-second shot clock.
So it's perhaps a little surprising that despite the offensive woes that doomed the Scarlet Knights against rival Connecticut on Tuesday night, keeping the beat on the defensive end has been the team's biggest challenge in the wake of All-American Cappie Pondexter's departure to the run-and-gun stylings of Paul Westhead's quintet in Phoenix and the WNBA.
Pondexter was the best offensive player in the program's history and one of the most talented offensive players in the history of the women's game. As a senior she averaged 21.6 points for a team that averaged just 63.9 points. And her matriculation to the WNBA wasn't even the only hole that needed patching. With only five returning players this season, the Scarlet Knights returned less than half of their point production from last season.
Enter a highly touted freshman class that included Epiphanny Prince, most famous for once scoring 113 points in a single high-school game, and four other top recruits in Brittany Ray, Rashidat Junaid, Myia McCurdy and Dee Dee Jernigan.
"We understood what we were going into once she graduated," Carson said of life after Pondexter. "I mean, she definitely was a tremendous part of our offense, as well as defense, and it's definitely a large part of our scoring gone.
"But I believe that this year's team is the most offensive-minded team that we've had at Rutgers since I've been here, just in the sense that everyone can get it done on the offensive side of the floor."
The problem was all that offensive talent in the incoming class led to a bunch of players who were used to playing extended solos on the court trying to adapt to playing alongside four equals.
"You have to understand that they had no clue what was about to hit them," Carson said of an on-court initiation common to freshmen across the country. "You could definitely tell when we first started the season that they were freshmen, but now I believe they've made tremendous progress. Throughout the entire season they've worked hard, and I believe now they've grown up a little bit."
The team put up 108 points in an exhibition win against the Houston Jaguars but then lost its first two regular-season games, allowing Georgia to shoot 48 percent and Pepperdine 54 percent (including 68 percent in the second half and 83 percent in overtime). By comparison, opponents shot just 36 percent against Rutgers last season.
"They didn't really buy into the defense," sophomore Kia Vaughn said of the newcomers. "But what they didn't understand was defense wins championships and defense wins games."
The Scarlet Knights subsequently stumbled to a 5-5 start, losing by 40 against Duke and dropping road games at DePaul and Old Dominion. Opponents shot 42 percent from the floor, a mark some coaches would accept but hardly in line with what Stringer demands.
"We just have to get the freshmen to understand that it's not all about us scoring as a team," Carson said. "We can score 100 points, but if the other teams scores 101, we still lost."
Without that cornerstone, even the veterans found themselves distinctly out of key.
"I feel comfortable knowing that I can front a post, knowing that one of my helpers, my teammates, like Essence Carson or Heather Zurich, is behind me in case they lob it over," Vaughn explained of the help defense at which Rutgers usually excels. "In certain situations, you might not feel that way, and that makes you hesitate if you don't feel comfortable that your teammates are going to be there."
There hasn't been a magic bullet for fixing the problem, but getting Matee Ajavon back in the lineup was a first step. The team's second-leading scorer last season, and the only player other than Pondexter to average double-digit points, Ajavon missed the start of the season while recovering from offseason leg surgery. As much as she was missed on the offensive end, she brought something equally important upon returning to the lineup.
"She has incredible game experience; she's an incredible point guard with great skill," Carson said. "And just to have her back on the floor, just have another leader back on the floor and another calming factor there. Just to calm the freshmen down when they're out there, just to lead them by example and show them that as long as you remain calm, composed and poised throughout the entire 40 minutes that everything will work out fine."
Tapping into Vaughn offered another piece of the puzzle. The big post came to Rutgers as a McDonald's All-American, but her size had developed more rapidly than her skills. She averaged 6.3 points while starting just 13 of 32 games. It was hardly a disappointing effort -- she averaged seven rebounds and two blocks a game -- but the flashes of even greater potential interspersed between bad fouls and hesitant post moves hinted at the kind of tantalizing skills that players like Ohio State's Jessica Davenport and LSU's Sylvia Fowles have used to anchor programs in the top 10.
"Playing with her over the summer [on the under-20 national team], I think I had a chance to see her play her game a little earlier than the rest of the team, a little earlier than Coach Stringer," Carson said.
"So when Coach Stringer said, 'How did she do? How did she play?' when we were over with USA, I said, 'You're going to be very happy when she comes back.' Because it was like a totally different kid. She was more aggressive on the offensive end, but she still addresses the defensive side of things. She's finishing up on the layups, she's making some moves on the inside, and she's making smart passes outside of double teams."
But even with Ajavon back in action, Vaughn breaking out on the offensive end and Carson playing the best all-around basketball of her three years under Stringer, it took the freshmen buying into the system to get the team on solid footing in time for the Big East season.
"Offensively, they can tell, even when we shoot around and play scrimmages against the guys, that sometimes offensively you're not going to hit," Vaughn said. "But defensively, you can get a steal here or a steal there and get points off of that."
Rutgers went 9-1 in the 10 games following the 5-5 start, following a familiar recipe for success. The team's own shooting percentage hardly moved during the run, and the Scarlet Knights actually averaged almost five fewer points per game during the second 10 games than they had in the first 10. The change came on the other end of the court, where opponents shot just 33 percent from the floor.
With the turnaround came hopes of a third consecutive conference regular-season title. Hopes which were all but dashed in the loss at Connecticut, leaving Stringer to lament that she wasn't sure if she knew how to get through to this team.
The loss was a reminder that this is still a work in progress. The Huskies shot just 39 percent but they generated open looks and pounded the Scarlet Knights on the offensive boards. And the offense, for all its potential, looked lost for large parts of the game.
Ajavon, Carson and Prince are all combo guards capable of playing the point, but their collective inability to generate consistent looks against the variety of defenses thrown their way by the Huskies reinforced the notion that none is really a pure point. Without that distributor, Vaughn spent most of the first half as little more than an onlooker in the low post.
But as bad as things looked to Stringer late on Tuesday night, the light of day might offer a different view of the big picture. Her team played hard, played defense and turned what UConn coach Geno Auriemma had hoped would be an up-and-down game into a slugfest. Stringer's team played Rutgers basketball; they just didn't play it very well. That can be corrected.
Rutgers is still a long way from playing basketball together with the same subtle cohesion that Coltrane and Thelonious displayed when those talents came together at various times on stage. But they're learning their parts and learning to play with one voice.
"There definitely are parallels between music and basketball," Carson said. "Each person can be great individually, but once they come together, if they're not willing to work together, if someone's not willing to give a little less or give a little more, it can sound horrible and on the floor it can look very horrible.
"On the floor, it can look horrendous, I mean, horrific. But as long as everyone is willing to work together, I mean, whether it's music, it sounds beautiful, or whether it's basketball, the flow of the game just looks beautiful."
Graham Hays is a regular contributor to ESPN.com's women's basketball coverage. E-mail him at Graham.Hays@espn3.com.
espnW.com
Graham Hays covers college sports for espnW, including softball and soccer. Hays began with ESPN in 1999.
MORE WOMEN'S BASKETBALL HEADLINES
MOST SENT STORIES ON ESPN.COM
STORIES FROM HUFFINGTON POST