Commentary
New season, new side of Stanford
Updated:
November 12, 2007, 11:31 AM ET
By
Graham Hays
| ESPN.com
PISCATAWAY, N.J. -- Coming down I-95 from New Haven after playing Yale to open the regular season Friday, Stanford coach Tara VanDerveer took note when the team bus passed the World Wrestling Entertainment headquarters, which sits obtrusively next to the roadway as one of the few landmarks along a stretch of urban congestion.
[+] Enlarge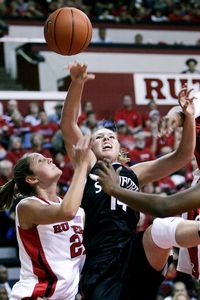 AP Photo/Mel EvansFreshman Kayla Pedersen had 15 points, 16 rebounds and four assists in Stanford's win over No. 3 Rutgers.
The piano-playing coach might not seem like the target demographic for the WWE, but toughness -- even faux toughness -- just seems to be on Stanford's brain this season. And in beating No. 3 Rutgers 60-58 Sunday on a pair of controversial Candice Wiggins free throws with one-tenth of a second on the clock, VanDerveer's team put on a nationally televised display of unscripted toughness that served to usher in a new story line for the perennial Pac-10 powerhouse: The Cardinal are ready to be the big, bad bullies.
They even introduced a new leading character for the basketball world in freshman Kayla Pedersen, who finished with 15 points, 16 rebounds, four assists and at least half a dozen key plays in her second college game.
"It was a battle," VanDerveer said. "I'm really proud of our team for coming in and sticking with things. It was a little ragged, but I think that's because Rutgers makes you play that way. … At the beginning, I thought Kayla really kept us in the game." Most of the 4,307 fans in attendance at the Louis Brown Athletic Center left the building feeling as though the villains -- in the form of the referees as much as the visiting Cardinal -- had deprived them of the happy ending they expected. After Pedersen rebounded Essence Carson's errant 3-pointer in the closing seconds and passed the ball to Wiggins, Epiphanny Prince was whistled for a reach-in foul after she swiped at the ball. There seemed to be little doubt as Wiggins' arms went skyward that Prince had connected with something, but there was also little doubt that similar plays go unpunished on a regular basis in the final tenths of seconds with the offensive player more than half a court from the basket.
Prince-ly effort
PISCATAWAY, N.J. -- Standing near her team's bench in the moments after she was whistled for a foul on Candice Wiggins with one-tenth of a second remaining in a tie game, Rutgers sophomore Epiphanny Prince could only bow her head and stare at the court as a win slipped away from the Scarlet Knights in their home opener. But minutes later in the postgame news conference, Prince had her head up again, forthrightly answering all the questions she had to know would come. "I just didn't think about what I was doing at the time," Prince said of the call. "I shouldn't have played [Wiggins] that aggressive so far away from the basket with so little time in the game." Prince deserved better on this night. People around the Rutgers program universally describe Prince as one of the most likable players on the team. With the media she is generally more reserved, quiet to the point of silence. So even from a neutral perspective, it was a shame to see one ill-advised swipe at the ball wipe out what could have been a coming-out game for her. For all but that final tenth of a second, Prince looked like the best player on the court. Even sharing the stage with an All-American in Candice Wiggins, Prince was the one player on either side that nobody could contain. Time and again she blew by her defender when Stanford tried to play man-on-man, and time and again she sliced into the empty space in Stanford's zone, getting to the basket or opening a look for a teammate. Overshadowed to some degree as a freshman by backcourt mates Matee Ajavon and Essence Carson, Prince showed Sunday, with 21 points, nine rebounds and just two turnovers, why Rutgers' backcourt is going to cause nightmares for opponents on both ends of the court this season. "It's very reminiscent of UCLA's backcourt, back when they had Nikki Blue, Lisa Willis, Noelle Quinn, and everybody was a threat to get to the basket," Wiggins said. "But this is a team that they push it; they go to the rim. So I think that was the hardest thing is they're good jump shooters, but they also go to the basket. On defense you had to just be ready for anything." • Someone who looked remarkably like me sang the praises of Stanford's depth at point guard after the team's season-opening 100-44 romp against Yale. So it's only fair to whistle myself and point out that for much of the second half against Rutgers, the Cardinal turned to Wiggins to run the point, much as they did when injuries erased that depth last season. And after 12 first-half turnovers, the Cardinal had just eight in the second half. "I'm ready for that, just to bring the ball up," Wiggins said. "Like Tara [VanDerveer] said, it was a slow-tempo game, so I was able to just slow it down. … I'm just ready to play any position. I like playing point guard." All told, it was a night to forget for Rosalyn Gold-Onwude (six points and seven turnovers) and Melanie Murphy (no points, no assists) and a reminder that, just seven months removed from ACL surgery, JJ Hones isn't quite ready for postseason pressure. Gold-Onwude will still be a huge factor for Stanford this season, but she's also 18 months removed from her last action in an environment like the one in New Jersey on Sunday. And folks like me need to remember that as she shakes off the rust. • Stanford sophomore forward Michelle Harrison was on crutches for Sunday's game after suffering a knee injury Friday against Yale. The extent of the injury isn't known, and she'll have more tests once Stanford returns home this week.

-- ESPN.com's Graham Hays
In this case, just that single, controversial tenth of a second remained on the clock as Prince bowed her head and Wiggins calmly hit both free throws to seal the win. "I wouldn't say it was a bad call; at the end of the day, you don't come near people like that," Rutgers coach C. Vivian Stringer said after the game. As Stringer also mentioned, the Scarlet Knights earned their place in last year's Final Four only after a regional semifinal win in which Duke's Lindsey Harding missed two free throws in a similar situation. Wiggins said she wasn't sure whether she had been fouled; Prince said she never should have put herself in a position to get whistled in the first place. But as much as the game sometimes pulsed with postseason intensity, it is just the second week of November. In April, the call might have been the biggest story; in November, it's how Stanford put itself in position through 39 minutes, 59 and nine-tenths seconds to benefit from the call at the end. Pedersen, who played the final 10 minutes of the game with four personal fouls, is a perfect symbol of her team's fresh start this season. After a disappointing second-round exit at home in last season's NCAA Tournament, the team, which Wiggins said lacked a certain degree of mental toughness last season, refocused in both mind and body. And Pedersen -- who opened Stanford's scoring in the first half by drawing a foul on a strong move to the basket and closed the game with both the defensive rebound on Carson's miss and an offensive rebound on the previous possession that set up Jayne Appel's tying basket -- is a good fit on both counts. "Kayla is not your typical freshman; she's not your typical basketball player," Wiggins said. "She's competitive. She came in like a leader; she's like a senior, like an upperclassman, because she gets it. She understands basketball; she understands team. … She was not afraid. She attacked the basket. She just was playing like it's basketball, and I love that about her." Practices have taken on a new level of intensity with Pedersen around, especially in the post, where this year's McDonald's All-American recruit goes at it with last year's McDonald's All-American recruit, reigning Pac-10 freshman of the year Appel. So although Stanford certainly suffered at times (20 turnovers) against the constant pressure Rutgers applied with Prince, Carson and Matee Ajavon, and backed up by Kia Vaughn in the post, the Cardinal didn't crack and didn't look unprepared for battle. "In practice, we all push each other," Pedersen said. "We all beat each other to the ground, but team chemistry is great. And as you can see, it correlates to the game." Pedersen wasn't the only newcomer whose impact was felt Sunday night. VanDerveer added assistant coaches Bobbie Kelsey and Kate Paye to her staff after last season. Both were stars at Stanford as much because of their defense and intensity as their points and highlight plays, and both have contributed to the team's new attitude. "I think our coaching staff has just said we're going to coach our kids at a higher level, in terms of being more demanding," VanDerveer said earlier in the weekend. "I think that great programs always do that." For Kelsey, that means demanding defense, such as the 2-3 zone with which Stanford finally slowed the Scarlet Knights after getting picked apart by Ajavon's and Prince's speed early on. "Playing for Tara, I was one of the ones that was on the best offensive player on the other team, so my mind-set is defense," Kelsey said. "And it just goes to show, right at the end here, you've got to get a rebound, you've got to get one-and-done, and these kids really stepped up and did that. And I'm so proud of especially Kayla, a freshman, just ice water in her veins, ready to come out and play." Stanford couldn't defend its own home court in last year's NCAA Tournament. On Sunday, the Cardinal went into hostile territory and beat a team that still has every reason to harbor its own national championship aspirations. Stanford did it by beating Rutgers on the boards, forcing the Scarlet Knights into jump shots in the second half and generally going blow for blow against another heavyweight. "We stayed tough," Wiggins said as she pointed at the golf-ball-size bump already protruding from the right side of her forehead. "I think I'm just so proud of our team, how we stuck together. We're a lot more mentally tough this year."
Graham Hays is a regular contributor to ESPN.com's women's basketball coverage. E-mail him at Graham.Hays@espn3.com.
espnW.com
Graham Hays covers college sports for espnW, including softball and soccer. Hays began with ESPN in 1999.
SPONSORED HEADLINES
MORE WOMEN'S BASKETBALL HEADLINES
MOST SENT STORIES ON ESPN.COM