Commentary
Houston has moment of redemption in Big East final
Updated:
March 12, 2008, 1:18 AM ET
By
Graham Hays
| ESPN.com
HARTFORD, Conn. -- When the horn sounded to end Connecticut's 65-59 win over Louisville in the championship game of the Big East tournament, the crowd on hand at the XL Center let out what sounded like a cheer of relief and the victorious Huskies rather calmly congratulated each other before shaking hands with the Cardinals.
[+] Enlarge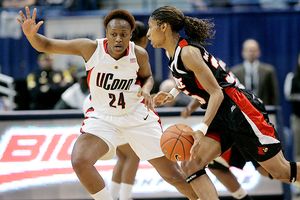 David Butler II/US PresswireIn about seven minutes, Charde Houston scored seven points, grabbed four rebounds and played stellar defense to help the Huskies fight off a Louisville rally and win Tuesday's Big East final.
Then something remarkable happened. The announcement of all-tournament teams and distribution of various trophies at any event is usually an emotional afterthought. So it seemed this night as Connecticut's Renee Montgomery and Tina Charles, Louisville's Candyce Bingham and Angel McCoughtry and Pittsburgh's Marcedes Walker walked to the hastily erected table at midcourt and picked up their plaques to encouraging but hardly deafening applause. But as the last syllable of Charde Houston's name echoed out over the public-address system during the announcement of the tournament's most outstanding player, the crowd erupted and the rest of Connecticut's roster dropped the senior to the ground in an impromptu dogpile before she could take a step toward the awaiting trophy. Four years of frustration, four years of expectations and four years of explanations drifted up in the general direction of the championship banners perched in the rafters. "I was very excited, just because, like she said, she's been through a lot this season," Montgomery said. "She's had to go through so much in the media and in practice. … To see her fight through all the things she's been through and come out MVP of the tournament was just really good to see. Because I feel like she has a strong will and it shows." Houston scored only seven points in a memorable second-half performance, but her team needed all of her final line of 13 points and 11 rebounds in a game in which undaunted Louisville pared a deficit as large as 16 points to just one with five minutes to play. The San Diego native came to the University of Connecticut with a résumé that seemed to foretell countless championships to come. The all-time leading prep scorer in the history of women's basketball in California, she was supposed to be Diana Taurasi's successor. Only it didn't work out quite that way. There were moments right from the start when Houston looked every bit as good as the expectations that awaited her, like when she put up 19 points in 24 minutes to make things interesting in a 68-67 loss against Tennessee her freshman year. But there were far more moments that ended with Houston sitting on the bench, a few chairs and an enormous gulf separating coach and player. After Monday's win over Pittsburgh, which sent his top-ranked and top-seeded Huskies to the final for the 18th time in 20 seasons, Geno Auriemma tried to explain why it sometimes seems as if Houston's focus on the court vanishes in the blink of an eye. Auriemma cracked that magician David Copperfield must sneak unseen into the arena during timeouts, free throws and other lulls in play to enable the disappearing act. Truth be told, there probably were times in her four years when Houston felt more like Charles Dickens' version of Copperfield, a lost soul besieged by Mr. Murdstone. "There's certainly been, you know, highs that are higher than you can imagine, some of the games she's played, and lows that are as low as anybody has ever experienced at Connecticut," Auriemma said. "Some kids never grow out of it. That's their whole careers; that's the story of their career. Highs and lows." By the early stages of this season, with the team's talent ladder replenished by the likes of Montgomery, Charles and Maya Moore, Houston seemed to have become the basketball equivalent of laserdiscs -- once full of promise, now just a reminder of hopes misplaced. But when injuries struck, knocking first Kalana Greene, then Mel Thomas out of the starting lineup with season-ending injuries, Houston once again became a reservoir of potential and of frustration for her coach. "Ever since Kalana and Mel were injured, it's been a real test for us to find how we're going to fill in the blanks there," Auriemma said. "Sometimes we don't have to worry about it because the games just don't lend themselves to it. But you keep thinking, going forward, that at some point, whether it's foul trouble or whether it's players not playing well, it's going to catch up to you. And you're going to need everybody that's available. "And certainly when you look at all the guys on our bench, Charde has the most experience, she has the most ability. It's all contingent on her being able to keep it together for X number of games." That was the case Tuesday night when Auriemma sent Houston to the scorer's table with just less than 10 minutes to play and his team hanging on to a suddenly slim 42-38 lead. She had played well in a quarterfinal win over DePaul and in the semifinal win over Pittsburgh, but neither of those games was ever in doubt after halftime. This game certainly was. After a 3-point attempt from Louisville's Brandie Radde rimmed in and out, Houston corralled Montgomery's missed 3-pointer and put it in for what amounted to a five-point swing. Minutes later, with Connecticut up just two points at 46-44, Moore couldn't convert after she posted up Radde. Louisville collected the rebound with a chance to tie -- until Houston knocked the collected carom out of the Louisville player's hands and hit a layup to push the lead to 48-44. After another 3-pointer from the Cardinals cut the lead to a single point, Houston took a pass on the baseline and converted a smooth up-and-under. On the ensuing defensive possession, she hounded Bingham into a contested jumper at the end of the shot clock.
In about seven minutes of game time, Houston scored seven points, grabbed four rebounds, and played stellar defense against Bingham and McCoughtry.
"She really took on a little bit of a leadership role for the first time," Auriemma said. "And that's one thing Charde's not been able to do in the four years she's been here, is be any kind of leader, because she's had too many struggles with her own self. But I thought today, she actually showed some of those qualities that are going to help her down the road. It's been a long time coming. In two weeks, we're going to see whether or not there's a carryover. I hope there is. But I've always hoped that there was." There was one other moment that stood out during what otherwise was her second-half catharsis. With the shot clock winding down and Houston guarding Bingham at the top of the key, she couldn't stop herself from reaching in and picking up a senseless foul that sent Bingham to the free-throw line. Auriemma turned his head skyward, spun himself around once or twice in consternation, and let loose a bellow of frustration. After the game, the player and coach stood about eight feet from each other in a hallway underneath the arena, separated only by the two masses of reporters encircling each. Stuck between the two groups, a voice recorder could pick up Houston talking about her appreciation for the support of the Connecticut fans as Auriemma contemplated her ability to maintain her level of play through the coming weeks of postseason play. They might never be on the same page, but they are linked as part of the same story. "But she did smack that kid at the top of the key there with eight seconds left on the shot clock," Auriemma mused. "So she's not going to let you get away easy with this thing. You might think we're home free. … You know, you're driving with a kid that -- you're in the passenger seat. And you're not quite sure if she's got all the directions and whether she's got both eyes on the road and both hands on the steering wheel. So let's just keep our fingers crossed and hope we get to where we're going."
Graham Hays is a regular contributor to ESPN.com's women's basketball coverage. E-mail him at Graham.Hays@espn3.com.
espnW.com
Graham Hays covers college sports for espnW, including softball and soccer. Hays began with ESPN in 1999.
SPONSORED HEADLINES
MORE WOMEN'S BASKETBALL HEADLINES
MOST SENT STORIES ON ESPN.COM
STORIES FROM HUFFINGTON POST