Commentary
Colson overcomes injury to lead Aggies
Originally Published:
January 14, 2009
By
Graham Hays
| ESPN.com
As New Year's resolutions begin to waver under the weight of winter's dog days, it's worth considering the case of Texas A&M point guard Sydney Colson. After finishing her freshman season as a reserve on the team that reached the Elite Eight for the first time in program history, Colson resolved to make the leap to starting point guard after the graduation of A'Quonesia Franklin, fifth-best all time in assists in the Big 12.
[+] Enlarge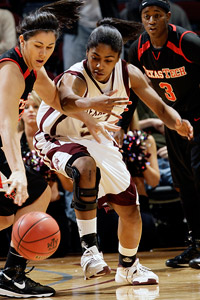 AP Photo/David J. PhillipTexas A&M point guard Sydney Colson is averaging 5.7 points, 3.9 assists and 2.3 steals.
The small matter of a torn ACL over the summer wasn't about to derail the resolution.
Six months after surgery to repair the torn ligament in her right knee, Colson is already hip deep in the long slog that is the march to St. Louis and the Final Four. She played eight minutes in the Aggies' season opener Nov. 14 (128 days after going under the knife), moved into the starting lineup two games later and is averaging more than 21 minutes per game for the season. Only seniors Takia Starks, Danielle Gant and La Toya Micheaux average more minutes per game, a fact that underscores how important the relatively untested sophomore from Houston is to an experienced team.
"Sydney Colson is the Pied Piper," coach Gary Blair said. "She's never met a stranger. She's a good-looking kid. She's always got a smile on her face. She is fun to coach. But sometimes the hair gets grayer [coaching her]. I'm having to live with a little bit more patience."
Blair is a point guard aficionado. He rattles off the competition at the position in the conference like a wine enthusiast talking vintages -- last year was a great one with the likes of Franklin and Baylor's Angela Tisdale, but this year has a lot of potential with Kansas State's Shalee Lehning, Texas' Carla Cortijo and Texas Tech's Maria Moore. Other positions play the game, he muses, but point guards "know" the game.
"I like to recruit my point guard myself," Blair said, "because that person and that family is going to be very close to me for the next four years, and hopefully for the next 20 to 30 afterwards."
But like a lot of connoisseurs, Blair is something of a tough critic to please. Colson suffered a torn ACL in June, playing in a pickup game after a day spent working as a counselor at one of Texas A&M's summer camps. She had the ball stolen away from her by senior walk-on Kiley Finstad and sustained the injury when she landed awkwardly after chasing down Finstad on the ensuing layup attempt. And the coach's assessment of the incident offers a glimpse of the standards to which he holds his guards.
"Sometimes I'm on her, because of her loose handle," Blair said. "She keeps the ball out in front of her too much, instead of to the side in protection mode. … [The injury] taught Sydney a lesson: You can't just keep the ball out in front of you."
For Colson, it was the first serious injury of a basketball career that saw her dominate her high school competition in Houston and emerge as one of the nation's top-ranked recruits in her class. Going from nothing more serious than sprained ankles to the prospect of months of arduous rehab left her understandably shaken and uncertain.
There is a moment early in the rehab for a repaired ACL shared by many who have gone through it. Placed on a stationary bike, patients are told to see how far they can push the pedals around. The simple realization that one leg doesn't have the strength or flexibility to complete a full revolution can be almost comically daunting. More than anything, it drives home the length of the road back even to basic mobility, let alone athletic activity.
"That was so ridiculous," Colson scoffed. "I was lifting up the right side of my body every time I had to push down on the pedal, and they were telling me to stay in the seat, but it was so difficult. You know, how easy is that? You would never expect to not be able to do that."
But whatever Colson's teammates saw in her when they voted her a team captain as a freshman -- it was the first time Blair could recall that happening with a first-year player -- quickly established a beachhead against any invading doubt. Cautioned not to take things too quickly by her parents and the coaching staff, and watched closely every step of the way by trainers, Colson attacked the rehab. By early November, she was participating in shorts bursts in practice, and by the opener, she was on the court.
"Sometimes in a point guard, they'll put in the extra time because of the responsibility that they have to their team and their teammates," Blair said. "A lot of other position players, they'll play the 'woe is me' thing for the first month, even after surgery, and they're not getting the work in. And [Colson] just keeps going after it. Plus, you've got a kid that her personality is so good, just like [former Blair point guard protégée and ACL patient] Christy Smith was at Arkansas, that all of a sudden, they're talking to the doctors, talking to the trainers, wanting to know how to rehab."
The brace she wears on her right knee is a dead giveaway, but Colson's injury isn't immediately evident from her stats. Blair tries to limit her minutes to between 22 and 28 per game, an objective made easier by the success of freshman Sydney Carter off the bench. And Colson admits that while she has gotten used to the brace, she's probably not going to be at 100 percent until next season, especially on defense. But entering Tuesday's game against Texas Tech, she was averaging an assist per game more than anyone else on the team and had a 1.7 assist-to-turnover ratio.
"She still leads our team in steals," Blair said, although he offered his own counterpoint. "She leads our team in giving up dribble penetration, too. But at the same time, you've got to take the good with the bad."
Colson doesn't get any slack because of her summer surgery; the Aggies can't afford it if they hope to go beyond last season's quarterfinal run and reach the Final Four. One of the nation's best defensive teams -- opponents shoot just 33 percent against them and commit 24 turnovers per game -- the Aggies remain an offensive question mark. Starks is one of the country's best shooters when she's on, but she's shooting less than 30 percent from behind the 3-point line so far this season after shooting around 36 percent her first three seasons. Gant can create points anywhere inside the 3-point line, but if she's not playing as an undersized post, Blair's team doesn't have a consistent post scoring presence.
So it's no surprise that for a team that relies on transition points and getting open looks for jump shots, playing point guard starts to look like graduate-level work.
"I want somebody that can make the simple pass to make her teammates better," Blair said. "And everybody on the receiving end has different ability levels. It's up to that point guard when she's coming down on a break; she's got Micheaux on one side and she's got Gant on the other side. She can throw it ahead earlier to Gant, who can finish off the dribble. She needs to throw it at the last minute to Micheaux, who only needs to catch it and put it in.
"So all that's got to go through your mind, knowing the personnel that you're working with at a particular time. Some post players, we like to throw it six inches from wherever their hand is, because that's leading them to the basket, where certain post players can't get there as quick, so you cut that down to just about wherever the end of their hand is."
And he's not shy about explaining that to his point guard.
"I struggle with when people yell sometimes," Colson said. "But I'm learning to just take what he's saying and learn from it and not listen to the way that he's saying it. Even in games, if he's yelling at me, I need to be able to go back out there on the court and lead my team and take the advice that he gave me, and perform on the court and not be too sensitive. Because you're going to get yelled at in basketball, especially if you're playing for Coach Blair."
On the road against Florida State in early January, Colson committed eight turnovers against just three assists in her team's first loss of the season. Carter was unavailable after taking an early blow to the head one minute into her first stint, and in Blair's words, "Every good thing [Colson] would do in that ballgame, she'd come back with two bad things."
Five days later, on the road at Missouri to open conference play, Texas A&M opened the game by hitting just three of its first 22 shots (one of those a 3-pointer by Colson). Far from panicking or forcing the action, Colson came up with three second-half assists and finished the game without a turnover as the Aggies came away with a 62-56 win.
It was a small thing, but like finally getting that pedal all the way around, it was a sign that regardless of any temporary setbacks, she's right on track.
"This is just the beginning for Texas A&M," Colson said. "I just see us in the rest of the season just getting stuff done, because it's hard right now because everybody's not used to playing with each other.
"Our offensive chemistry is starting to click better and our defensive chemistry is coming along better as well. So I think our scoring is only going to get better. We have a bunch of people capable of scoring, so our options are really limitless in who we can get the ball to and everything. I just think there's a lot to come for us."
And when Colson resolves to get something done, it's wise not to bet against her.
Graham Hays is a regular contributor to ESPN.com's women's basketball coverage. E-mail him at Graham.Hays@espn3.com.
espnW.com
Graham Hays covers college sports for espnW, including softball and soccer. Hays began with ESPN in 1999.
SPONSORED HEADLINES
MORE WOMEN'S BASKETBALL HEADLINES
MOST SENT STORIES ON ESPN.COM