Commentary
No one defends like UConn
With winning streak in jeopardy, UConn clamps down to pull out 49th straight win
Originally Published:
December 23, 2009
By
Graham Hays
| ESPN.com
HARTFORD, Conn. -- During the heyday of the Hartford Whalers, the building formerly known as the Hartford Civic Center might have been a perfect place on any given night to live out the old axiom about going to a fight and seeing a hockey game break out. And for the first half of Wednesday's showdown between the nation's two best teams at the aging arena since christened the XL Center, more than 16,000 fans must have felt similarly off-kilter.
After all, they came to watch Connecticut, only to have a basketball game break out.
Basket for basket, possession after possession, the Huskies and Cardinal traded shots for the first 20 minutes. And the defending champions, who had trailed for fewer than three minutes all season, found themselves walking to the locker room at halftime on the wrong end of the score for the first time in more than a season -- the first time since losing to Stanford in the 2008 Final Four.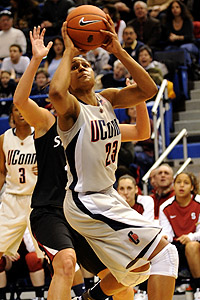 AP Photo/Bob ChildMaya Moore had 23 points, nine rebounds, four assists and two blocks in UConn's 80-68 victory over Stanford on Dec. 23.
And then as quickly as it began, it was over. From a two-point deficit in the early moments of the second half, Connecticut scored 28 points to Stanford's eight in a run that allowed the Huskies to coast to the finish line for a 80-68 victory.
Tested for the first time since sending off Renee Montgomery with a national championship last spring, the Huskies looked to the past -- but not to their former leader. With Montgomery and almost the entire roster of the 2000 championship team among the first sellout crowd at the XL Center since Tennessee last came to town in 2007, the Huskies played defense like few who haven't played for Geno Auriemma know how to play defense.
"This is our team; this is the 11 girls we have right now," Maya Moore said after totaling 23 points, 9 rebounds and 4 assists. "And we have to be able to come together with the team we have now and dominate. And I felt we really came together in the second half. … It just gives us confidence to know that when we come together like that, we have all the pieces we need."
Eight tiny reindeer endowed with supernatural physiology couldn't have kept up with these five nimble Huskies in the second half. And at least for one day, five Cardinal didn't stand a chance.
"They're head and shoulders above us, and they play just at a different pace than anybody," Stanford coach Tara VanDerveer said.
Metaphors aside, it's VanDerveer's team that is literally head and shoulders above the rest of the field. The biggest team among this season's contenders, if not all of women's college basketball, the Cardinal used their size to full advantage in the first half.
What pressure the Huskies applied was generally broken comfortably, with front-line players like Kayla Pedersen, Nnemkadi Ogwumike and even Jayne Appel able to either dribble across half court or plant themselves in the middle of the court as relief valves for the guards. And unable to match up inch for inch with either Pedersen or Ogwumike, the Huskies watched those two combine for 28 points on 11-of-17 shooting en route to a 40-38 lead at the break.
"

Our best offense has been our defense the last couple of years. Because without that, there's no transition game, there's no ability to get to the basket quickly.

"

-- UConn coach Geno Auriemma
Almost from the outset things changed in the second half, after what Auriemma and players both said was a calm message in the locker room. Moore rose to a rebound before Ogwumike could get there and the Huskies got the ball to Tina Charles for an easy basket on the other end. As Connecticut pushed Stanford farther and farther from the basket in the offensive end, Hayes and Kalana Greene pounced on Pedersen by the sideline and forced a turnover that led to a score. And Moore made the play of the game in transition, taking a long pass from Kelly Faris and -- without bothering to touch the floor -- sending a bounce pass to Greene for a layup.
"Our best offense has been our defense the last couple of years," Auriemma said. "I mean, it's always been like that, but especially the last couple of years. Because without that, there's no transition game, there's no ability to get to the basket quickly."
At halftime, Stanford had 18 rebounds to Connecticut's 13. By the end of the game, the Huskies owned a 41-27 edge on the boards. Counting free throws, there were 39 rebounding opportunities in the second half; Stanford, the nation's second-best rebounding team, got just nine of them. One guess as to which team leads the nation in rebounding margin.
"They came out and they were more aggressive, definitely," Ogwumike said. "What it felt like for me was more of we were kind of slow to react to what was going on. And they just went after it. It's hard to compensate for such aggressive play, and I think that's what really got us in the second half."
[+] Enlarge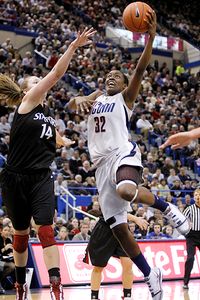 David Butler II/US PresswireKalana Greene's nine boards helped UConn outrebound taller Stanford 41-27.
Not that Stanford is a team to be dismissed. What made Connecticut's defensive effort in the second half so impressive was whom it came against. As Auriemma said, the Cardinal have been tougher to defend in each of the past three seasons than any team on the schedule.
As unstoppable as Moore was in the second half, Ogwumike was almost as much of a headache for Auriemma in the first half. The Huskies tried to play off her when she caught the ball near the 3-point line, as the scouting report dictated. Ogwumike knocked down a 17-footer. And then another. And then another. Huskies assistant Marisa Moseley, architect of the scouting report, kept encouraging the defenders, until a point when even Auriemma countered in frustration.
"It's going to be not OK pretty soon," he said.
"But she couldn't make that shot last year," he continued, noting he told Ogwumike after the game she was the most improved player he has seen this season. "She's just really good. … She plays hard, she's competitive, she's tough, she's great around the basket. I wish she was a free agent; I would do a Steinbrenner and go after her."
Stanford might always struggle against Connecticut's pressure; it's a strange coincidence that both of the season's dominant teams lack a point guard in the traditional mold. But it has been a long time since any team went toe-to-toe with the defending national champion Huskies like the Cardinal did in the first half. The two teams entered as No. 1 and No. 2, and from what transpired, they ought to leave that way.
And from the crowd down to the coach, everyone seemed to feed off the challenge.
"It was just good to be back in that scenario where you're trying to manage the game, rather than just watch it and let it unfold in front of you." Auriemma said, unable to then hold back a quip. "It gave me something to do today. I was really happy; I was really proud of myself."
Nothing changed Wednesday night. Connecticut is still the best team in the nation. By virtue of their own success, all the Huskies can do is defend that status quo.
And nobody defends better than Connecticut.
Graham Hays is a regular contributor to ESPN.com. E-mail him at Graham.Hays@espn3.com.
espnW.com
Graham Hays covers college sports for espnW, including softball and soccer. Hays began with ESPN in 1999.
MORE WOMEN'S BASKETBALL HEADLINES
MOST SENT STORIES ON ESPN.COM