Beard at her best
Updated:
January 24, 2004, 3:54 PM ET
By
Nancy Lieberman
| Special to ESPN.com
Saturday's game between Tennessee and Duke in Durham, N.C., packs plenty of drama.
It's No. 1 vs. No. 2. It's two teams that have each been to the Final Four for the past two seasons. And two teams that are among the favorites to win this year's title.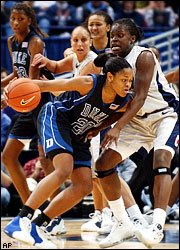 AP PhotoAlana Beard and Duke got the better of UConn and Diana Taurasi earlier this season.
But make no mistake. Saturday's showdown (6 p.m. ET, ESPN2) is all about Alana Beard, who will get another chance to showcase her skills to the rest of the country. This season, the Blue Devils' senior has really come into her own and stepped up her game. She has always been one of the game's most talented players, and has led Duke statistically across the board. But critics have complained that she had failed to come up big in big games, to carry the Blue Devils to victory when needed. Like her polite and gentle personality, Beard's on-court personality seemed more docile than dominant. This year, however, Beard is carrying the Blue Devils like everyone expected her to. She's more assertive and aggressive, and when Duke is down, she steps up. Beard is easily playing the best basketball of her career. Yes, there is a tremendous amount of talent around her, but if Duke ends up winning its first NCAA title by season's end, it'll be because of Beard. Five more storylines behind Saturday's showdown:
To win, Duke must:
Rebound. Like most games, controlling the boards and limiting your turnovers will be crucial. This is especially true against Tennessee. This will be a physical game that will probably end up with the score in the low 70s, so the team that controls the tempo will probably win.
To win, Tennessee must:
Limit Beard's touches. Beard is going to get her points, but Tennessee should try to force her to be the playmaker rather than the primary offensive threat. You're not going to stop Beard, but you can make her shots as difficult as possible. Expect Tennessee to use a committee of players -- probably Tasha Butts, Loree Moore and perhaps even Brittany Jackson -- and a lot of different combinations to defend Beard. But Tennessee also needs to be careful on offense because Beard generates so much offense from her defense.
Star power:
For the past decade, Tennessee typically has had some of the game's most talented players. Think Chamique Holdsclaw and Tamika Catchings, for starters. And while Tennessee is very good and talented -- and you could call Shyra Ely the team's "star" if you were looking to pin that label on some Lady Vol -- this has to be the first time Tennessee comes up short on star power. With Beard, Kodak All-American Iciss Tillis and All-American-in-waiting Monique Currie, Duke earns the nod in that category. Not that that matters, of course, but it's just an unfamiliar situation for Tennessee.
That being said ... :
Depth has been one of Tennessee's strengths in recent seasons, and needs to continue to be a key ingredient this weekend. The Lady Vols' bench must get some points for Tennessee to be successful. And Ely and Moore must come out and play good basketball games.
A win-win:
No matter which team wins, this should be a terrific game that will help further the growth of the sport, though the outcome won't really affect either team. The loser might drop a few spots in the rankings, but neither team is expected to fall out of the top five this season. And though this nonconference game doesn't mean much in the standings, women's college basketball needs to continue to see these types of matchups. Someone asked me the other day what the biggest difference is between the last Final Four in New Orleans (1991) and this season, and the answer is simple: every team out there now tries to schedule a handful of tough nonconference games. In the past, Tennessee was the only team really going out there year after year looking to test itself. But now, teams around the country are routinely scheduling out of conference, and it has helped make everybody better.
Nancy Lieberman, an ESPN analyst and Hall of Famer, is a regular contributor to ESPN.com's women's basketball coverage. Contact her at www.nancylieberman.com.
Basketball analyst / Writer
Nancy Lieberman, one of the most recognized individuals in women's basketball, is a men's and women's basketball analyst for ESPN. She works on ESPN and ESPN2's coverage of men's and women's college basketball, plus the WNBA and writes for ESPN.com.
MORE WOMEN'S BASKETBALL HEADLINES
MOST SENT STORIES ON ESPN.COM